You may know that I launched the #TenKMinnows project earlier this year. The intention was to try and boost the number of minnow accounts (500SP) on Steem as they did not seem to be increasing. It was actually @pennsif who encouraged me to do this after I commented on one of his daily posts that include the stats. You can also see them on the Steem Statistics posts by @arcange.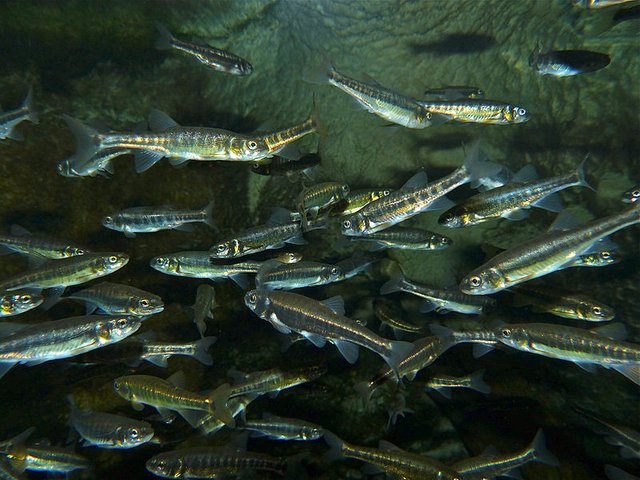 Image from Wikimedia.
The good news is that we have seen an increase from under 9,200 minnows to over 9,300. That may not seem much, but over this period a lot of people have powered down their accounts. Some will see that we should help to make dolphins (5000SP) too, but that is a harder task. In any case we have gained a few dolphins recently and we may exceed 2,000 very soon.
I still want to concentrate on making more minnows for now. I feel we could get to 10,000 this year if we concentrate a little effort on it. We had a push in March to try to get another 250 people to minnow status and we exceeded that target, if you discount those who powered down. Maybe we need another concerted effort to boost the numbers again.
My idea for this is #MayBeAMinnow that should run through next month, although I would like to see it continue well beyond that. I am not one for setting strict rules and I know Steemians tend to rebel against that, so I am going to set out some suggestions on how you can help.
This is really aimed at those who have a few thousand SP, but everyone is very welcome to participate. I can only give up to around 20c in a vote if I am very careful with my voting power, so there is not much I can do alone.
Find a community to support. I plan to support the OpenMic and RunningProject groups as music and running are two of my passions. I think you need to look to what you enjoy so it is more fun. This should not feel like work.
Follow some specific people who are close to being a minnow. Give them votes and comments to encourage them. Re-steem a few posts to get them more support.
Delegate to small accounts. This increases what they can make from curation and allows them to give more support to others. I am okay with them self-voting their posts. Over half my SP is currently delegated to various people and projects.
Buy them some @SteemBasicIncome shares that will get them extra votes for life. You benefit from that too. I must have bought about 100 shares so far and others have bought them for me.
Reduce your own self-voting and support of bigger accounts to free up more voting power for the smaller accounts. Circumstances vary, but many of us can afford to earn a little less for a few months to help build the Steem community.
Do what you can to encourage others to join in with this effort. We all benefit in the long run if the Steem community grows.
You are free to support who you like, but I will be sharing some suggestions in coming weeks. Feel free to propose candidates in the comments or do your own #MayBeAMinnow post. I will try to check those out. We should celebrate when we get someone to the target. I have really enjoyed seeing people announce when they get there. I am announcing this project a little before May starts to try and get things going. I am loath to set specific targets, but getting to 9.500 minnows by the end of next month would be great.
My time is limited and I have other things I need to be doing, but I will try to do at least weekly posts about how the project is going.
There are various other projects going on that have similar aims to me. You can support them too:
I control the @tenkminnows account too, but I may not have time to do much with it. It has some nice delegations, so it may just be set up to hand out some auto-votes to deserving accounts.
I acknowledge that I am not setting out the specifics that some people may want to see, but I want it to be based on what each person wants to do. This is not about me making money or gaining fame. It is about making Steem bigger and better.
Steem on!
The geeky guitarist and facilitator of the 10K Minnows Project.