The focus of this post is the @SteemCampUK event next weekend in Leicester UK. This is the second such event organised by @LloydDavis. This time he has had help from @shanibeer who has been talking to local organisations who could benefit from Steem and I hope some of them will come along.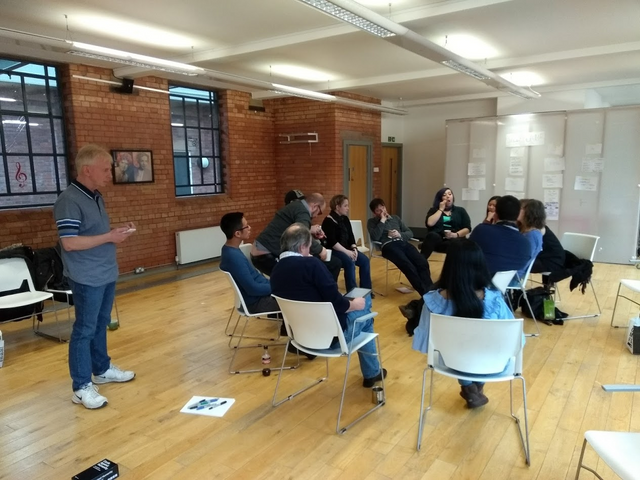 This was last year in Birmingham.
SteemCampUK is an 'unconference', which means that the participants decide what will get discussed. People can propose topics and you get to choose which to participate in. I find I always have great conversations with Steemians.
It is my plan to drive there. I live in Bedfordshire, just off the A1(M) junction 10. If anyone wants to car-share then let me know. If you can get a train to Arlesey or Hitchin I can pick you up. Will be leaving about 8am and will not be too late coming back as I have a half-marathon to run the next day.
Tickets are still available and if you contact @LloydDavis he is open to taking Steem/SBD payment.
Lloyd interviewed me last week for my opinions on the last event and Steem in general. I had some audio issues and my voice sounds a bit odd on this. You will have to come and meet me in person to hear how I really sound.
Here are some Steemians who I know are planning to be there:
I met @slobberchops for the first time at last year's event just after he joined Steem. We have become good friends since then. He has invested heavily in Steem and been part of various communities. I think he is bringing a friend along.
@revisesociology wanted to be there last time, but could not get into the building! We will make sure he can get in this time. His background is in education, but he has wide interests in politics, ecology and is a fellow runner. He logs his runs on his other account, @self-track, which also hosts giveaways of Steem Monsters cards and @SteemBasicIncome shares. I saw him just last week at the Blockchain Expo and he was just interviewed by Lloyd.
I have also met @ashtv before. He is a filmmaker who just made it to dolphin.
I have missed a couple of #FollowFriday posts as I have had other things going on. I will also mention those I am supporting to help them become minnows during May and will post more about that soon. Check out runners @run.vince.run, @marenontherun and @xorb.
I do these posts to try and help build the Steem community. People are what matters and it will never get big without many more of them. Feel free to do your own #FollowFriday post or add suggestions in the comments.
Steem on!
The geeky guitarist and facilitator of the 10K Minnows Project.