Some will say I am mad to refuse votes, but the fact is that what I make on Steem is not essential to me. I have a day job and am not desperate for money. Of course it is nice to have something extra and it has paid for two trips to Steemfest as well as a nice guitar. In 2.5 years I have accumulated almost 17,000 Steem that is almost entirely earned from rewards and I would have a few thousand more if I had not spent it. I do not aspire to be super rich, just to have enough to keep my family comfortable. Money does not necessarily make you happy.
I do appreciate that the situation is very different for many people who use Steem. Some in places like Venezuela and around Africa struggle to make ends meet and some extra income can make a serious difference. They are the ones who really stand to benefit from this platform, but I think it can help people all around the world. We have artists and musicians who want to dedicate their lives to their craft, but it may not be paying the bills. Steem could help with that.
Steem does have some serious issues. There is a big imbalance in who holds it and the freedom it offers encourages people to exploit it to profit with no real benefit to the platform. That can all be discouraging for new users who struggle to earn anything much. Many will give up at a time where we need the community to be growing. We will not big names signing up if there is no audience. I feel it needs to get to millions of active users and there is little sign of that happening any time soon.
I started the #TenKMinnows project recently as it seemed the number of minnows (500SP) was just not growing. We had a big push last month that managed to add over 300, but that is still not a lot really. Getting from around 9,200 to 10,000 was just picked as a realistic target. We also have under 2,000 dolphins (5,000SP) and that number is hardly changing. Having more accounts with substantial SP should lead to a better distribution of rewards. I was following the numbers on the daily post by @pennsif who gets the numbers from @arcange.
I am plotting the stats for myself. You can see the changes are not really visible over the last month and a half.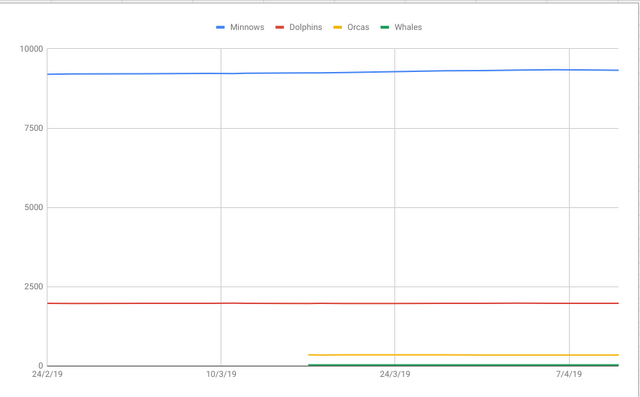 So I am asking that the dolphins and above give a bigger share of their votes to small accounts who make cents on a post. Okay, so you will earn less in curation, but do you really need it? Also, reduce your self votes (if you do) to allow more voting power for others. A slight reduction in income for the rest of the year may delay reaching your targets, but it could do a lot of good for the community in general.
I will continue to support those trying to become minnows. I delegate to some of them to increase their votes and am buying @SteemBasicIncome shares for them too. Of course I benefit from that, but it is not a huge amount. It is a long term investment as I will not get a return for a while.
I really believe in the potential of Steem to change lives and I fear that greed to wreck that.
I am not going to decline rewards on this post, but what I get will be pure SP with no immediate plans to power down. I may as well take some share of the pool as we know a lot is going to people who just take. I have tried dealing with them through work with @SteemFlagRewards, but I can barely dent some of them. My personal impact is low, but I will do what I can and for now as this positive work is inspiring me.
Go out and find some small accounts to follow who do something you enjoy. Give them some big votes to inspire them to keep on doing it.
As for any redfish and minnows reading this, you can also support others at your level. Please target your votes where they make a difference. It is best to add to posts that already have at least a couple of cents so they do not fall below the 'dust' threshold.
I am sure I will get a few votes despite the title as I know a lot of people give me automatic votes. I am grateful for that support, but I really do not mind if you switch it to some smaller accounts. I will continue supporting some dolphins who I have followed for a long time, but orcas and whales should not expect votes from me.
Let us make some minnows!
The geeky guitarist and facilitator of the 10K Minnows Project.