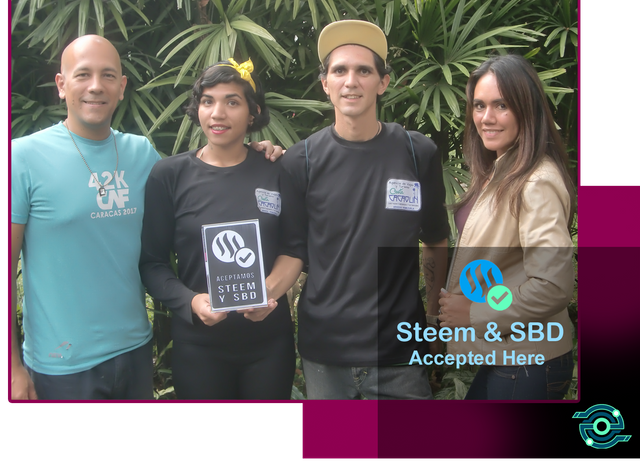 There's a lot to show from Venezuela, which is why we have exciting news for those who love to do ecotourism in tropical paradise destinations, from now on you can pay with STEEM/SBD to live these magical experiences.
We have brought on board @costacacaolin. It is a venture that wants to show the beauty of the coasts of Aragua through guided visits and providing the best attention to tourists.
The @costacacaolin team joined the Steem blockchain after attending one of the conferences we did last year. However, this time they're joining the Steem Merchants project.
Its tourist packages include various types of tours, such as walks through the plantations of the best cocoa in the world, also include inns, transfers to the islands and even meals.
We're encouraging the @costacacaolin team to resume their Steemit blog and bring us lots of high-quality travel content.
Now all Steemians can enjoy a well-deserved break in the magical landscapes of Aragua, Venezuela. And why not? They'll also live new experiences to share on the Steem platform through beautiful photos and wonderful stories.
Contact info:
Daleiris Vielma +58 424-1571943
https://www.instagram.com/costacacaolin/
Steem: @costacacaolin
Mail: [email protected]
---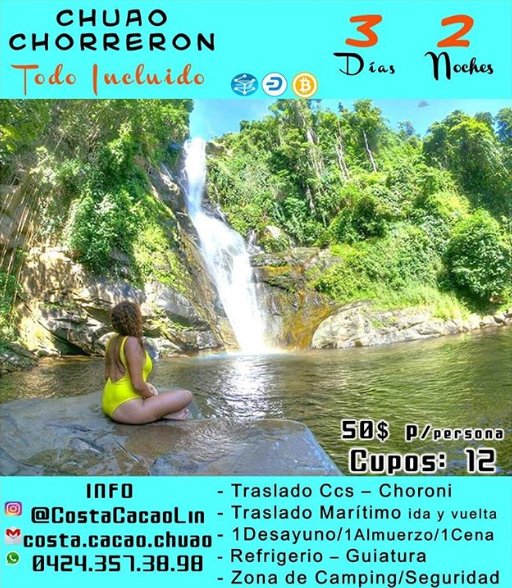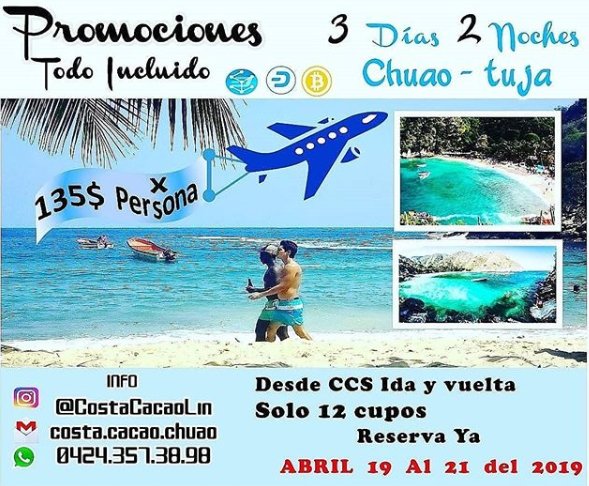 Español
Hay mucho que mostrar desde Venezuela, por eso tenemos noticias emocionantes para aquellos que aman hacer ecoturismo en destinos paradisíacos tropicales, de ahora en adelante pueden pagar con STEEM/SBD para vivir estas experiencias mágicas.
Hemos adoptado a @costacacaolin. Este es un emprendimiento que quiere mostrar la belleza de las costas de Aragua a través de visitas guiadas y brindando la mejor atención a los turistas.
El equipo de @costacacaolin se unió a la blockchain de Steem después de asistir a una de las conferencias que hicimos el año pasado, sin embargo, en esta ocasión llegan para unirse al proyecto de Steem Merchants.
Sus paquetes turísticos incluyen varios tipos de tours, como caminatas por las plantaciones del mejor cacao del mundo, también incluyen posadas, traslados a las islas e incluso comidas.
Estamos animando al equipo de @costacacaolin para que retomen su blog en Steemit y nos traigan un montón de contenido de viaje de alta calidad.
Ahora todos los Steemians pueden ir a un lugar mágico en Aragua - Venezuela para disfrutar de un merecido descanso, y ¿por qué no? también tener nuevas experiencias para mostrar en Steem a través de hermosas fotos e historias maravillosas.
Contacto:
Daleiris Vielma +58 424-1571943
https://www.instagram.com/costacacaolin/
Steem: @costacacaolin
Mail: [email protected]
¿Quieres apoyar nuestro trabajo?
Pueddes ir a Fundition y donar. También votando nuestras actualizaciones del proyecto y delegando SP o compartiendo esta publicación.
Delegate 25 SP | Delegate 50 SP | Delegate 100 SP | Delegate 250SP Delegate 500SP | Delegate 1000SP | Delegate 2000SP | Delegate 4000SP

- Libertad - Apertura - Descentralización -
¿Quieres conocer más sobre nosotros?
¡SÍGUENOS EN NUESTRAS REDES!
Botones creados a partir de esta plantilla

Actividad apoyada por: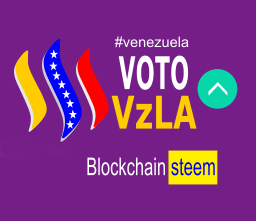 Thanks: @pennsif @demotruk @organduo @steem-ambassador @mariusfebruary @roelandp
Post creado por @danielvehe para @rutablockchain
Translated by @dearw