A couple of days ago Bitmama.io asked its Twitter followers which coin they would like to be listed on their exchange EOS, TRON or STEEM. This was brought to my attention by @theycallmedan who asked his followers to support STEEM in this poll, thanks Dan!
Needless to say, STEEM community pounced this opportunity like a bloodthirsty hyena and quickly flooded the comment section with #steem and assured our beloved coin a 51% victory over the others. GG!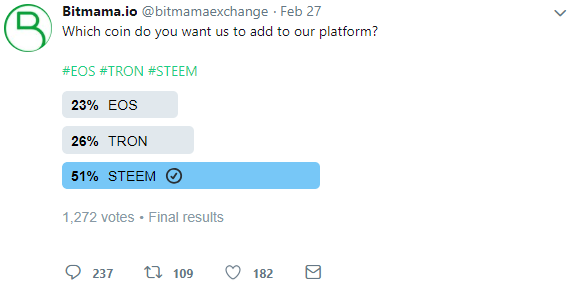 Even Bitmama.io expected this to happen as they stated in the comment section that STEEM has one of the largest community in the crypto space. A fact which we keep proving time and time again. Working towards a shared goal of making STEEM the best and most used cryptocurrency out there, we have managed to, once again, get the word about STEEM out there.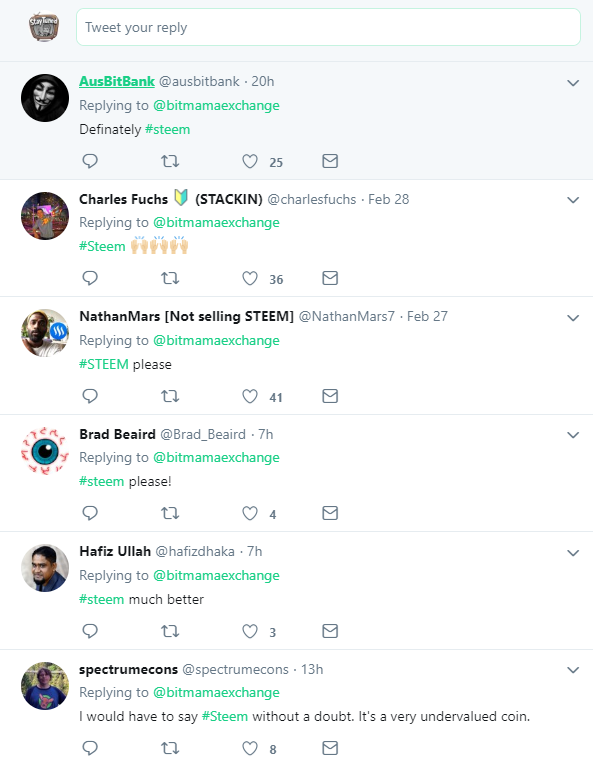 Congratz and a big thank you to everyone who participated in this undertaking!
Every such initiative is bringing us closer to our shared goal. Many more will be necessary to reach it, but one step at a time, we are getting closer to the end-game.
GG ladies and gentleman!
Let's now continue working to get that mythical Coinbase listing under our belts!
Send them e-mails, physical letters, tweet about it and do whatever you can to get so many inquiries about STEEM in their face that they can't keep disregarding it anymore!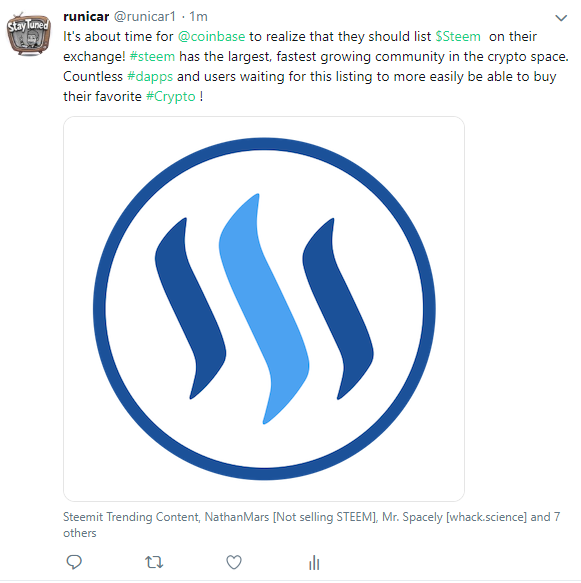 In the next couple of days I'll launch a twitter blast contest for this exact purpose so get your fingers ready to punch at that keyboard the best you can because even though alone none of us can lift a ton, together we can move mountains!
ALL-IN ON STEEM!