Have you ever wondered how much STEEM and SBD is burned on a regular basis? If yes, this post is for you :)
The charts below show all transfers to the @null account. All STEEM and SBD sent to @null is immediately burned.
How much STEEM and SBD was burned?
| Period | STEEM | SBD |
| --- | --- | --- |
| Last 7 days | 2277 STEEM | 29.814 SBD |
| Last 30 days | 9264 STEEM | 126.682 SBD |
| Last 365 days | 29248 STEEM | 8829.990 SBD |
1. Weekly STEEM & SBD burned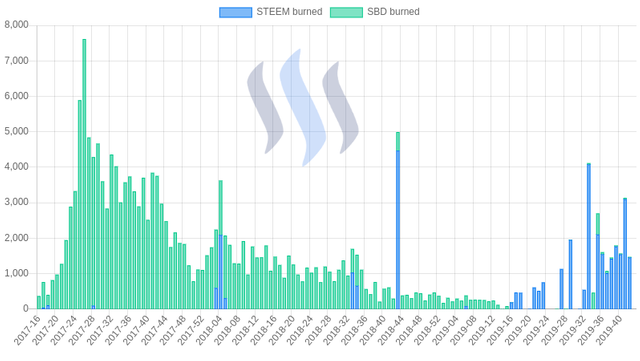 | Date | STEEM burned | SBD burned |
| --- | --- | --- |
| 2019-42 | 1,455 STEEM | 15.542 SBD |
| 2019-41 | 3,100 STEEM | 37.015 SBD |
| 2019-40 | 1,543 STEEM | 26.471 SBD |
| 2019-39 | 1,766 STEEM | 26.899 SBD |
| 2019-38 | 1,419 STEEM | 35.011 SBD |
| 2019-37 | 1,017 STEEM | 59.359 SBD |
| 2019-36 | 1,547 STEEM | 58.607 SBD |

Largest STEEM burners last week

2. Daily STEEM & SBD burned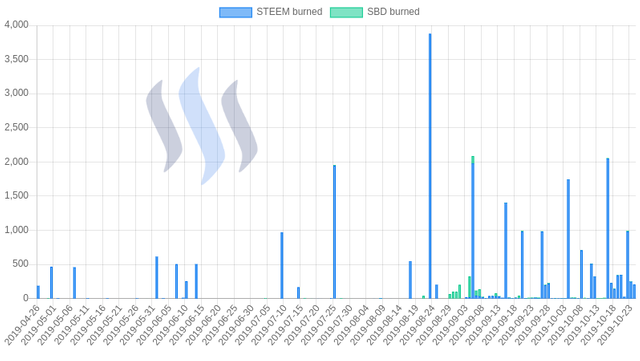 | Date | STEEM burned | SBD burned |
| --- | --- | --- |
| 2019-10-24 | 206 STEEM | 1.114 SBD |
| 2019-10-23 | 245 STEEM | 2.337 SBD |
| 2019-10-22 | 981 STEEM | 10.305 SBD |
| 2019-10-21 | 23 STEEM | 1.786 SBD |
| 2019-10-20 | 344 STEEM | 1.917 SBD |
| 2019-10-19 | 338 STEEM | 4.470 SBD |
| 2019-10-18 | 140 STEEM | 7.885 SBD |
| 2019-10-17 | 228 STEEM | 2.662 SBD |

Largest STEEM burners last 30 days
Largest STEEM burners this year (2019, Januari 1 until today)

From now on, I will add the burn statistics to my 'Daily Steem Stats report'. Follow me to keep informed :)
---
Visit my websites:
SteemBlockExplorer.com - SteemNow.com - CoinMarkets.today
¯\___(ツ)____/¯ Follow me @penguinpablo