I have made a cool new feature for SteemNow.com. You can now view the reward curve in real time :-)
Check out https://www.steemnow.com/rewardcurve.html
Screenshot: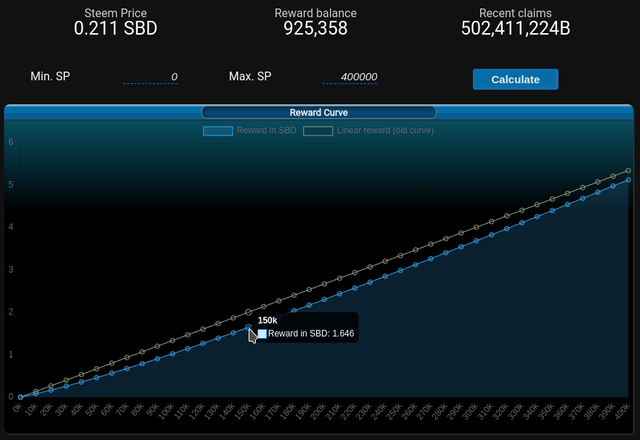 Since HF21 Steem has moved from a linear rewards curve to a convergent linear rewards curve. The brown line in the chart is the old curve and the blue line shows the new one. Hover your mouse over the lines to see the precise values.
The x-axis shows the amount of Steem Power (SP) and on the y-axis you find the corresponding reward in SBD.
You can change the minimum and maximum Steem Power (SP) you want to see in the chart. Click the 'Calculate' button to reload the chart. Below is an example.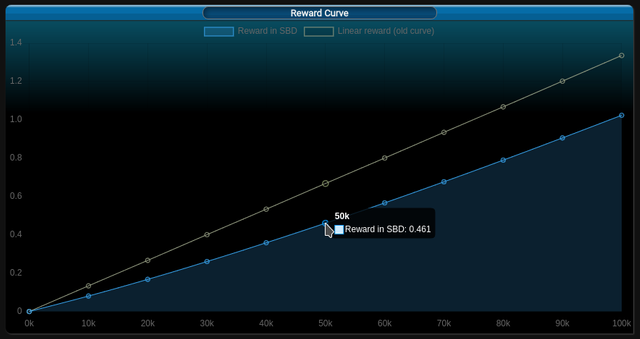 You can open the reward curve window by clicking the new icon on https://steemnow.com. Please refresh the page or clear your browser cache if the new icon does not show up.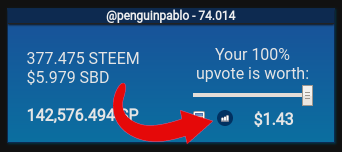 Everything is calculated in real-time. The reward depends on the price of Steem, the amount of Steem in the reward pool and the recent_claims. The more Steem in the reward pool or the lower the recent_claims the higher the payouts. A higher Steem price will also increase the reward of course.
---
Visit my websites:
SteemBlockExplorer.com - SteemNow.com - CoinMarkets.today
¯\___(ツ)____/¯ Follow me @penguinpablo