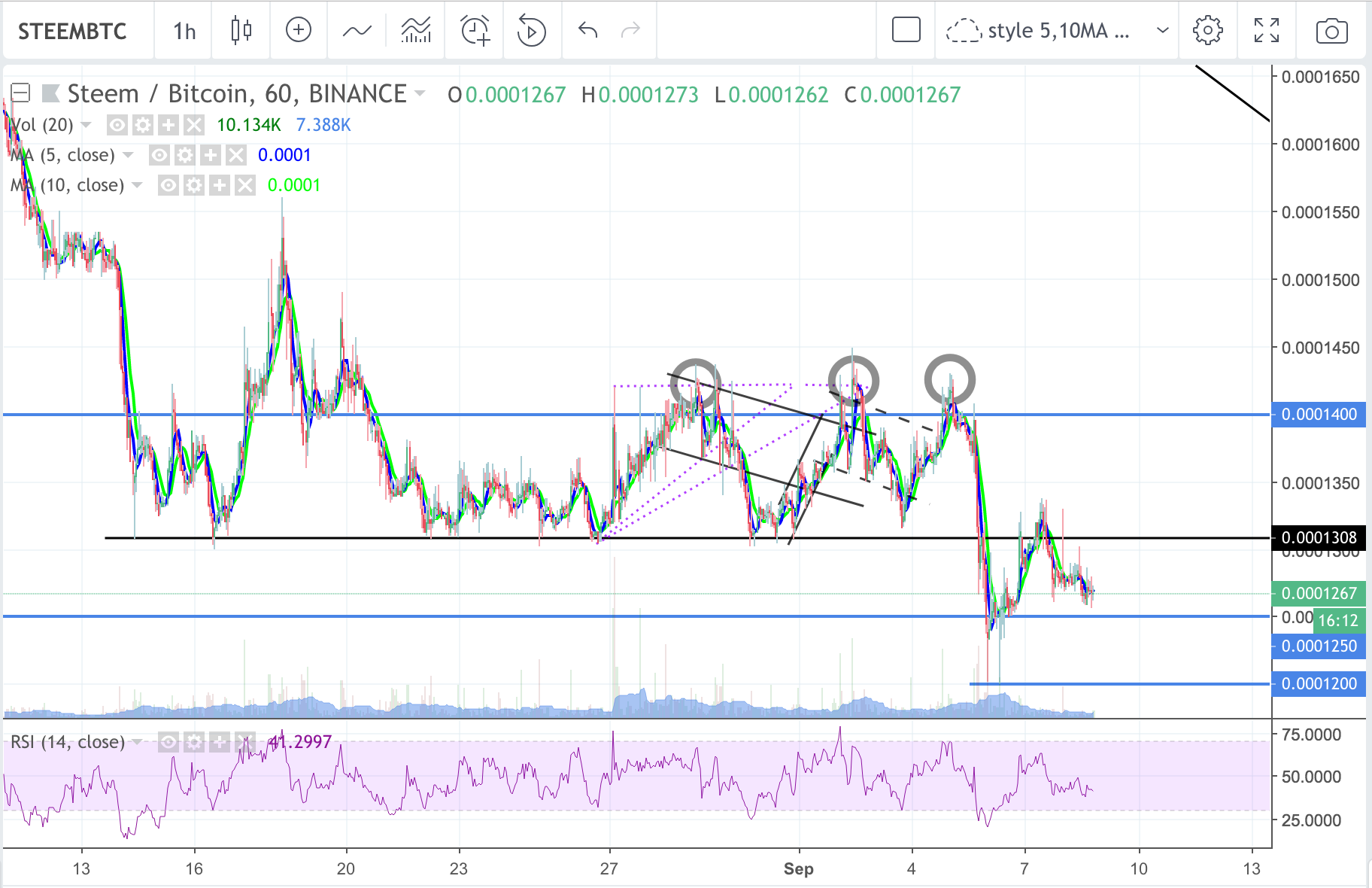 Consolidation ongoing as big brother btc consolidate. Likely to go lower after consolidation as the slow bleed unload. On hourly candle, looking to form double bottom W pattern like btc.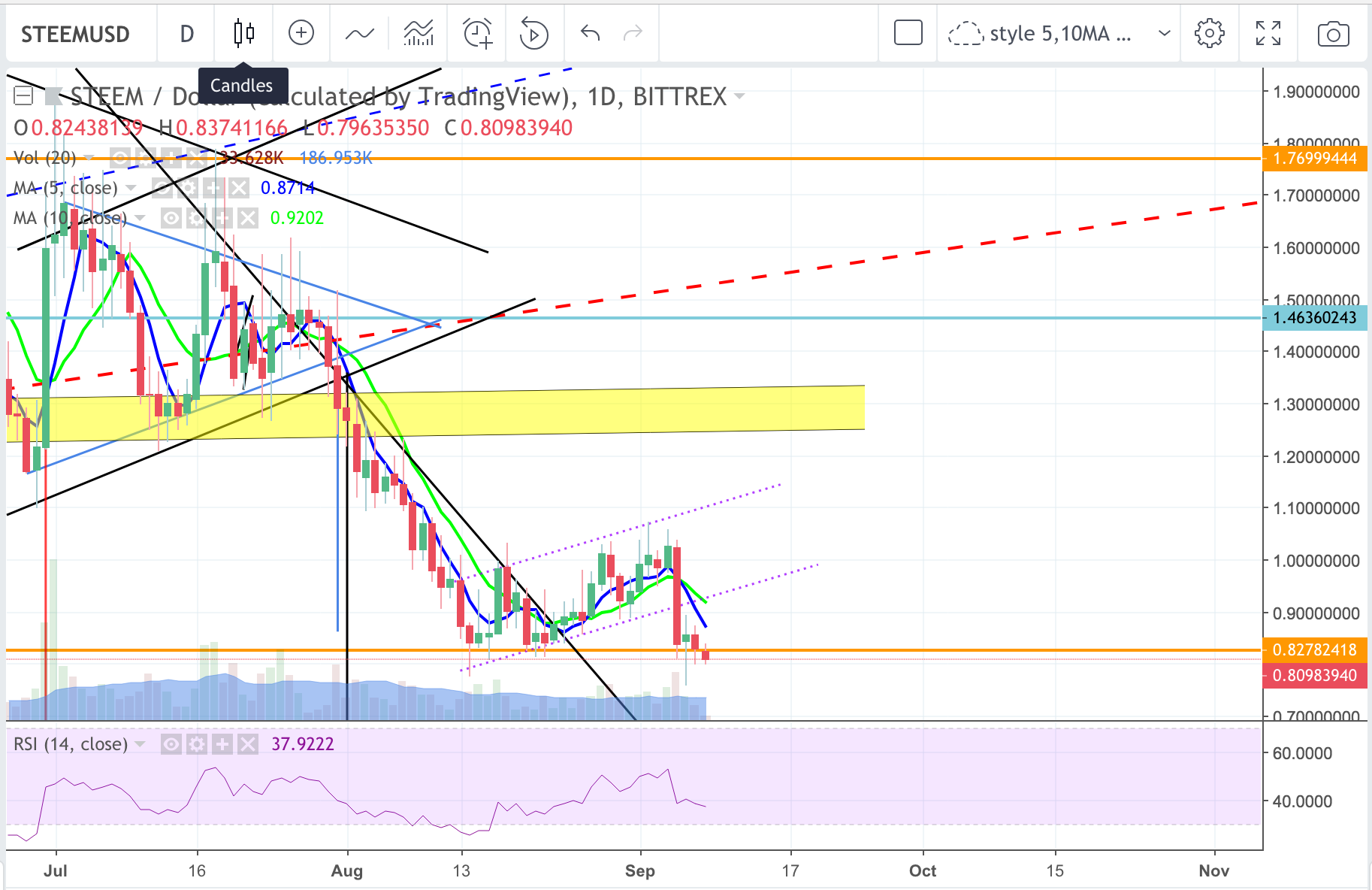 stockpile for short : high (more slow bleed)
Short term moving average (day candle) : downtrend gap wide
RSI : still room for downside before oversold
SBD/STEEM : 1.14
Weekly Timeframe : -
24hr change : -3.91%
Marketcap : 230 mil
Volume : 1082 btc

Introducing Team ( Together Everyone Achieve More) upvote account ( @Raydalio )
Get daily upvote up to $0.05 once every 24hr for content creators posting on btc/crypto market
8 slots left. Come in discord channel for details.
Become 1PercentBetterToday discord - https://discord.gg/T5f2Gpu
Disclaimer : This is not financial advice, it's all based on my personal biased opinion. Do your own research and put in the amount you can afford to lose.

3 Ways to earn on steemit platform passively
Sell your upvotes or lease/rent your SP from DLM market and earn passively with Minnowbooster service
Steemit Value Post
Beginner : One of the most common problem you will encounter when you just started out on steemit platform - Bandwidth Issue
https://steemit.com/steemit/@onepercentbetter/steemit-tutorial-out-of-bandwidth-agony-arghh-took-me-5-times-to-learn-or-how-to-get-some-bandwidth-back-workaround
Why you want to use steemit via busy.org platform
https://steemit.com/busy/@onepercentbetter/finally-notifications-bell-for-steemit-via-busy-platform

Buy/Sell/Trade Altcoins
http://bit.ly/Binance-GetAltcoins
http://bit.ly/kucoin-GetAltcoins
Buy bitcoin easily, go for coinbase (you get $10 bonus) :
http://bit.ly/Coinbase-BuyBitcoinFastEasy
Earn Free bitcoin/satoshi and lottery ticket (it's kinda of slow, well it's free though and bonus if you win the lottery) : https://freebitco.in/?r=11267717
Earn Free bitcoin/satoshi from watching ads : https://ref.adbtc.top/637835
Get your free byteball airdrop only for steemit account created before 12 Jul 2018 : https://busy.org/@onepercentbetter/15-30minutes-work-for-byteball-airdrop-steemit-users-only

Social Media
Steemit ► https://steemit.com/@onepercentbetter
Youtube ► https://www.youtube.com/c/1PercentBetterToday
Facebook ► https://www.facebook.com/1percentbettertoday/
Instagram ► https://www.instagram.com/1percentbettertoday/