Hi everyone. This article will cover why STEEM is likely one of the best investments you can make right now. We'll cover this in a few different sections:
1. Steem's Future Potential

Steemit.com is Already Growing
Smart Media Tokens (SMTs)
Decentralized Services (DTube, DSound) on Steem

2. Writing on Steemit is Investing in Steem

Payout Options Overview (Steem Power, SBD)

3. Market Value of Steem
By the end of the article, not only will you be much more educated about Steem, but you will also likely realize why Steem is one of the best possible investments you can make. Let's get started!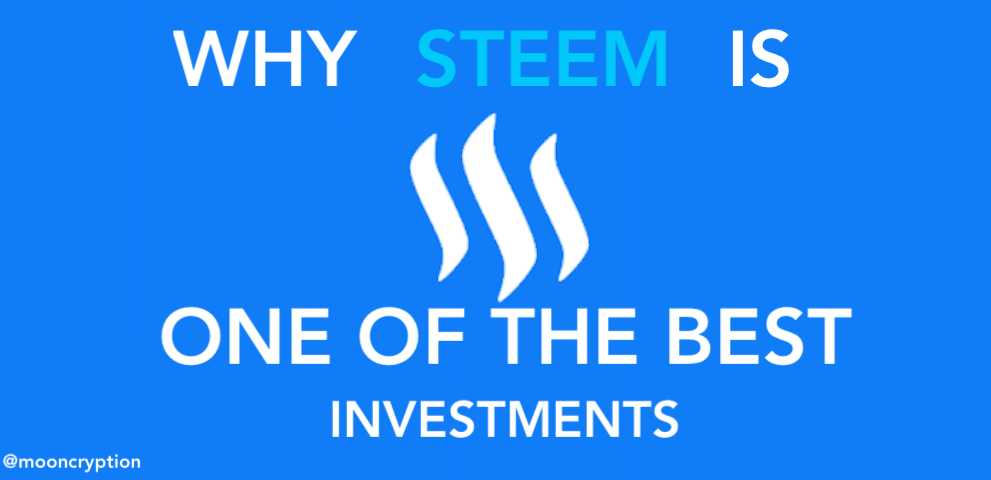 Steem's Future Potential
First, let's talk about Steem and it's future potential as a cryptocurrency and as a platform. Steem, as you probably know, is the blockchain and heart of a publishing platform that rewards posting and curation. This means, every time you post an article or curate (upvote) other articles, you can make actual profits.
This is way different from everything we've seen before on different publishing and social media websites. Facebook, for example, places ads on their users' content, charges users to boost their posts, and in the end rakes all the rewards for all posts on their service. No matter how good a Facebook user's post is, they'll never be able to earn real rewards directly through their post.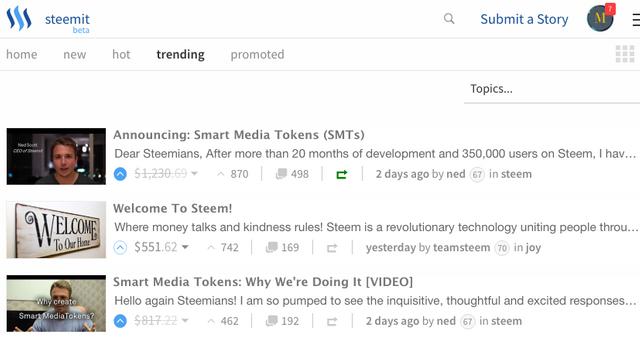 On STEEM, things are different. If you scroll through the front page or the trending page, you'll easily see that STEEM looks like other social media pages, like Reddit, with a few key differences:
each post has a unique dollar amount attached to it
upvoting posts raise the dollar amount next to the post
users can cash out those rewards for real money
How is Steem able to sustain this? The answer is through a cryptocurrency also named "STEEM." This cryptocurrency, along with the "Steem Dollar" (SBD), is what these payments/rewards are cashed out in.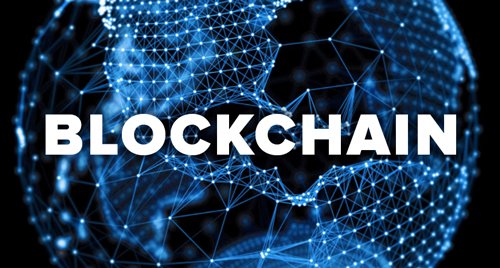 I won't do too much technical analysis, but the Steem creators have figured out an intelligent way to use these two cryptocurrencies and the blockchain to fuel this whole platform. And it's working.
Steemit is Growing Already
The https://steemit.com website is the main "hub" or site users utilize to access the STEEM blockchain, to do everything from posting new articles, replying to existing posts, curating/upvoting posts they like, and managing their account.
Alexa is a top website ranking checker (a company owned by Amazon), and lets you check the ranking/growth of any website. Let's check the Alexa.com ranking for Steemit below.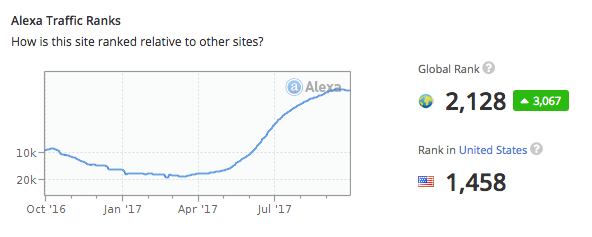 As you can see from the results,
Steemit.com is booming
in terms of visitors and overall site growth. According to other Alexa estimates, Steemit gets over 6 million hits per day!
Business Insider recently posted an article on how Bitcoin price correlated with Bitcoin's ranking in search results, and how I see it, Steem price will correlate with how well Steemit.com is doing as a website. It's clear the website is already doing amazingly well, and given the current trends and user growth will probably only do better in the future.
Smart Media Tokens: Expanding Steem Even Farther
In the past few days, @ned and the @steemit team released the next stage of their STEEM master plan: Smart Media Tokens (SMTs). SMTs are tokens/cryptocurrencies very similar to STEEM that anyone can release, complete with an ICO (initial coin offering / crowdsale) and the ability to empower publishing sites just like Steemit.
For example, news websites like The New York Times can create a smart media token running on the STEEM blockchain, perhaps called NYTM. Every time a New York Times user "upvotes" or "likes" or otherwise curates an article, the author can be rewarded in NYTM.
I'm not going to go too much in detail about the revolutionary features of Smart Media Tokens— for that, see my article here on the subject. But, to summarize— these tokens will help expand STEEM to the rest of the Internet, and can spark a revolution in how publishing/social media works, and could be (as Steemit CEO @ned called it), the "future of the Internet."
Building Decentralized Services on Steem
Another exciting prospect for the Steem blockchain is the ability to build decentralized apps/services on top of it. Unlike Ethereum/EOS apps, these services aren't based on smart contracts but are based on Steem's unique ability to attribute real money rewards to content.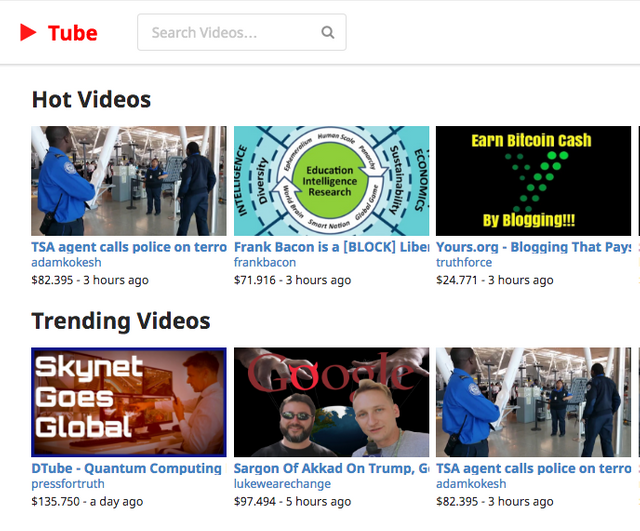 DTube is a decentralized video platform similar to YouTube built on top of Steem by @heimindanger. You can post videos to DTube which then get stored on IPFS, a decentralized online file storage system.

Just like Steemit, others can vote and curate on posts to increase their rewards. In fact, since DTube is built on top of Steem, each DTube video also gets its own post on Steemit as well!

As @taskmaster4450 explained in the comments, YouTube is the #2 ranked site in the world, so there's a lot of potential for video-based apps.
DSound is a decentralized audio/music/sound platform similar to Soundcloud, and just like DTube, it's built on Steem. Each sound/song gets its own Steem post, and others can curate/vote on the posts to increase rewards. Rather than paying music vendors before even listening to the song, on DSound you can listen to whatever songs you want to listen to and upvote the songs if you like them. This allows for a whole new way to distribute/"sell" music/songs.
These are just two of the most popular Steem apps/services, but there are many more already available, and many more to come!
Writing on Steemit is Investing in Steem!
Another compelling feature of the STEEM cryptocurrency is just how unique it is. Bitcoin, the current #1 cryptocurrency, is used for payments of all kinds. Ethereum, currently at #2, is used for smart contracts, which are programs and code that automatically interact with the blockchain. And other cryptocurrencies like Dash and Monero are also focused at payments, but have their own focuses like privacy, usability, or security.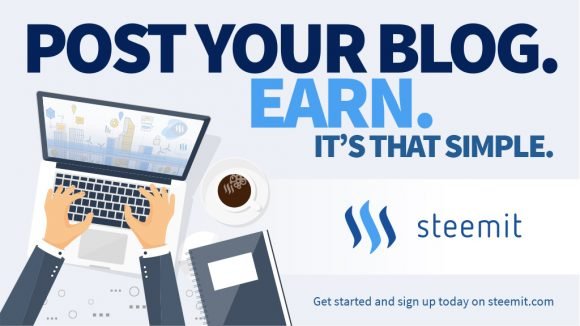 What's Steem used for? Steem is used for cultivating a
publishing website
or a
social network.
Steem is used for posting, commenting and voting on the website you're seeing this post on right now.


This is not normal— article authors and posters don't usually get paid for what they do. What Steem is doing is pretty revolutionary in and of itself.
And so, what's the best way to invest in Steem? Whoever you are, wherever you are from, and however much money you have— that doesn't matter. Writing and curating on Steemit is a free way to "invest in Steem with your brain." If you write high-quality content or upvote others' content, you get rewarded by the network for doing so. It doesn't cost you anything but your time and effort. But it pays off really well.
Payout Options

When you write a post on Steemit, you have three options for payouts, as you can see at the right. The three options are to get your rewards in 100% Steem Power, 50% Steem Power & 50% Steem Dollars, or to decline your post rewards. But what do each of these options mean for you and for the community?
The first option is to get your payout in 100% Steem Power (SP). SP is the same as STEEM, except when you receive it, you're already "investing it" into the website. Holding SP means that your upvote is worth more to others, you'll get more in curation rewards, and you'll have more "power" in general on Steem.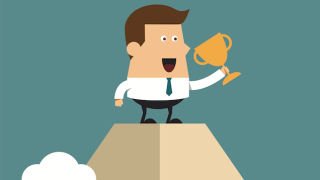 )
In every other way, however, SP is the same as Steem. In fact, if you so choose, you can "Power Down" your SP.
This means that in 13 weeks, every SP you have will be converted to Steem (1 SP = 1 Steem). Using the 100% SP option shows that you believe in the value of Steem, but may be somewhat risky due to the absence of liquid rewards (money you can use right away rather than waiting for weeks).
The second option (which is also the default option) is 50% SP, 50% SBD. This means that half of your post rewards will come in the form of Steem Power (discussed above), and the other half will come in Steem Dollars (SBD). Steem Dollars are generally always worth about $1.00, meaning they're very stable for conversions. They're also immediately usable after your post pays out, so you don't have to wait any longer before transferring/trading them.
The last option is to Decline Rewards. Though this means you're forfeiting all the rewards from your post, it also means that you're helping the Steemit community by valuing other posts. Forfeiting rewards helps raise the value of STEEM for others, even though you unfortunately won't be earning any of your own rewards. Most users only choose this option when doing non-profit or charity style posts.
Market Value of Steem
Lastly, let's cover STEEM's value intrinsically as a cryptocurrency. Steem, as of right now, is trading at almost $1.50. It's at a market cap of over $0.35 Billion dollars, and is the 20th largest cryptocurrency. As you can see below, Steem is doing pretty well as a cryptocurrency: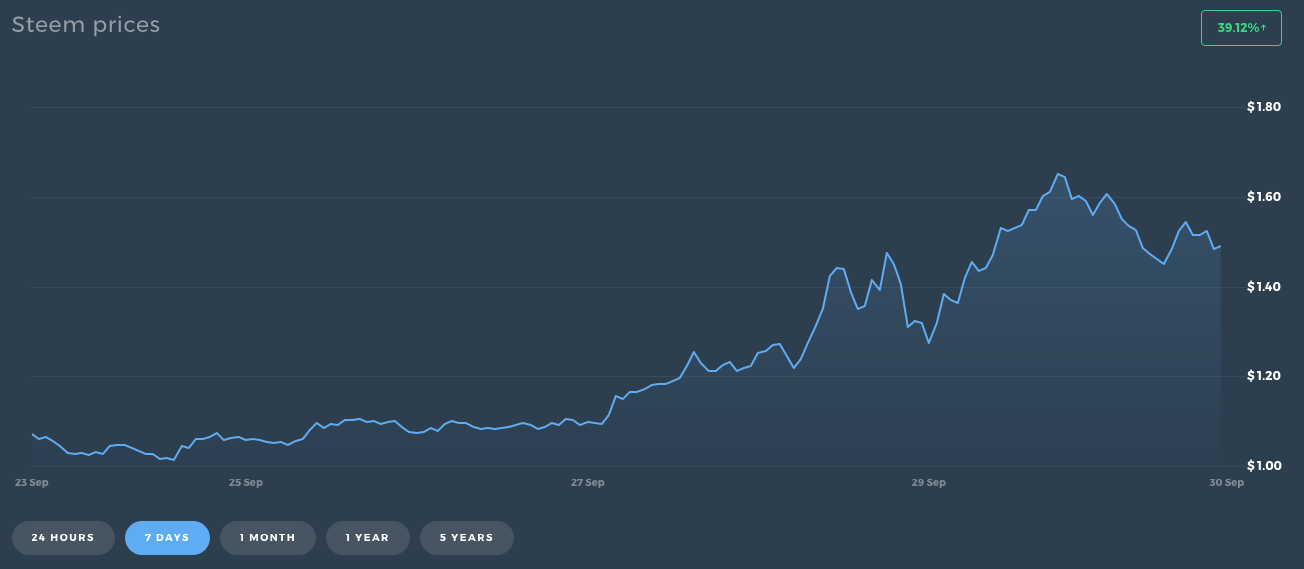 Though its market price may be volatile, given the amazing growth of Steemit.com and users' strong belief in the platform, it's safe to say that it's potential future value is
much higher.
Future Values
Analysts and users have many bullish predictions regarding STEEM. Jerry Banfield @jerrybanfield, a top Steemit user and witness, believes that Steem will reach $10.00 USD very soon. (possibly in the next six months!)
Steem is still in its very early stages right now, and there's lots of work to be done. This is why I firmly believe this is the best time to invest in Steem. You can get in on something potentially huge, at a very low price. Steem, according to myself and many others, is one of the best investments ever, crypto or otherwise.
---
Thanks for reading,
— @mooncryption
image sources: 1 - own, 2, 3, 4, 5, 6, 7, 8, DTube Website Screenshot
announcement: @mooncryption is now on other social media! Use the buttons at the right to find our various social media pages from Steemit to Facebook to Twitter! :)