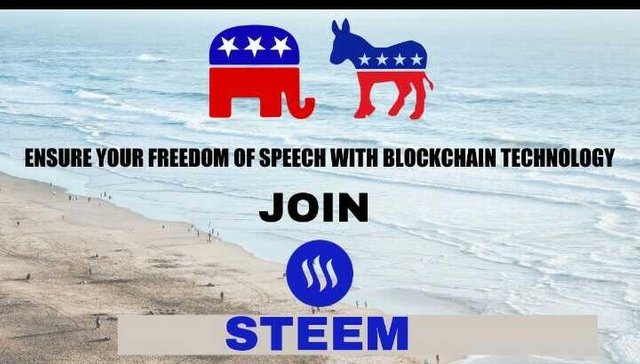 Steem blockchain : The future. Is perfect for free speech Enthusiasts and Steem blockchain is also censor resistant. Go On! Steem On.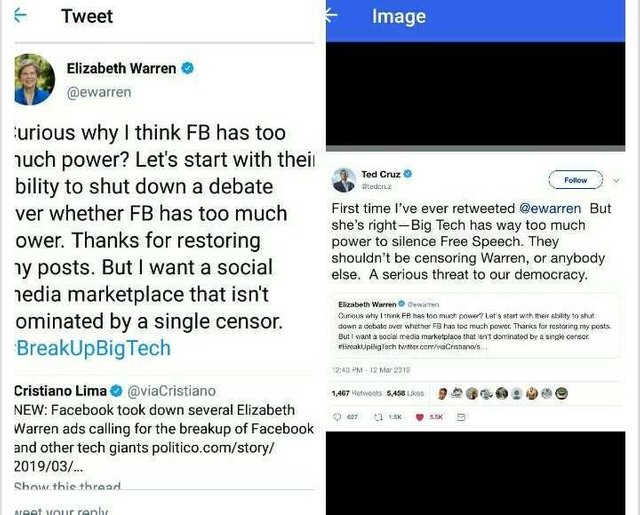 Yesterday, @andrarchy released a post on " Help spread steem on twitter: Two presidential candidates knocking Facebook " if you are very much interested in reading more about the original post here is the link below https://steemit.com/steem/@andrarchy/help-spread-steem-on-twitter-two-presidential-candidates-knocking-facebook
The main purpose of his talk was the actualizing the real hence of steem blockchain platform other than those long big social media companies like Facebook and the two candidates has no idea what steem blockchain really is, so our biggest goal now is to spread the #steem gospel all around the twitter both day and night no resting period at all because we need to get them on steemnetwork, steem blockchain . Please, great steemian out there, we need your Twitter share all over so that we an win the big heart of this great Presidential candidates.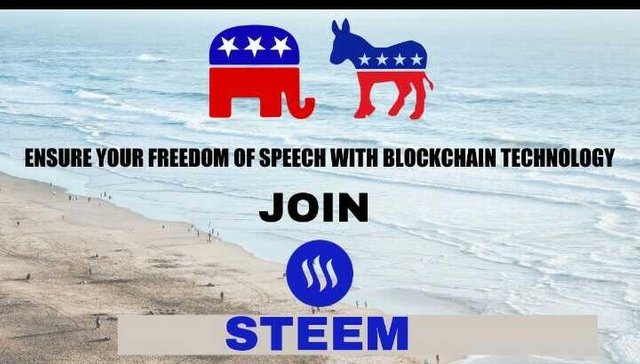 For every tweet on twitter this picture above should be included to make things work even more faster than you can ever think on twitter share. Also, you can see and give a quick reply to their tweet on twitter.
Let come together to spread this gospel about steem blockchain platform to them on twitter don't be left out.
Here is the steem reply on twitter to Elizabeth Warren below.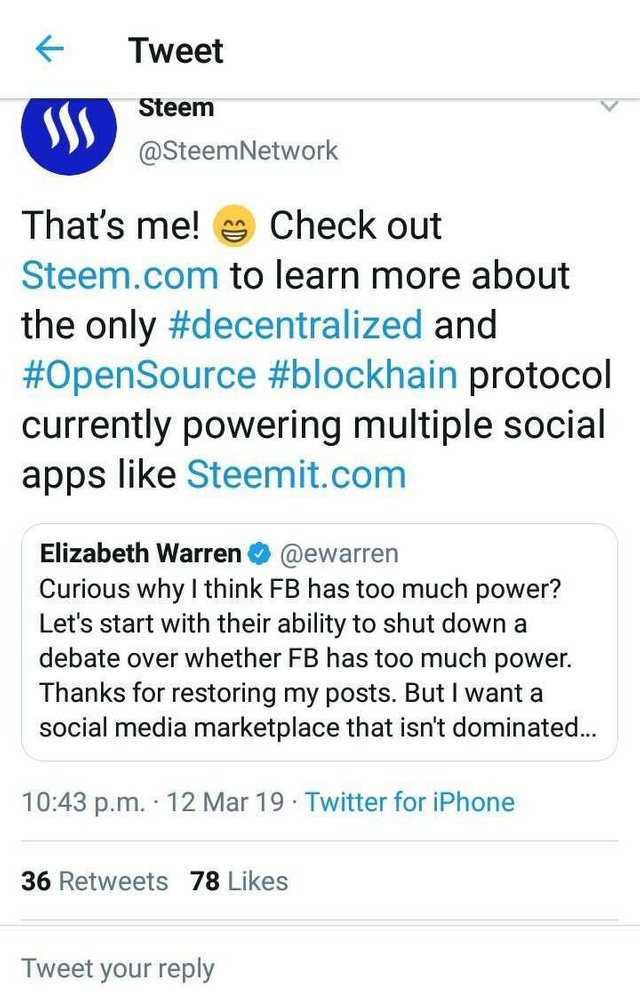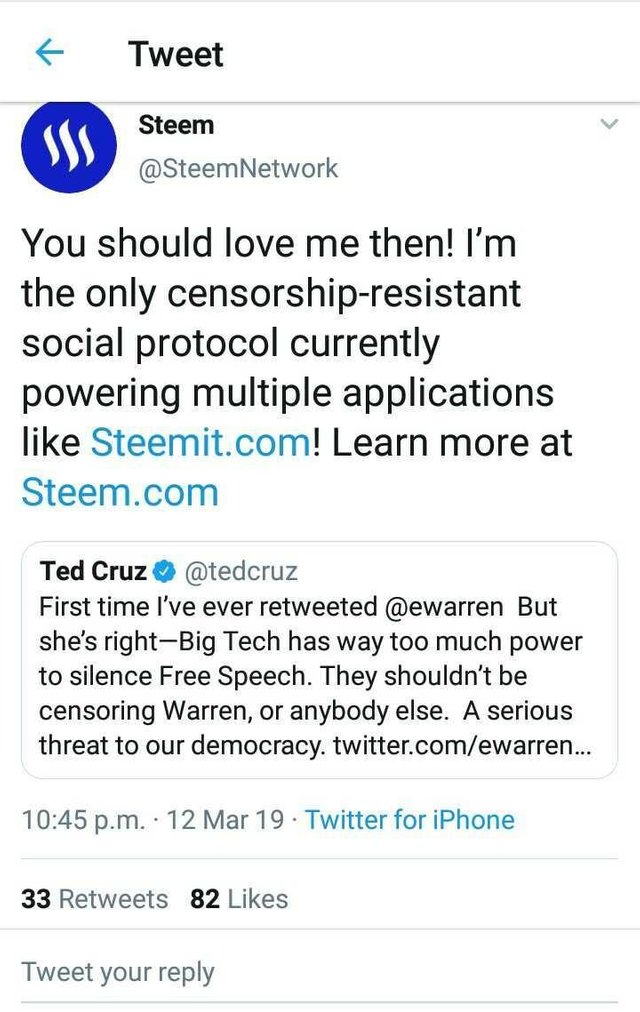 Here is my own tweet responsibility and reply to both of them on twitter. Ted Cruz and Elizabeth Warren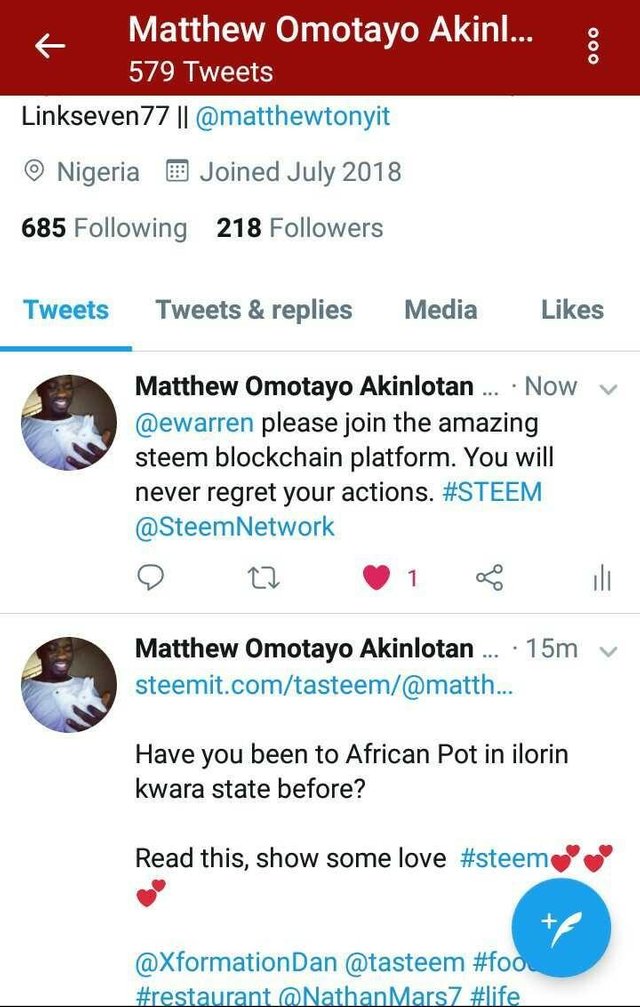 Like, retweet, tweet your own response to them Ted Cruz and Elizabeth Warren so they can truly know we are the future generations..
Some Tips laid down be @oracle-d
TO DO
A. Like and Retweet @SteemNetwork's Tweets shared in the above section.
B. Reply to or address your tweet to Ted's (https://twitter.com/tedcruz) or Elizabeth's (https://twitter.com/ewarren) Tweets by posting the image shared in the "GOALS" section. While replying, also write a caption about how STEEM Blockchain is perfect for FREE SPEECH Enthusiasts and how it is censorship resistant.
C. Upvote & Resteem this task post that you are reading.
D. Post the links of your work and screenshots of like and retweets in the comments of this post.
E. Tag 5 Steemians and ask them to do the same.
F. You can also choose to mention Steem Ninja's Link to buy an instant STEEM Account. (https://account.steem.ninja/?ref=steem.ninja) Use your own username in the link instead of "steem.ninja" in order to get commissions for referrals.
Make sure you use the following tags in your vlogs/videos:
#STEEM #CensorshipResistant #FreedomOfSpeech
Thanks to @oracle-d @andrarchy @oracle-d.task for giving everyone the opportunity to spread this awareness information very fast.
@orcale-d
@oracle-d.task
@andrarchy
Go On! Steem On! Let spread the awareness on Twitter.