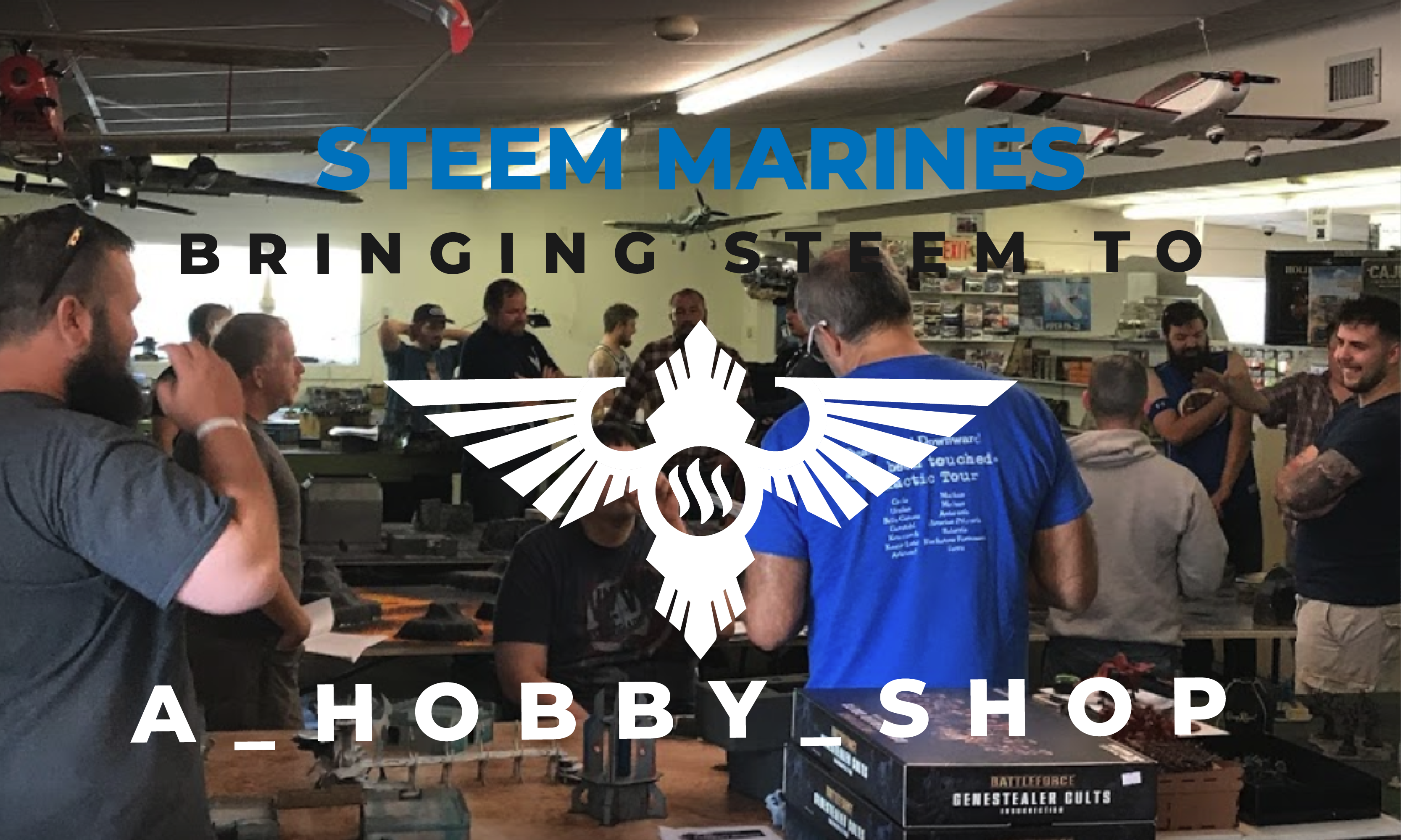 Mission Acomplished.
STEEM MARINES pulls off it's first major success in bringing real physical businesses awareness and opportunities to STEEM.
I told you guys, Steem marines is an excellent way to bring communities together.
My mantra and goal of this content are to share how awesome STEEM and WARHAMMER is. Today, I have accomplished that goal with resounding success.
As I had casual conversation with the very fantastic and completely awesome STEVE, we got to talking about what my plans and goals our.
Just as I expected, people took a great interest into both STEEM and STEEMIT.
I explained to Steve that one of my goals was to bring awareness to STEEM and how fantastic the technology is. How it allows instant payments across any distance instantly and securely. And how it's capable of running a website on that technology.
I explained how Steemit is based on this technology, and how Steemit fits in my lifestyle on a day to day bases.
One thing lead to another, and Steve soon was interested on how he could accept payments with STEEM. Which is extremely massive!
When I get him set up and he can begin accepting payments through with Steem, he will be the VERY FIRST HOBBY STORE IN HISTORY to do this!
Additionally, Steve and I are beginning to form plans for hosting a STEEM SPONSORED event at his store. I'll be making a post about this later as I have a lot of great ideas that can really spice up this event and spread the word about STEEM and STEEMIT.
This is a very big announcement as it's proof in the concept that the STEEM MARINE content really does add value to the community, and it's worth taking a look or too.
I'll be working closely with both Steve and @someguy123 to see if we can integrate a payment gateway into steve's online store.
Steve is in the process of creating a Steemit account as well, so I'll be sure to give as much support as I can to help spot- light this historical event.
I'll be keeping you guys posted on the progress.
In the meantime, please take a look at Steve's store
Want to become apart of this?
The STEEM MARINES need a CHAPTER MASTER. ARE YOU THE ONE? Turn your massive upvote into supporting a project dedicated to providing value to Steem!
Also! Please Join our community discord!
This is where the magic will be happening. Votes, news, content updates, exclusives will all be available at this discord server.
Everyone is welcome to join!
This is very much a work in progress, but I have a very general idea of what it will all look like. Everyday I'm hard at work laying the foundation of what could possibly be one of the coolest things that steemit has ever seen.
Share your thoughts
Dialogue is completely open, share your opinions, what you think should happen, what I could do, anything. I will reply to your comments. The is one thing that I'm really looking for feedback.