A look at the current Steem Witness list
I am not one who really cared about witnesses on the Steem blockchain, until the call for unity to oust sock puppets did I really used up almost all 30 votes. For a long time, the top of the Witness list usually comprised of the same names. Most of them are long time Steemians and had contributed a great deal to the blockchain and Dapps.
Current Steem Witnesses - Top 5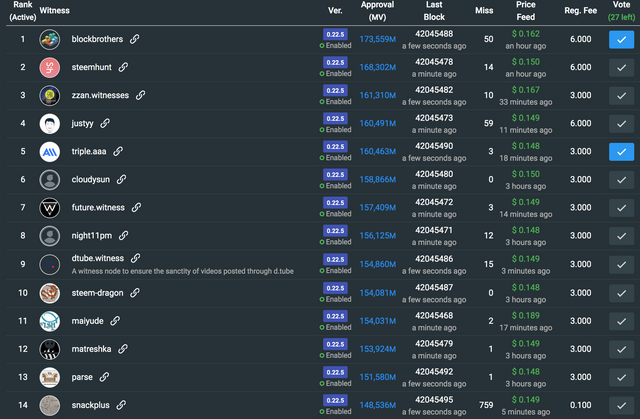 After the hardfork to Hive and with the departure of many ex top witnesses, the current Witness list of Steem is vastly different from a week ago. I had noticed quite a number of new witnesses too, all rising to the top 30 right after created.
In the top 5 spots, we can see familiar names in @blockbrothers, @steemhunt and @justyy. Each of them had contributed to Steem blockchain before with Dapps, tools, and promoting the blockchain. However, if I remember correctly, they were nowhere near the top 50 (?) before.
Occupying 2 other spots in Top 5 are @zzan.witnesses and @triple.aaa both used to have Tribes and SCOT with their own communities. I am not familiar with zzan but triple.aaa is one that I used before. It is a movies review site that has support from a Korean whale but it looks like the number of users (posts) had dropped significantly recently.
New witnesses
In just one week, there are many new witness popping out and going straight to Top 30 on the witness list.
Steem price is still holding up really well (at about $0.18 currently) and we all know how much top witnesses earn. It is so easy to be a top witness on Steem nowadays. It seems like Steemit is willing to cast their witness vote to just about anyone as long as you start up a witness node. But take note, the top spots are filling up fast! Act fast if you want to be a top witness!
What to expect from the Witnesses?
Being the top witnesses on Steem now, I am interested to see what they will do to contribute. However, I am not sure if they even have the technical knowledge of blockchain tech to contribute towards development of Steem.
Are you one of the witness listed above? Or do you plan to run a witness node? Tell me what you can do.