If you look at coinmarketcap.com today, you can see that steem has fallen all the way down to number 37 on the list.
Roughly $100 million behind Bitshares: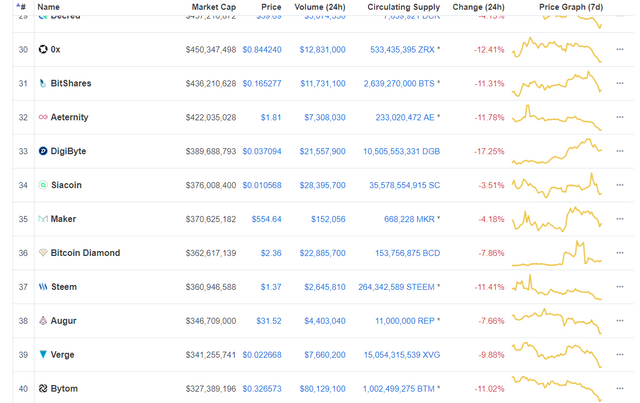 (Source: https://coinmarketcap.com/)
Yikes!
This is interesting because Bitshares was the older brother of Steem, created by the same person.
Steem arguably has a better blockchain and a better development team behind it, plus it has loads of cash (in theory) and large plans for the future which includes a social media site built on top of it as well as a multitude of other apps.
All that doesn't even include SMTs, which are supposed to potentially be one of the main value drivers for the cryptocurrency.
Given all of that, why in the world is steem valued close to $100 million LESS than Bitshares?
Honestly I don't have a good answer for that.
In fact, I don't have any answer at all.
Steem sitting at number 37 on coinmarketcap can make some sense in that there has been no marketing done for the flagship application; steemit.com.
Many of the coins listed ahead of steem have spent money on promotion, advertising, and basically getting their product out there.
Although I take that back, there has been word of mouth marketing and a few meetups where the CEO attended to talk about steem, but beyond that, pretty much nothing.
Which is shame considering the potential of the blockchain and the potential social media app built on top of it.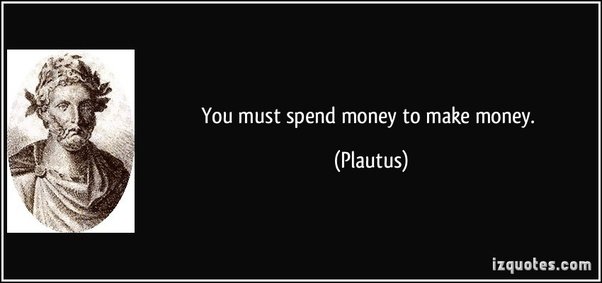 (Source: https://www.quora.com/How-do-I-make-millions-of-money-with-no-money)
Why has there been no money spent on promoting steem?
Again, I don't really have a good answer to that one other than perhaps the developers are waiting until the blockchain is ready to handle a large influx of users, which would actually make a lot of sense.
Build a blockchain that can scale, get a working social media site, THEN advertise and promote the heck out of it.
Though I am not fully convinced once the blockchain is ready to scale that much money will be spent on advertising, which again is a shame.
Though I have gotten off topic a bit here... Why is Bitshares, a coin that isn't doing any more advertising than steem, has less potential than steem, and has less money backing it worth more than steem is currently?
This goes to show how ridiculous the pricing mechanisms in the crypto space currently are.
None of the prices are really based on anything other than sentiment.
There is some pricing based off of potential, but mostly it is based off of promotion and sentiment.
If you can win the sentiment war, you can have a well priced coin.
That being said, I do think that we are getting closer and closer to each project being more accurately priced, however, I think we are still a long ways off.
For that to happen we probably need coins to diverge from being price in terms of bitcoin.
Right now bitcoin moves everything, with some small surges here and there based off their own merits.
Why should the price of the largest cryptocurrency directly impact other cryptocurrencies that may have nothing to do with bitcoin?
Until that changes we are going to continue to see miss-allocation of prices.
Stay informed my friends.
Follow me: @jrcornel