3 years on Steem now!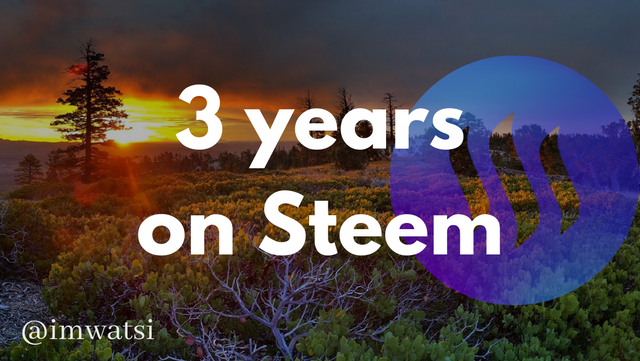 Some of the most educative experiences I've had in my life as of late have roots that trace back to the Steem blockchain. I've been on Steem for three years now and each year has had its own torrent of lessons.
Torrents of lessons
From my first year on Steem, I benefited from the insights of critical-thinkers I met on the platform as they shared their thoughts on many things. From personal growth, the pursuit of freedom and social issues, to cryptocurrency, free markets and insights into our present monetary environment. I learned a lot.
The second year was even more educational, as I took a more active role on Steem and the cryptocurrency/blockchain space as a whole. It was during this year that I decided to get involved in this space full-time and began channelling my assets, attention and energy toward establishing a foundation.
Exploring open source
I joined Utopian.io during its first few weeks of existence; first making copywriting contributions, and eventually becoming a moderator and then community manager. Going behind the scenes and being involved in the development of a startup in crypto helped me gain a richer and more nuanced understanding of how things work.
The 2017 bull run accelarated things, both good and bad, and brought with it a lot more lessons than I can share, mostly centered around how markets work and the rapidly changing regulatory landscape of this space. The bear market that later ensued was not short on lessons either.
New skills
A major highlight of my third year on Steem (October 2018 - October 2019) is the new skills I gained. Though I wasn't very active on the platform, I kept tabs on developments, while reuniting with an important passion in my life, after a long hiatus: coding. I have been learning how to code in Python (and a little Javascript and Kotlin as well).
With these new skills, I decided to contribute to the development of Steem. A few weeks ago, I began working on a new feature, called Native Ads, that may be added to Hivemind Communites in a future update. I'm also making a few contributions to condenser (steemit.com interface) and wallet (the steemitwallet.com interface), where I can.
This is my short reflection on my 3 years on Steem. I have learned a lot from just being on Steem and I think that speaks to the power and potential that Steem has: to create an environment for the exchange of ideas within communities, with free market economic models built around that.
That's the note I'm kicking this new year off on: more lessons, more growth.