---
---

---
---
New thinking on generating higher income on Steemit !
Just make up your minds for some minutes...
maybe it really chances your Steemit-Life !
First of I want to make clear, that as far as I got it, Steemit is mainly a platform to publish good content and to vote for good content- the nice sideeffect is getting money for this !
The most important thing beside high quality content is having oder being ready for building high Steempower - the more Steempower you have, the higher your influence on the platform is.
The first important thing to understand is, that your reward depends on many factors !
you can check out this or to sum it up & cut it short:
Your Reward = Steempower * VotingPower * Timefactor * Votingplace (how many voters before you)* your share of the Rewardpool (which depends on the number of users and their and your voting- and steempower)
Even if you don't understand that in great detail right now read on and think about this:
There many ways of earning (resp. gaining money & Steempower) on Steemit - the most popular are writing and curating (voting).
You can publish up to 4 post daily on your blog (100 % reward, after 4th it is declininig) or vote on posts of others.
Easy maths: From your own post you will receive 75 % of the reward (50% of it in SBD and 50% of it in SP) - from curation you will receive 25 % (100 % in SP).
If you comment on a post rewards are the same as if you publish one post - without the declining reward !
So one of the most underestimated income streams on Steemit might be comments !
For sure I don't want to encourage you to comment in spammy way - but high quality comments can bring same or even higher rewards than posts - and think of the visibility of comments on posts with high already high public !
And another thing:
With every Vote you make, your Votingpower declines 2%.
But with 10 votes it does not decline 20%.
First vote 100-2%=98 %, next vote 98% is the new 100% -2% and so on...
So in fact your voting power is declining slightly slower than it would be with full 2% of the first 100 % - you got it ?
If you look at the graph of how votingpower declines there is no big difference in making 10 votes at high power or 100 votes at lower power...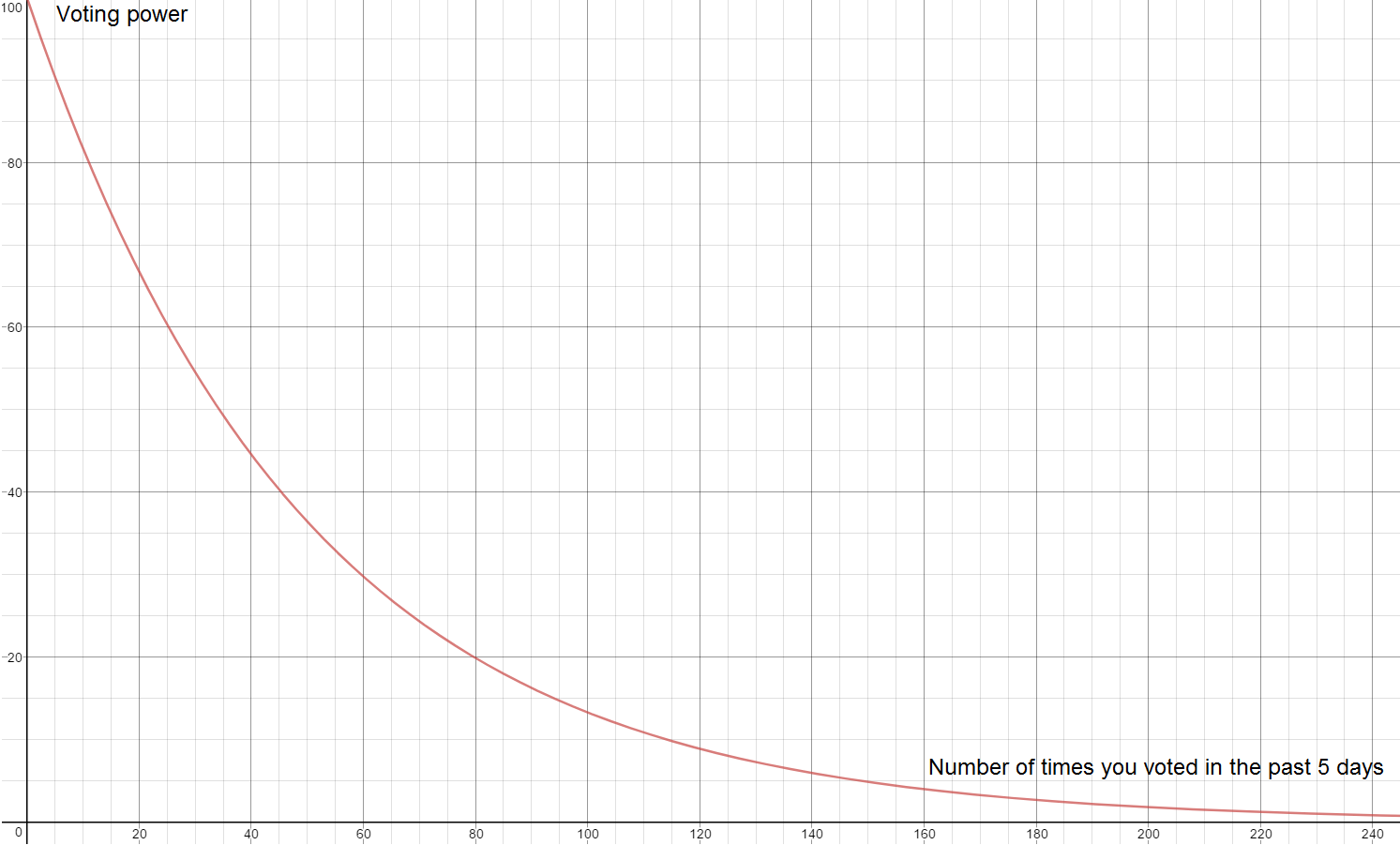 graph source
It's like you will have slightly the same reward in total if you do 10 votes starting at 100 % per vote or if you do 120 votes starting at 100 % ! Due to the fact that doing some more votes 120 votes might even bring you a little higher reward in total.
The lower your Steempower is, the less you should not spread your votes on too many posts but you have to bear in mind one thing: Your curation-reward not just depends on your votingpower but also on the votingpower of the ones who voted with you !
Èxample: You vote on a post with high reward where a lot of people with high Steempower also vote on - your vote will slightly be lost somehow and you can be happy coming out with 0.001 SP reward !
Until now nobody could answer my question what happens to reward lower than 0.001 - are the totally lost and vanish or are thy accumulated and paid out when reahcing that 0.001 because of display reason only 4 digits x.xxx are displayed in wallet as well as on blockchain.
Anyway:
Just one step more !
I want to do an experiment.
I want to encourage you to comment on this post, upvote your comment and every other comment you will find here !
I guess this would be the best thing you can do with your voting power right now especially when you have low Steempower !
But still keep on voting on content that you like as well ! Don't forget what Steemit is really about !
If any longtimer feels like my idea is against Steemit Policy please also reply on post and don't flag me - I read all replies and interact with my commenters and followers ;)
---
Kind regards
---
*** Resteem ! + + Upvote ! ***
---
Thanks !
;-)