Most of us know the joy of giving gifts with friends and family. But many of us do not know the joy of giving gifts outside of our closest circles. Steem is helping us to grow our community in new ways and offers a platform that can encourage giving and sharing. Dare I say that steem is helping many of us expand our concept of friendship.
A gift economy is an economy where items are given as gifts with no expectation for any direct value. Giving gifts with no expectation of anything in return is an act of letting go of control, an act of generosity and an act of giving towards the greater health of a community or society.
Our dominant economy operates differently. Goods and services are typically not exchanged without receiving the equivalent value in money.
Gifts and Trust
One of the differences between gifting and selling is that we gift to those people that we trust and honor in our lives. We typically sell our products and services to anyone that is willing to pay for them. What if we also trusted and honored everyone we sold to?
We trust in money. An exchange ends with a specific expected outcome - money in our hands. With trust in money and with money in our hands we don't need trust in people to operate.
Within our steem communities many of us can find common interests and common goals. Many of us are already operating in a gift economy on steem via sharing steem, sharing sbd, delegating, etc.
I'd like to our marketplace facilitate the ability to offer gifts to each other in a familiar format. I will be offering a series of updates and features to Homesteaders Co-op over the coming weeks to facilitate gifting.
Hybrid Gift Economy
I'd like to suggest a hybrid gift economy. Hybrid because our vendors need to make money for the hard work to create their products and offer their services and I don't want to take that away or devalue it.
Unfortunately most of us cannot envision ourselves living in a world where all exchanges are gifted because we are so entrenched in a culture that demands money to operate.
But I do hope that we can explore together what benefits come to us not as individuals, but as a community, when we operate in a gift economy. How might this inform the future that we want to build for ourselves and our children?
The first update that I've made is the ability to distinguish gifts from products that are for sale. Vendors can offer something as a gift to anyone that would like to receive it. The recipient will still need to pay for shipping - unless the vendor decides to opt to pay for shipping.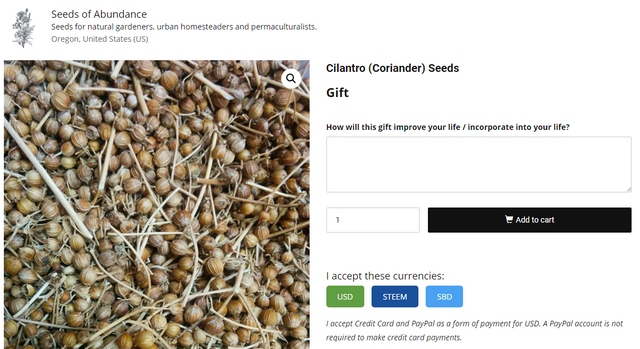 Communication about a gift's value
I've also added the requirement for the recipient of a gift to specify how the gift will be improving their life. This is significant because it allows the recipient to think about the value of the gift, not in dollars or steem, but in an idea or expression of how their life will be better.
This communication may just build more community relationships by starting a conversation between gifter and recipient. This prompt also encourages the recipient to think about their relationship to the gift. On the other hand, it can also help vendors weed out individuals that they would rather not offer their gifts to. After all they should reserve the right to gift to who they want.
Gifts are coming online
My partner and I have personally already added several seeds as gifts into our Seeds of Abundance store in the form of seeds that we would like to share (such as the cilantro seeds pictured above)
Gifts work with virtual / downloadable items too. Little Worm Farm is offering 3 of his e-books regarding vermi-composting and soldier flies as gifts. (For virtual products obviously shipping does not apply.)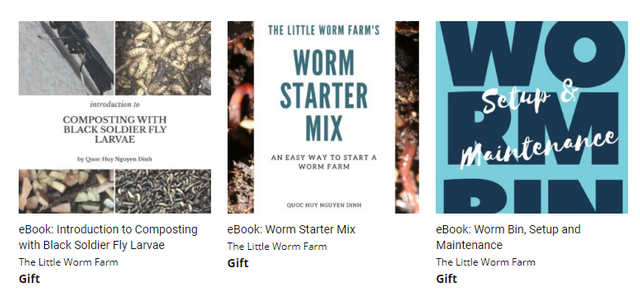 I sure would love to hear your thoughts about the direction this is heading. I look forward to share more updates as this progresses within Homesteaders Co-op.
---
We Have Free Instant Steem Accounts to Share!
We have free steem invites for anyone in the #homesteading, #gardening, @ghscollective, @naturalmedicine, @tribesteemup, @ecotrain, @earthtribe communities that have any friends or family members that are interested in joining steem and joining our communities.
With our invites they won't need to wait 1-2 weeks or pay ~4 steem to get an account. If we have enough free SP at the time of sharing an invite it will come along with a small delegation so that they have some RC to start out with. Direct message @sagescrub in discord for an invite to share with your friend or family member.
---
A Free Marketplace for Steem
We provide a FREE marketplace for you to transact in STEEM, SBD and USD. Our vendors are committed to sustainability, ethics and quality in their lives and work.
Unlike other marketplaces our vendors are not charged listing fees, subscription fees or transaction fees. This service is 100% free.
Support Your Alternative Economy:
---
Why Delegate to Homesteaders Co-op?
Your delegations will help us grow our community and reward our members for their ethical choices and actions.
In our modern world it is not always easy to choose to live sustainably. To do so often means forgoing income potential and the status quo. Our Steem Power is used to up-vote community contributors and vendors in thanks for their efforts.
10 SP | 25 SP | 50 SP | 75 SP | 100 SP | 200 SP | 500 SP | 750 SP | 1000 SP
---
Who is Homesteaders Co-op?
Get to know our mission in our introduction post
---
Want to Become a Vendor?
Learn more and apply here
---

---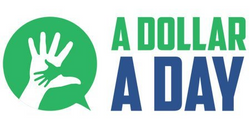 A Dollar A Day - Charitable giving project
Follow @adollaraday