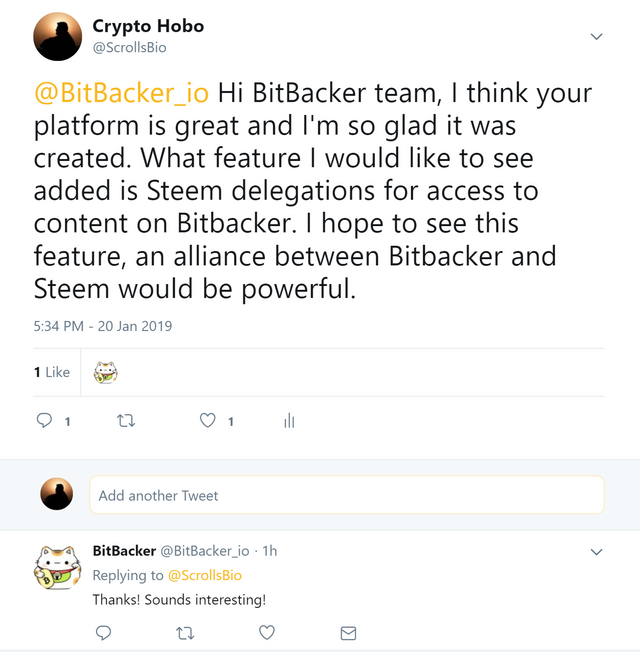 Steem & BitBacker Alliance!
Steem community, we need your help to make both Steem and BitBacker two incredibly powerful platforms. How can you help build this union? We need you to do what I did and reach out to BitBacker and indicate your hope for them to implement Steem support for BitBacker. But I don't mean simple tipping featues, Steem is unique in that it has a delegation function. We should be able to delegate to our favorite content producers and projects on BitBacker to obtain access to special content!
BitBacker showed interest in my suggestion, but we need more support. Take a minute to tweet to BitBacker and urge them to move on this alliance and build in Steem delegation support for Steemians!
Tweet BitBacker here: @bitBacker_io

Are you familiar with Patreon? Patreon is a platform that allows content producers to put their content in a membership only location. This allows content producers to profit from a list of subscribers that want to receive special information only available to members that financially support the content producer.
Youtube content producers such as Bitcoin Ben, Naomi Brockwell, DataDash and the like often offer Patreon memberships to their special content not available on Youtube. This is very common among day-trading professionals that give special insights on crypto investments only available to their Patreon members.
BitBacker is a new platform offering the same services as Patreon, but while Patreon uses fiat currencies such as the Euro or the US dollar, BitBacker uses cryptocurrencies such as BTC and BCH.
We all know that the primary purpose of Steem is as the content production blockchain that empowers content producers and crowd funding projects to grow in value. I have high hopes for Fundition, but it primarily focuses on crowd funding while BitBacker is another important platform in this space more organized as a crypto alternative to Patreon. For this reason, BitBacker just might be the most important alliance Steem could make!
After checking the website, I have realized that their only method for contacting them is Twitter... Maybe I should run a petition on Steem to get a list of the Steem community that wishes for BitBacker to support Steem. If we can show BitBacker that they will obtain a large community of users by accommodating Steem perhaps they will devote more of their attention to development in delegation-based memberships.
I believe that the true value of delegation in the long term will be as a method to gain access to membership programs of many different kinds of businesses.
Report for Contributing Steemians:
@crypto.piotr @juanmanuellopez1 @moghul @coolguy222 @newageinv @gowealth @blessed-girl @cruis @lexymaine @alokkumar121 @aceandnotes @darlenys01 @rafique1953 @marvyinnovation @wems @ajks @alaisguineasis @amnlive @kimmysomelove42 @praditya @tommyl33 @samryan @vickykarma @brightsun @oppongk @kryp70kn1gh7 @hobo.media @theticket @royer94 @bradley028 @nummulshrma @maxijgcomm @maikelblogo @mrblu @nancymj @petervi @mcoinz79 @missabigail @saludoalalma @mcnestler @moarafatshow @gargi @luis402 @rem-steem @shahzadeh @sumon-ar-vines @naijauser @yantrax @josema.saborido @khan.dayyanz @shapescooper @aceofhearts @marcocosta @rvag5 @fusroj @cashlane @borrowedearth @michaeljn @kchitrah @mitchhunter @nataliaeline @cherlianny @unknownphoton @unclefz @gardengranny @bettyamv @ghostwriter9 @wandrnrose7 @nancybriti @missladybug @shirophantomhive @rvag5 @ankitjnv @marvyinnovation @tommyl33 @gowealth @ustaadonline @daio @brightsun @mzubairch @amit1995 @starapple @treodecimo @edinhazard @maxijgcomm @wasito @mariita52 @maroni55 @nataliaeline @ajtech2596 @keithf @wesleyvanderstel @grainsofsand @mariita52 @naijauser @castleirwell @juanmanuellopez1 @moghul @coolguy222 @newageinv @gowealth @blessed-girl @cruis @lexymaine @alokkumar121 @aceandnotes @darlenys01 @rafique1953 @marvyinnovation @wems @ajks @alaisguineasis @amnlive @kimmysomelove42 @praditya @tommyl33 @samryan @vickykarma @brightsun @oppongk @kryp70kn1gh7 @hobo.media @theticket @royer94 @bradley028 @nummulshrma @maxijgcomm @maikelblogo @mrblu @nancymj @petervi @mcoinz79 @missabigail @saludoalalma @mcnestler @moarafatshow @gargi @luis402 @shahzadeh @sumon-ar-vines @naijauser @yantrax @josema.saborido @khan.dayyanz @shapescooper @aceofhearts @marcocosta @rvag5 @fusroj @cashlane @borrowedearth @michaeljn @kchitrah @mitchhunter @nataliaeline @cherlianny @unknownphoton @unclefz @gardengranny @bettyamv @ghostwriter9 @wandrnrose7 @nancybriti @missladybug @shirophantomhive @rvag5 @ankitjnv @marvyinnovation @tommyl33 @gowealth @ustaadonline @daio @brightsun @mzubairch @lightestofideas @amit1995 @starapple @treodecimo @edinhazard @maxijgcomm @wasito @mariita52 @maroni55 @nataliaeline @ajtech2596 @keithf @wesleyvanderstel @grainsofsand @mariita52 @naijauser @castleirwell @isabelpereira @nulifeiq @royer94 @yaleal @ushmil @nisiryan0522 @reveurgam @certain @kkins @nurseanne84 @robertyan @xtophercruzeu @theureview @anil566 @freedomanytime @clayrawlings @zetacoin @goldheart @artoftherhyme @jiujitsu @don-thomas @arsl14 @vishalmajumdar @thehippierays @kemc @aple @orgoniteog @abrish @zydane @cathynsons @shashiprabha @katebobkova @tramelibre @sanjoea @steemnurse