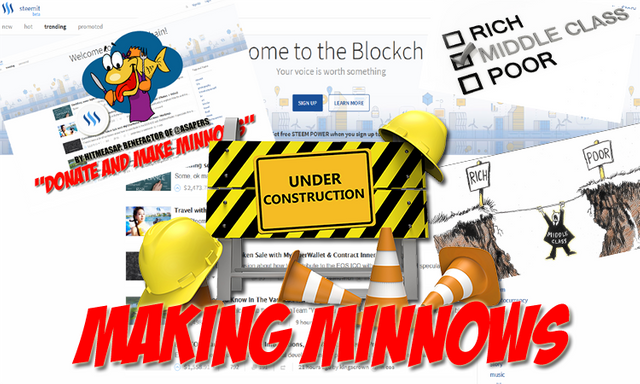 Some of you might remember the "Push People"-initiative I ran a few months ago. We successfully pushed a dozen Steemians over the 500 mark, and we brought them into minnowhood. Without major support from dolphins, orcas and/or whales, we, the "little guys" managed to pull this off due to teamwork. We strived towards the same goal and with combined efforts, we managed to push 12 users over the finish line. That was our first attempt, (my second as I co-launched the @asapers), to create something that could potentially resemblance a middle class on Steem.
Unfortunately, due to various reasons, I felt forced to put this initiative on hold after a few very successful weeks, but I had the best intentions and I was eager to resume this amazing project as quickly as possible. The truth is that I enjoy to help others. That is my main goal in life. My day gets better if I can make people smile and with a history of ups and downs, both in life and on Steem, I aimed to improve the overall experience on Steem.
As the co-founder of the @asapers, a manual curation project with focus on "little guys", I have been eager to produce results for and on our blockchain for a long period of time. I have worked hard to motivate, encourage and inspire people around me during the majority of my time here, but when I launched the "push people"-initiative, I was looking for something different. I was looking for something that could basically force people into minnowhood, because I felt the need of having a real middle class.
One week ago, I got the opportunity to work alongside some amazing Steemians in the biggest push we've ever seen. The goal is to make 250 minnows in one month, and we can already see some good results. Even though my time is very limited and even though I had lost pretty much all my motivation, I felt almost obligated to join. After all, it was part of my dream, so I had to join and do whatever I could...
It was my "Push People"-initiative on steroids.

To work hand in hand and alongside the team members feels really good. To be invited and get a position in this team is great and feels almost unreal to be completely honest.
@paulag, @steevc, @niallon11, @slobberchops, @cryptoandcoffee, @blanchy, @pennsif @erika and @melinda010100 is working hard and the best part is that we're working towards the same goal. Our goal is to create a middle class, or to strengthen the middle class we have today.
Before going further, I just want to clarify the reasons for this to feel almost unreal... I have never been wealthy in terms of Steem Power. I have never had continuous whale- or orca support and Steem in general is about Power. People with power are the ones that will be recognized and those are also the ones who'll be able to "move mountains". All due to the size of their wallets.
As I've always been a rather small user, I have also had to put in a shit-ton of work to get any form of recognition and exposure... And truth to be told, my wallet is probably the main reason for my initiatives to have been overlooked more than once. It's easier to ignore a "nobody" than someone with a large amount of Steem Power. Wealth attracts wealth.
That being said, when I was invited to be part of this it proved that people knew about me, my history and my goals. The size of my wallet didn't matter. What I had done and what I aim to do was the things that counted. I didn't hesitate for a second, I jumped in head first and I also opted out of this, because it wouldn't feel good to grow my own account with this. I would be eligible for this amazing push, but I choose to stay out of it because I don't feel comfortable raking in rewards that could go to others instead.

I am more motivated, have more energy and I will reinstate the "push people"-initiative in the near future. However, with this current push, this is not the time for my project to be reinstated. We should focus on the biggest push in the history of Steem. We should do whatever we can to reach our goal of having 250 new minnows in a month from now.

This Is My Call To Action:
@thedarkhorse | @simplymike | @erodedthoughts | @ifartrainbows | @preparedwombat | @headchange | @lyndsaybowes | @goldendawne | @phoenixwren | @blacklux | @abh12345 | @erikklok | @deirdyweirdy | @googlyeyes | @deadspace | @insideoutlet | @lynncoyle1 | @davemccoy | @gduran | @khimgoh | @minismallholding | @sparkesy43 | @robertandrew | @danielsaori | @zekepickleman | @whatsup | @stever82 | @coinsandchains | @kaerpediem | @empress-eremmy | @janton | @cryptocurator | @guiltyparties | @gooddream | @matthewtiii | @lemony-cricket | @dfinney | @trincowski | @brittandjosie | @viking-ventures | @tezmel | @akdx | @vincy
We where able to "move mountains" with the "Push People"-initiative before, even without any major support from larger accounts. This time, we have more support than ever before...
Official Announcement: Let's Make 250 New Minnows in a Month
Update: 250 New Minnows Event Update and List of Accounts to Support
---
How you can support.
Keep an eye for our updated list of supported accounts and send votes where you can.
Follow @tenkminnows trail on steemauto
Follow @tenkminnows guild on steemvoter
Delegate to @tenkminnows
---