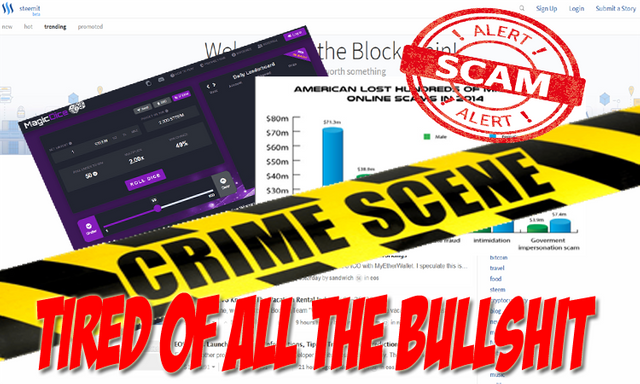 The cover photo stands for just a fraction of the things I am tired of, but this recent MagicDice-exit gave me the final reason to give up on my past and present personal approach for and on STEEM. It has been a long journey. A journey I will remember for years to come, but I am done with this whole "be yourself"-escapade.
I Have Walked The Walk
I figured it would give me the right to talk the talk, if I walked the walk, so I did. I have been a loyal, embracing Steem-advocate since I joined in July 2016. I have grown as a person and I have been a part of so many wonderful things so I can't even count them all on my hands...
Without overwhelming, circle-jerk type of support, I co-launched a successful minnow-support project called the @asapers. I did this with a handful of amazing, kind and generous people who all were just small fish, and we managed to do this in this extreme, horrifying and tremendous ocean we all call STEEM.
I have inspired, encouraged and I have taught dozens of people from all over the world what STEEM is about, how to STEEM, and you name it. I've done literally everything you can imagine. I have written in-depth tutorials about this and that, I have shared personal stories and I have spent countless hours writing articles... I have spent several hours per week talking with users on Discord and on Steem.chat. I have tried my very best to be positive and to push people forward.
I have launched different forms of "minnow support"-projects, such as "#minnowasap", and I was part of the extremely successful "250 minnows in a month"-initiative. I have been able to reduce the time I spend on my articles, so for the past 6 months or so, I spent approximately 2 hours per article I wrote instead of the previous 2-4 hours...
I did all of that due to the fact that I was eager of sharing, growing and giving. The bigger I were, the more I could do for others. That has been my personal goal for a long, long time. To give and to grow...
I have realized that it's not worth it anymore.

I've Had Enough.
This is not a decision based on the exit scam from Magicdice. @zombee or whoever owns the site can suck a horse, swallow and die for all I care, but this isn't the reason for me to write this.
I write this, because I am tired of spending hours per day in an attempt to help STEEM as a nobody, meanwhile others out there are laughing all the way to the bank due to their greedy and selfish behaviour. I am tired of all the bullshit.
I am tired of seeing Steemians acting like retarded troglodytes when they could've done so much good instead of letting their egos, or whatever the problem is, get in the way. I am tired. I've had enough...
I am tired of all the wanking, jerrybanfield wannabee nerds out there who bursts out 50 litres of sperm per day, only to fill their own mouths. I am tired of the nonchalant, ignorant, greedy and selfish behaviour who has taken over STEEM.
I am tired of all the people who thinks that removing the "beta" from the steemit logo is the greatest thing that ever happened to STEEM... Are people really that stupid so they think it actually matters??
"Steem is dying".
Boo hoo.
The people, the users are the virus that kills STEEM. The lack of average people, the lack of compassion, the lack of selflessness and the lack of pay-it-forward thinkers is what kills STEEM.
It's not about Dan leaving... It was never about Ned, his hair, guitar or him being a bad CEO... It's not about the poor leadership, even though it obviously would've been better if we had good leadership.
It's about us, the people. People are assholes. Greedy and selfish assholes who thinks of themselves more than anything... But, they think about themselves so much so they never think of anyone else. That is the problem.
People act out of greed and selfishness, and that is the biggest problem we have. These people could've done dozens of things that would've benefitted STEEM further on, but they continue to do this short-term, and they continue to tear apart that little good there is left.
I will not spend more time trying to teach, encourage or motivate others. I will not waste countless hours trying to talk sense into a person who thinks that "greed is the best approach". I will not spend a single second on trying to convince someone to stay on STEEM, if they're about to leave.
That's not up to me anymore.
I will go back to being "me" again, when I see a real change in the overall behaviour, and I will reconsider things when I see that whales and orcas actually give a fuck about the platform.
"be the best version of you"
Yada yada.. That's some bogus Yoda-talk that good people would say, but people are the worst versions of themselves online, on the blockchain. They are the worst versions of themselves because they can, and because it's the only time they would ever dare to be a "thug". Just look at the owner of Magicdice. A wimp. But, a wealthy one.
According to what I heard, they made off with more than 500,000 STEEM. And it's not even the first time something like this happens... But god knows if I would ever try to promote this post with 200 STEEM, I'd get smacked back into reality with downvotes from whales.
I need approximately 4000 STEEM to survive until August. I could basically be kicked out on the street, live inside a cardboard and I would have to search for food in trash cans by September this year if I don't cover all the expenses I have... ~4K steem, judging by the prices right now...
And I still don't promote my posts like a crazy person...
Nope, not me. I do things differently. STEEM could basically change my life, or at least parts of my life, if I took advantage of it like many others are doing... But I am not like that... - Why?
Not anymore, I've had enough.
No. This is not a fundraiser. I cover my expenses by other means. The mention of STEEM is just to clarify what amount of STEEM I would need in case I would use STEEM to pay.