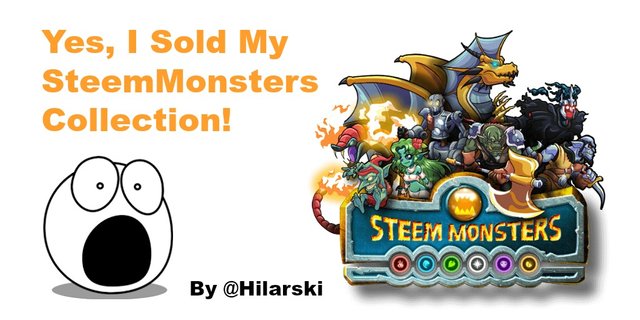 Randy WTH Did You Just Do? Why Would You Sell Your SteemMonsters?
The answer is rather simple. Last week I saw an opportunity coming and I think that opportunity is greater than the opportunity of me playing the SteemMonsters game.
Back in February, while attending the Anarchapulco conference @Aggroed, @AnaHilarski and I sat down and had a great conversation. We talked about life, Steem and of course SteemMonsters. He convinced me that I should try out the game. Knowing my addictive personality I was hesitant. For those that do not know, almost all of you, I had to give up gaming back in 2005 when I realized it took up too much of my life. Since then I have built multiple businesses, became a semi-successful blogger and am about to unveil something huge.
So even though I knew my personality I still came home to Panama and started playing SteemMonsters. I quickly realized that in order to compete I would need to spend some Steem and I did. Overall I think I spent between $400-$500 on packs. It could be higher but I am not worried. The team at SteemMonsters deserved the payday after building such an awesome game.
Now six months later I finally made it to Diamond level 3. Believe me, it was a frustrating journey. I really disliked getting booted back down to Silver every time we completed a season. I decided to take a break but then something unexpected happened.
The Steem Price Sunk Like the Titanic Against BTC and Then in USD.
So I told @AnaHilarski my season of playing SteemMonsters had come to an end. Before my addictive personality could change my mind I sat down at my computer and put 100% of my collection for sale. 1500 Steem and climbing has poured into my Steem wallet since last week. I powered it up. With a Steem price of just under $.25 I think this is the best move I can make for my family. My optimism for Steem is still tepid but I personally think the price won't go much lower. The opportunity to 10X or higher my Steem is way too difficult to pass up.
I Want to Thank @Aggroed for Convincing Me to Play SteemMonsters.
You my friend are the one who gave me and @AnaHilarski confidence to stick around the Steem community.