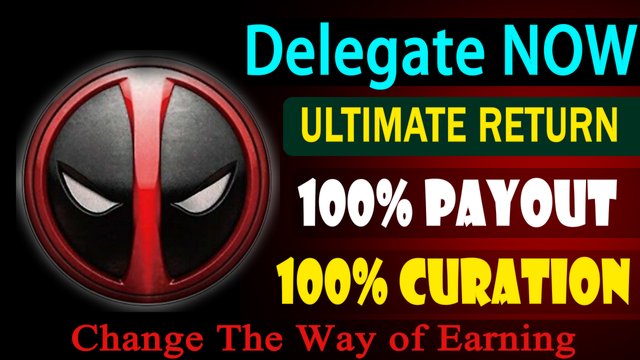 Contents :
What is Delegation?
Why should you Delegate @spydo?
Minimum amount to Delegate.
How to Delegate?
How to Update / Remove existing Delegation?
If you joined steemit few days back and have no idea of delegation we recommend to go through What is delegation? else you can skip to next section i.e. Why should you delegate @spydo?
---

To understand delegation let's first review Steem Power. If you refer to the FAQ section of steemit you will easily get that Steem Power is nothing different than steem but has some extra advantages over steem.
SteemPower gives you a share in Steem BlockChain and thus Gives you a Voting Value to further mine steem by making up vote on posts you like.
If it's still confusing let's understand it with an example
Let's say Tom and Jerry both invested 1000 USD in Steem BlockChain by opening an account on steemit. Tom choose to invest in steem and Jerry in SteemPower. Then Tom will have its up vote value unchanged while the upvote value of Jerry is now increased by approx.. 0.05 SBD following current Market price.
Higher is your SteemPower higher will be your potential to mine steem by making upvote. Here the term mine is used for creating Steem tokens from nowhere. A very rarely discussed term bandwidth is also controlled in a similar way as your Up-Vote Value.
Up-Vote Value represents what worth of Steem the Steem Power holder can generate in a single upvote and you can check your upvote worth using this tool.
Bandwidth represents the amount of activity that a user can do on steemit. Grater SteemPower means you can do more post and comments than any other person who starts today and has very limited bandwidth.
Let's come back to Delegation,
Delegation means, you are giving away the Upvote value and Bandwidth corresponding to the amount of steem power to the delegatee and it doesn't transfer ownership of Steem Power, it still belongs to Delegator. We discuss delegation in terms of SP but in actual practice, Delegation is the transfer of Upvote Value and Bandwidth.
For example, Tom owns a trillion dollar company and he appoints @spydo as CEO to operate all major operations of the company, so @spydo have authority to make all major decisions for the Company Growth but the Ownership still belongs to Tom.
considering you have now a clear idea of Delegation so let's move to the section why you should consider delegating @spydo
---

Keeping it simple @spydo is a bot that takes Zero Profit from the reward generated, it simply returns all of the Reward accumulated back to Delegators at an interval of 24 hrs. In mathematical terms, 100% of reward generated is sent back to Delegators and additional 100% curation reward to all its delegator so that @spydo do not charge anything to you. which means everyone who delegates to @spydo have 100% ownership and we are managing @spydo at zero Profit.
100% daily payout + 100% Curation Reward weekly nothing Better Then THIS
@spydo gives STEEM & SBD per Day for Delegation to all its delegators according to present generate return and its likely to grow with the value of steem.
Now you must be thinking to delegate @spydo and the question comes next in your mind must be What is the minimum amount that you can delegate?
---

You can delegate any amount to
@spydo
as there is no such restriction of minimum amount by steemit, however we recommend to delegate a minimum amount of 50 SP so that you get a visible return for your delegation with a minimum of 50 SP left in your account to give your upvote a considerable value and to avoid any bandwidth issue.
Ok, I got that I should delegate at least 50 SP but how to delegate @spydo
---

You can use
SteemBotTracker Delegation Tool
to Delegate SP in a few click, simply by following given Guide:

Type Your Steemit User Id and hit ENTER to land on given Screen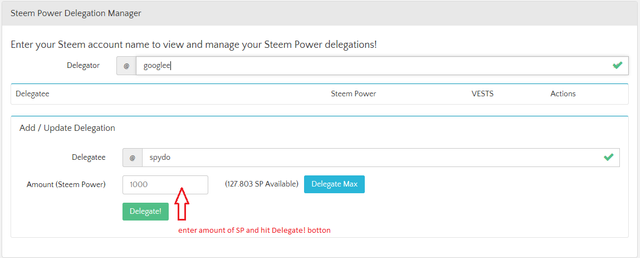 Simply Fill the amount you want to delegate and click DELEGATE button.

Complete Delegation by authorizing through SteemConnect.com
---

Say, you already have an active delegation with @spydo and you want to further increase it. one thing you have to understand, it is not like general math it is done in absolute terms. ok to make it more clear lets take another example.
Tom already delegated 10,000 SP to @spydo and want to add another 1000 SP, then he need to delegate 11000SP (i.e. 10,000 + 1000) to add another 1000 SP in his delegation, and what if he updated his delegation with 1000 SP, since he already had 10000 SP delegated now he will have only 1000 SP as delegation i.e. (1000 - 10000 = - 9000) he now undelegated 9000 SP from his delegation.
Given is a simple guide to update delegation:
Enter you steemit User ID and click anywhere on screen you will land on given Window.


To update click update Button then your existing Delegation with load in Amount (Steem Power)


Add extra amount to the existing delegation and press Delegate Button to complete your delegation update.


Authorise with SteemConnect.com


To completely Un-delegate Update your delegation with Zero, remember un-delegation will take 1 week and it is so to avoid delegation abuse.
It is recommended to always keep atleast 50 SP for your curation and upvotes
---