Delegator tutorial: Earn passive income through Steem Power delegation
If you have extra Steem Power and not enough time to use it all every day voting on posts and comments or you simply want to invest your Steem Power to get passive income, then delegationhub.com is what you have been looking for! Delegate your Steem Power and let it work for you. You can get a yearly return (APR) between 17-19%! (Status: 08.12.2018)
How Can I Delegate?
You can delegate your Steem Power in 4 simple steps:
Step 1: Open the Delegationhub Site.
Step 2: Check the APR or sort delegation requests by APR, Delegation Amount or any tab by clicking on it.
Step 3: Click delegate and follow the instructions, after that you will be redirected to steemconnect.
Step 4: Sign in with Steemconnect and confirm and you are done. You will get a confirmation from Delegation Hub that your delegation was successful. Your first payout will be 24h later.
By delegating to another Steemit user you are actively helping the Steemit platform to grow quality content. For the detailed click-by-click guide, please refer to the instructions below.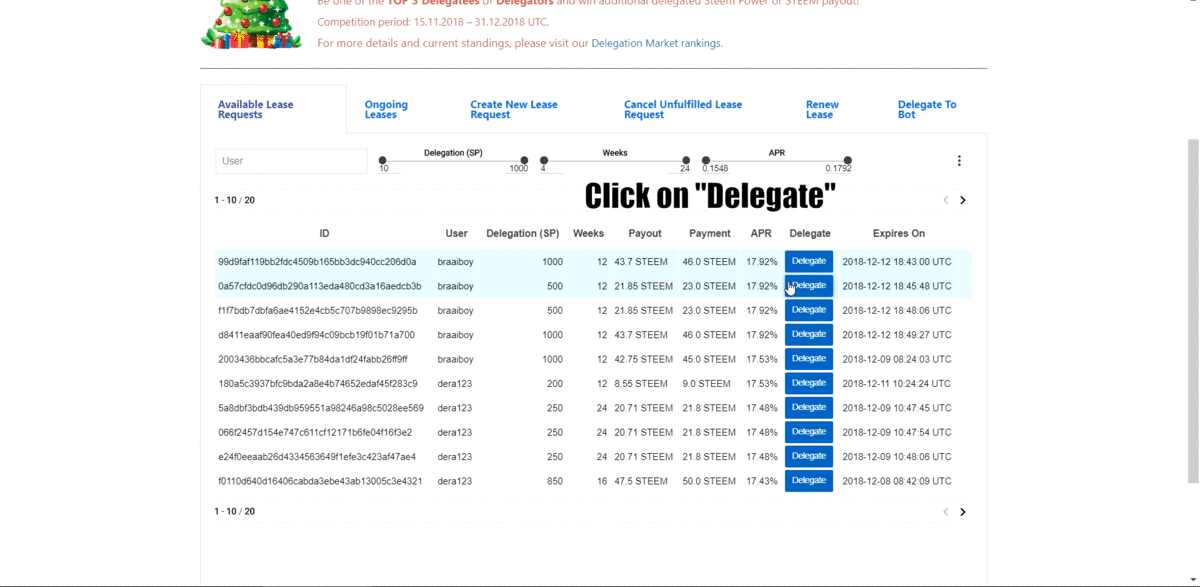 How Can I Undelegate?
Once your contact expires, you will receive a steemit message from delegationhub with the link that lets you undelegate via steemconnect, which looks similar to this one.
https://steemconnect.com/sign/delegateVestingShares?delegator=YourUsername&delegatee=WhoAmIDelegating&vesting_shares=0%20VESTS
"YourUsername" will be replaced with your actual user name
"WhoAmIDelegating" will contain the username of the person you haven been delegating to
"vesting_shares=0%20VESTS" will contain the updated amount you are delegating to this person once the delegation has ended. In case it was your only delegation, it will show 0 Steem Power.
As the Delegator, you have the possibility to undelegate at any time, even though the delegation period has not ended yet. We do not encourage this behavior because it is unfair and it is not what has been agreed initially. Furthermore, Delegation Hub reserves the right to take measures against such actors.
Delegation comparison: Delegate via market vs. delegate to bot
Let's compare returns from delegating to bots vs. delegating via the Delegationhub platform. The best paying bot right now is "therising" with 16.42% APR as you can see in the table below.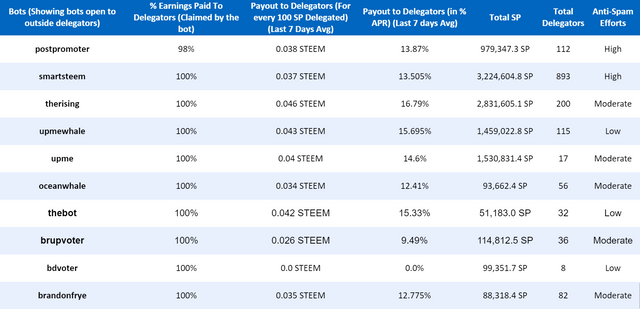 source Date: 08.12.2018
On Delegationhub you get 17.92%. Check every day for new delegation requests!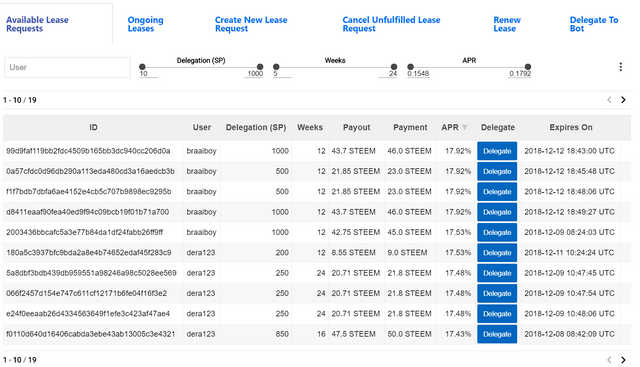 About Delegationhub.com
Delegationhub.com is striving to become the leading delegation market place for selected Delegated Proof of Stake (DPOS) utility tokens such as STEEM and EOS. The Delegation Hub aims to connect different stakeholders of the STEEM and EOS ecosystems and thereby foster the growth and strength of communities and help them succeed. Delegation Hub is an independent initiative not associated with any block producer and self-funded.
Please get in contact with us via the channels provided below and visit delegationhub.com.