This post is an authorized Spanish translation for @Oracle-D, the original article can be found here
Esta es la primera vez que estamos lanzando una tarea abierta para todos los Steemians y no solo para nuestros usuarios registrados. Esta tarea es bastante fácil y va a ser muy beneficioso para Steem si todos unimos fuerzas y votamos para que sea añadido a la lista de NETCOINs. Además, también podrás recibir recompensas por ayudar de varias maneras. Absolutamente cualquier persona puede participar. Y si amas a STEEM, entonces ¡no deberías perderte esta oportunidad! ¡La mejor parte es que vas a ser recompensado por formar parte de esto!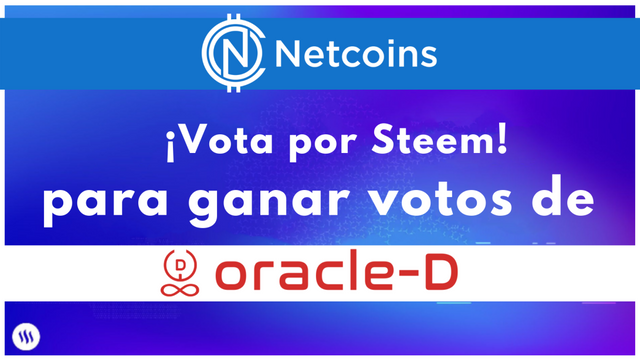 EXPLICACIÓN DE LA TAREA
Vota por STEEM para que sea añadido a la lista en NETCOINs de manera gratuita (http://contest.gonetcoins.com/). Actualmente, ellos están llevando a cabo un concurso en donde podemos votar por nuestra moneda favorita para que sea añadida a la lista en su plataforma. Lee "DETALLES DE LA TAREA" para entender como se vota. ¡Puedes votar por STEEM diariamente por los próximos 6 días!.
NOTA: STEEM ya ha sido nominado, así que lo que debes hacer es VOTARLO y no NOMINARLO. Lee Detalles de la Tarea para saber más.
RECOMPENSAS
Hay dos maneras por medio de las cuales puedes ganar recompensas:
Vota por STEEM y publica un comentario en el post original con las capturas de pantallas para ganar votos de hasta $1 dependiendo del Poder de Voto que haya disponible. Los primeros 50 comentarios con una captura de pantalla válida van a recibir votos mayores a $1.

Escribe sobre este concurso y corre la voz en tu propio artículo bien escrito, vlogs o gráficos y gana votos de hasta $10. En el caso que el blog reciba bastante interacción, el voto será todavía mayor! El uso de las siguientes etiquetas es obligatorio #steem, #steemit, #exchange-blast, #promo-steem, #oracle-d.
NOTA: Primero, dale resteem a este post que estás leyendo en este momento, de otra manera no podrás ser recompensado. [Esto es obligatorio]. Nos gustaría correr la voz tanto como podamos.
¡Puedes elegir hacer solo una o ambas! Depende ti, ;). Lee los detalles de la tarea para entender como se hace el voto en la página del concurso de NETCOINs en caso de necesitar ayuda!
DETALLES DE LA TAREA
Sigue el siguiente procedimiento paso a paso para votar por STEEM:
• Visita la página http://contest.gonetcoins.com/
• Ir hacia la parte de abajo de la página y buscar a "STEEM" en la lista de monedas nominadas. Agrega tu email en el cuadro de texto y pulsa click donde dice "VOTE".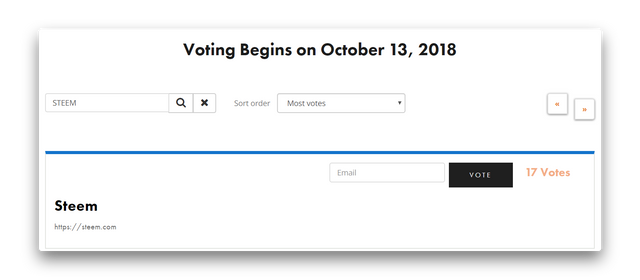 • Se te va a solicitar que confirmes tu email para poder validar el voto. Pulsa click en "SEND CONFIRMATION EMAIL"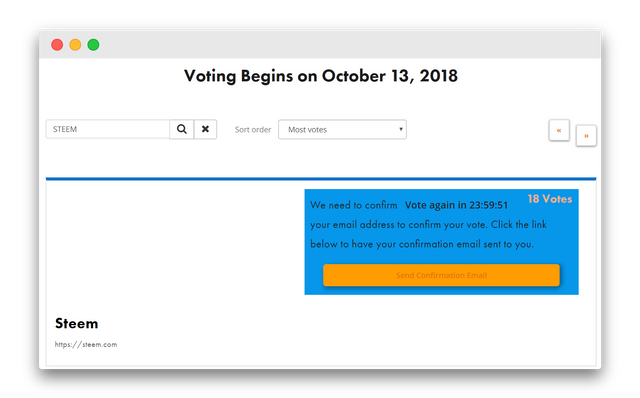 • Vas a recibir este email, pulsa click en el enlace para confirmar tu voto.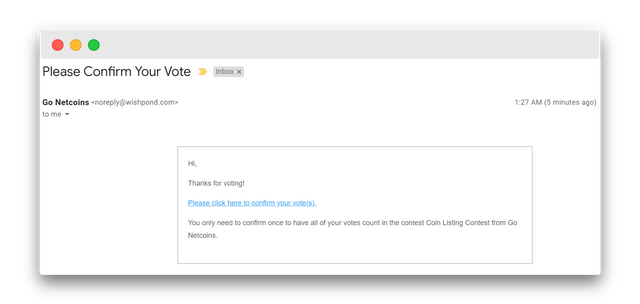 • Después de pulsar click en el enlace del correo, tu voto va a ser confirmado y podrás ver lo siguiente: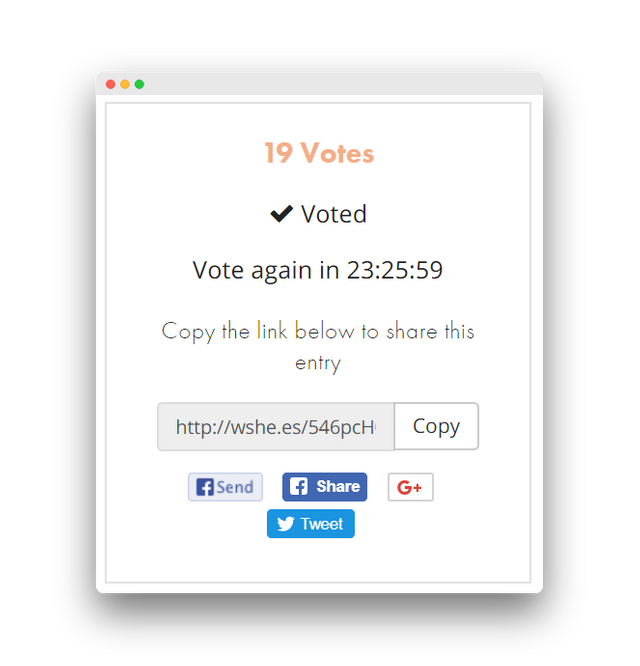 ¿Qué es NETCOINs y qué significa ser añadido a la lista de su plataforma?
Es una compañía de Canadá basada en la tecnología blockchain que ha ayudado a miles de clientes comprar y vender Bitcoin. Su software de Cajero Automático Virtual de Bitcoin provee a los minoristas y profesionales individuales una manera muy buena de vender Bitcoin dentro de la tienda.
¿Qué significa ser añadido a la lista de Netcoins?
Tener a la moneda disponible para la venta en 171.000 lugares de venta en 53 países y a lo largo de 6 continentes.
Comunicados de prensa y exposición en sitios relacionados a las finanzas y al sector crypto (Nasdaq, Globenewswire, Coinmarketcap, Coincodex etc…)
Disponibilidad global en mercados extrabursátiles
Fuente: http://contest.gonetcoins.com/
Vamos a hacerlo chicos. Si STEEM es añadido a la lista gracias a nuestros esfuerzos, sería una muestra de la verdadera fortaleza que tiene nuestra comunidad. Y también podría afectar al precio de STEEM de manera positiva ;)

Oracle-D
Es un nuevo proyecto de negocios que opera en la blockchain de STEEM enfocado en atraer nuevas inversiones a este ecosistema. Fundado por @starkerz y @anarcotech, quienes previamente también fueron los co-fundadores de los proyectos #promo-steem y @steem-ambassador, y además desarrollaron un sistema de curación llamado CAMPUS, el cual es un sistema descentralizado para distribuir recompensas.
Misión principal
Nos mantenemos apolíticos, y nuestra meta número uno es subir el precio y la utilidad de la blockchain de STEEM, mejorar nuestra cultura y educación sobre blockchain, y crear oportunidades para brindarle apoyo a creadores de contenido de calidad excepcional por medio de la colaboración con clientes e inversionistas. En otras palabras, queremos agregar tanto valor como podamos a la blockchain.

Nos puedes ayudar de las siguientes maneras:
Cualquier tipo de contribución es apreciada y gracias por formar parte de esta comunidad. Adicionalmente, no dudes en conectar con nosotros para cualquier colaboración que pueda ayudar a la comunidad Steem a crecer.