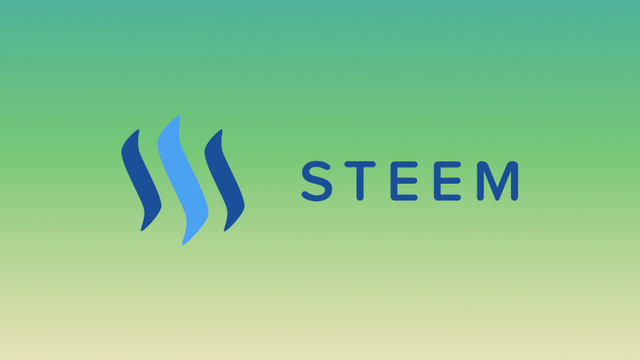 ---
Almost everyone who has ever published a post on the Steem blochchain has probably noticed that you receive a bunch of small upvotes a couple of minutes after your post goes up. These upvotes come from accounts that are running automatic curation bots, usually on specific tags.
Since they're voting before the 15 minute mark, they're actually losing most of their curation rewards to the author of the post. I was wondering how much they were actually earning from this type of behavior, the results surprised me to say the least.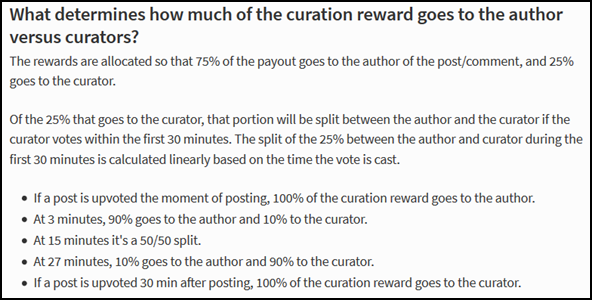 Source: Steem FAQ
Thanks to Steemworld it's very easy to check how much these accounts are making on a daily basis. You first have to check which accounts are automatically upvoting your posts right after they've been published, then you check their accounts on Steemworld to see how much curation rewards they're reaping in.
---
Which accounts are running curation bots?
I'm going to take my latest post as an example, there I see that I've received around $0.05 worth of upvotes from many different accounts. All within less than 10 minutes after publishing my post.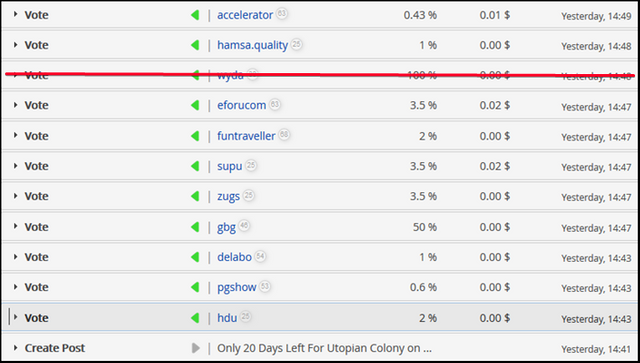 Most of these accounts have their voting percentage set to less than 5%, with their upvotes being worth less than $0.02. Surely, they can't be making a lot in terms of curation rewards, right? Wrong! After checking out these account's Steemworld pages, I was absolutely flabbergasted to see that they're making more than 1 Steem per day, just from curation rewards. Some of these accounts don't even have 1000 SP!
---
@hdu's earnings with 710 SP
---
@delabo's earnings with 6299 SP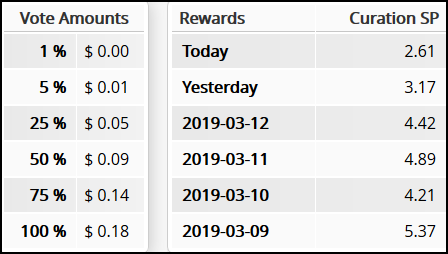 ---
@zugs's earnings with 1922 SP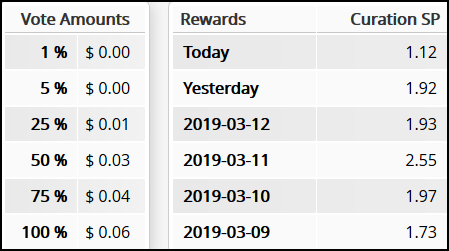 ---
@supu's earnings with 23025 SP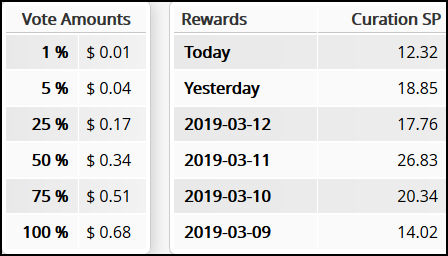 ---
Running Curation Bots
I was playing with the idea of setting up a new account, purely for getting curation rewards like the above accounts do. After some research, I found out that there's really no easy way to set something like this up. When I say easy, I mean point-and-click, scripts that automate these actions are fairly easy to find. With some basic knowledge of programming they're very easy to set up.
Some examples:
---
Reservations about auto-voting everything
While it might be very lucrative in terms of curation rewards to just upvote all content that's published under specific tags, this practice does go against the concept of proof-of-brain.
It's not really curating content, you're just upvoting everything to maximize curation rewards. This is why I ultimately decided against setting up my own curation bot on a different account.
The geek inside me finds these systems incredibly interesting to look at, so I don't mind writing about them. It's really up to your own moral compass, whether you want to engage in such practices. I have to admit that I was pretty amazed to see how lucrative these auto-voting systems really are.
---