💲 Make some Money just listing your CryptoKitties here at steemit 💲 Life is Good 😎
🐈💰 Just try to earn coin for listing at the main site. Here at steemit.com it is natural.
Everything is better on steemit.com what a great community we have here and getting better every day.
If you want to get started with CryptoKitties or learn more and meet like minded people check out @steemkitties for information and giveaways.
Use the tag steemkitties to buy and sell CryptoKitties right here on steemit and use steem or SBD to make the deal.
Even make some money just by listing commenting and voting for cute Kitties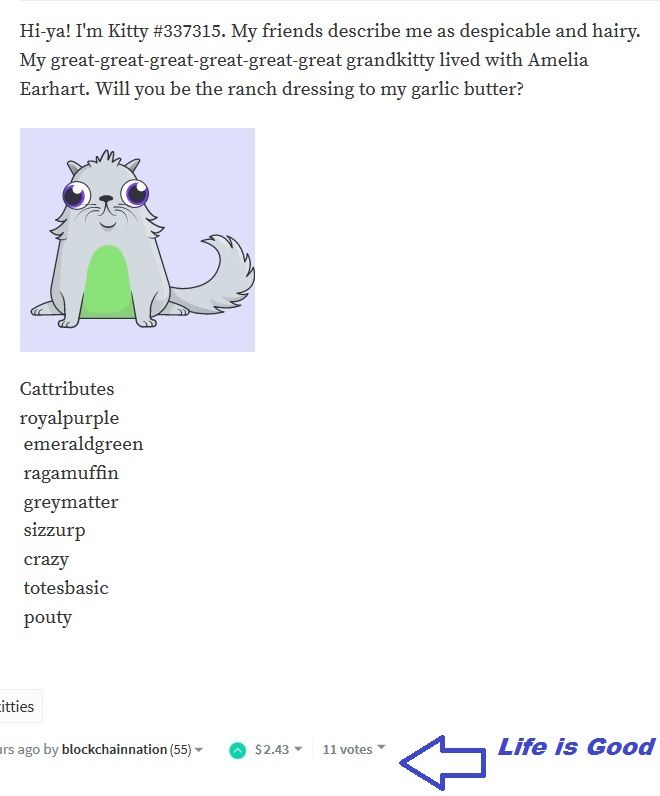 Earn while you learn is a favorite saying of mine 😎 Swing by @steemkitties and get started!
Merry Christmas to all and to all a CryptoKitty
Thanks for reading and supporting my blog, I 💗 Comments...

My Signature Post --->
Hop on My Love Train ( with music )
Life is Good @ steemit.com 💗