Just a few initial thoughts on the recent changes
Payouts have been recalculated aren't displaying properly
Edit: Maybe I'm not understanding correctly afterall, because it seems like there is an api issue being fixed to return the correct values.
As part of the hardfork, there is now a single 7 day payout window.
I expect we'll see a whole lot of complaints for a while about payouts - all "potential payouts" on recent posts just got recalculated down to $0 and payouts extended by 7 days.

If I'm understanding correctly, payout amounts should settle back to a "new normal" within about a month.
@abit helped me understand this aspect in his last witness update :
My explanation: there is a content reward pool in the system. Currently, funds in the pool is only enough to pay rewards of a day. So, for example, people who posting during weekends will earn a bit more, because less people are posting. After the hard fork, we'll accumulate more funds in the pool, so it can support rewards of a month. So in the first month or so, people will get less rewards, especially in the first days, much much less than before. After there are enough funds in the pool, the difference of rewards among posts created at different time will be smaller than before.
Comment Depth limit increased to 255!
This is huge to me, I tested it out and now we can see 7 replies deep on the main thread with a link to expand a thread that goes even deeper.
Awesome :D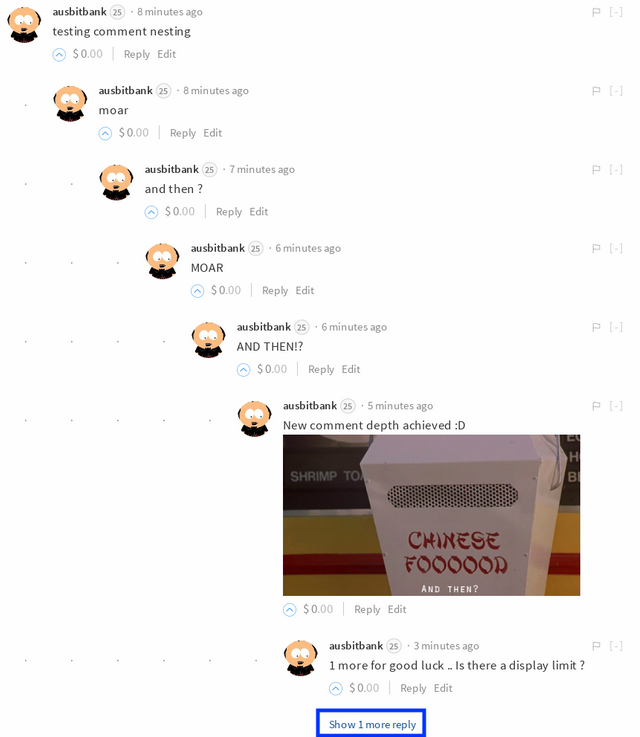 Other changes that I'm yet to test / witness in action
Arbitrary reward splitting
Replying and editing older posts
Steem power delegation
Reward balance "claiming"
Removal of the penalty for posting more then 4 times a day
You can find more details in the release notes for v 0.17.0 , v 0.18.0 and v 0.18.1 (and soon v 0.18.2).
It'll be interesting to see how the trending page evolves over the next week!
Side note - I submitted my first pull request to the condensor repo
And it was merged :D
It was a pretty easy edit, just adding a warning about using VOIP services whilst verifying by phone (as requested by @transisto) . You can see the details and initial request in issue 1214.
I'll keep an eye out for quick fixes like this that I can do and leave the real coding to the professionals, but it was still satisfying to be able contribute something .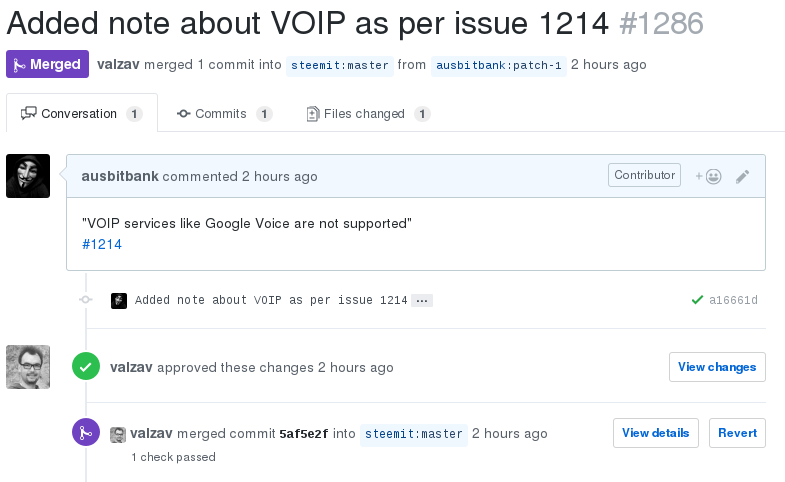 I've been throwing myself in the deep end learning react.js (and more) for steemvids for the last few weeks - which should also be useful for understanding the steemit codebase so I can contribute something more useful in the future :)

Lets connect !
steemit / twitter / gab.ai / keybase
I also made :
steemviz / steemvids / steemcap / steemleak / promo