Did you wonder who are the most influential people ? Here's i have made a list of top 10 people you should follow to gain reputation and understand what they post and why are at the top.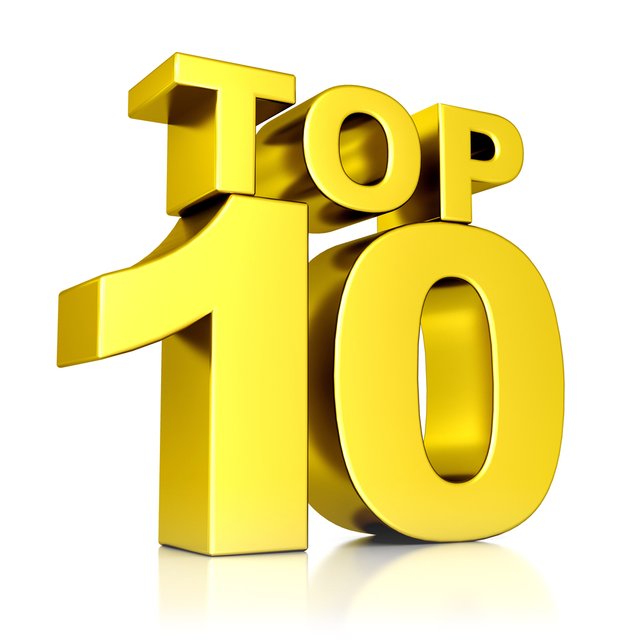 1 - @gtg
Gtg, or "Gandalf The Grey", has risen from the ranks of humble stand-by witnesses, to become the current top witness. His expertise in IT security makes him a reliable seed for the #1 witness spot.
He has been involved both in improving the Steemit website's securities via programming, and helping to educate others on network and witness security via his blog. He composed one of the earliest Steemit guides on witness node security and protection from DDOS attacks:
Much of his time remains devoted to helping users with security, as his transfer history quickly shows with messages like this: "You have leaked your private owner/active key to the public putting your account at risk. Your active key was changed to prevent further damage, however your owner key was changed already. "
Gandalf helped to secure a 10% airfaire discount for all the users planning a trip to Steemfest.
Gandalf holds 154,000 SP and is not powering down.
2 - @jesta
Jesta is a talented developer on the Graphene blockchain (Steem/Steemit).
Jesta is the developer behind some of Steemit's favorite tools, including the popular ChainBB (the interface for viewing Steem more like a forum) and the ubiquitous tool Steemdb. He has also contributed a number of experimental scripts and other projects, such as a Steempython based "fake-smart contract" script that allows for ICO-like events on the Steemit blockchain.
Jesta holds 30,000 SP, and is powering down.
3 - @timcliff
Timcliff is an active developer on the Steemit platform, doing a lot of behind-the-scenes work to help keep Steemit's code accurate and updated. He has helped update the vote-slider code to account for delegated SP, updated the Blocktrades "Buy" link to fill in the currently logged in Steemit's user's account, and has also created code to reduce the vote-slider threshold to 125 SP (though the community has not yet implemented it.)
Timcliff holds 38,000 SP and is currently powering down.
4 - @Good-karma
Good-karma is the highly talented developer behind some of Steemit's most critical supplementary tools. The most important of these is probably Esteem, the mobile (Android/iPhone) and desktop app through which many regular users interact with Steemit daily. Without his unceasing efforts, Steemit would not have a robust mobile app offering which, in this day and age, would be practically suicidal for an aspiring social media platform.
Good-karma has also developed the SteemPoll, SteemMonitor, and Steemfest apps.
Good-karma is a Peerplays witness, and a stand-by witness for Bitshares at #57.
Good-karma holds 108,000 SP and is powering down.
5 - @RoelandP
RoelandP's best-known contribution to the Steemit platform is probably the original Steemfest, which took place in Amsterdam in 2016. After 3 months of organization, the original Steemfest managed to draw 206 attendees from 31 nationalities across the world.
RoelandP is also the creator and maintainer of the Steem Appcenter, a thorough repository linking to 150 supplemental apps that run on the Steem blockchain.
A regular promoter of Steemit and the Steem blockchain, RoelandP has even given a presentation on the merits of Steem at the Oracle corporate headquarters in Amsterdam!
RoelandP has made good on his promise 11 months ago to "Bring future Steemfests across the world", as Steemfest #2 in Lisbon looks to be an amazing 5-day event. I am truly jealous I won't get to attend!
RoelandP holds 185,000 SP and is powering down.
6 - @Pfunk
Pfunk is one of the oldest users on Steemit, and as he notes in his original witness post, he acquired much of his stake via mining.
Much of Pfunk's efforts on the Steemit platform revolve around fighting abuse. Pfunk donates weekly to the Steemcleaners initiative. Pfunk is also active in curating and curbing abuse directly, via the abuse channels in Steemit chat and flagging directly. He is a fixture of the Steemit.chat channels.
Pfunk is a sponsor of the Steemit Open Mic initiative, which aims to recognize musicians on Steemit and support them with rewards. Pfunk also likes to post photography and has used Steemit rewards on camera equipment in the past.
Pfunk holds 35,000 SP and is NOT powering down.
7 - @Pharesim
Pharesim is a developer, mostly in web-related languages such as "PHP and JS, but also Python, Java and Go." He has also developed piston scripts for witness usages and voting bot scripts on Steemit.
Pharesim's highest profile project is SteemDice, which is operated under @steemdice1. Steemdice is a "provably fair", simple dice rolling game that allows you to gamble Steem or SBD with a narrow house edge.
Pharesim holds 576,000 SP and is currently powering down.
8 - @Riverhead
Riverhead is probably best known as being a key developer and server manager for the Steemit.chat service, a key piece of secondary infrastructure for many Steemit communities. In particular, certain community-serving channels such as the "Abuse" channel operate only thanks to the hard work behind the scenes at Steemit.chat.
Riverhead has also generously donated 10000 SBD to the Steemfest 2 initiative as a sponsor.
Riverhead is also a Bitshares standby witness, at #36.
Riverhead is holding 694,000 SP and is NOT powering down, demonstrating substantial faith in Steemit long-term.
9 - @Someguy123
Someguy123 is a well-known developer (top 3% at Bitrated) of third-party applications for both Litecoin and Steem. His skills include python, javascript and PHP, as well as system administration.
He has been personally vouched for by Charlie Lee, also known as the creator of Litecoin. He's developed a number of projects, including Lite Vault, Explorer, Steem Center, and the AnonSteem service which allows another vector for registering new users onto the Steemit platform.
Someguy123 has also developed the "Steem-in-a-box" toolkit, a package designed to help anyone quickly and easily deploy a witness and seed node for Steem. He was instrumental in spreading the word about the "low-bandwidth" issue many users experienced around July, 2017, particularly minnows and others users in the Minnow Support Project.
Someguy123 holds 31,000 SP, and is NOT powering down. He leases via @minnowbooster.
10 - @Roadscape
Roadscape is (as of 11/16) a front-end developer working for Steemit, Inc. Most of his day-to-day work revolves around adding new user-interface features and fixing bugs of all types.
Roadscape's best known tool is Steemd, the first user-interface for exploring the Steem blockchain. You all probably know it better as "that place I refresh every day to see my voting power."
Roadscape holds 935,000 SP and is NOT powering down!
Talking about me , i'm a small fish infront of these whales in the ocean . But dreams to be at one top someday.
Please upvote and follow me , if you liked the post.
Comment down below if i missed anything.
Also don't forget to resteem it so that other people also get to know.