Recently @oracle-d started an OD-Tasks to review of social Dapps listed on "State of the Social Dapps". Read the complete details and guidelines for reviewing and submission.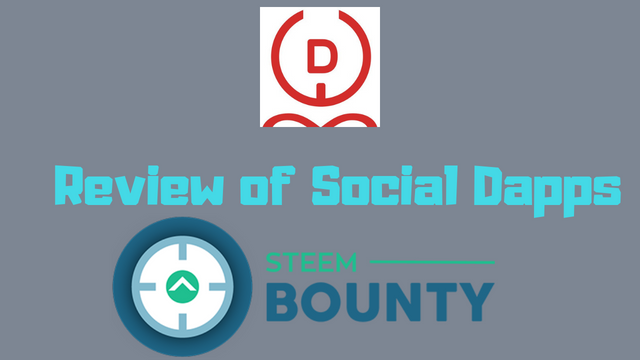 This is my Second review of the OD-Tasks for State of the Dapps. This apps I have figured recently. I have been on Steem for more than 1 year and have used almost all the dapps, and found this one as best way to Rewards the Readers. It is listed on stateofthedapps

Introduction to Steem-Bounty.
This is platform develop over the Steem Blockchain, to "Rewards the Readers". Thanks to @knircky and @famunger for developing this Dapps and making engagement more meaning full. This is an additional reward other than the author Upvotes value.
A great Incentive mechanism, that helps in promoting content through rewarding the engagement.
Get Access to Steem Bounty.
There are two different way of setting a bounty of your post.
Firstly by direct transferring through Steemit wallet certain amount, that you want to set as Bounty to @steem-bounty and putting the post link in the Memo fields.
Secondally, By visiting, www.steem-bounty.com and creating a post from it and setting a amount as Bounty for the post.
Main Components of Steem Bounty.
The best part is that you can set either Steem or SBD as Bounty and helps users to reach to your post.
Steem Bounty works on 95/5 rule which means, the community votes now only have onky command on 5% of the bounty for allocation. The rest amount is at user discretion, thereby making the user whole sole decider.
Improvement Areas of Steem Bounty
I hardly see any flaws in the dapps. However , The app is more limited to the Competition, Contest and Giveaways. I think it has a vast scope in many informative post, to pull user for engagement and sharing their perspective on the subject.
It is one of the less talkative Dapps on Steem.
My Review of Steem Bounty
I have not used the Steem Bounty services yet, but as hardly involves in completion or contest. But considering it encourages user engagement more on your content. It is the best way to make Steem a more happening place.
User engagement is the best way to keep Steem moving, and what is the best way to keep the reader happy just by assigning certain rewards on their engagement
My Rating.
Considering it as a advantages of making Steem moving in all directions. I would rate the Dapps 5 Star out 5. As there is hardly flawas on it.
Stay Calm....
Keep Steeming...Steem On !!!
---
Vote for Witness I have voted to,
@firepower , @enginewitty, @blocktrades , @gtg , @helpie, @abit, @c-squared , @jackmiller, @ura-soul, @blockbrothers, @utopian.io @bobinson, @jatinhota, @curie, @adsactly-witness, @therealwolf @patrice @reggaemuffin @c0ff33a @thekitchenfairy @drakos @roelandp @good-karma @yabapmatt @partiko @steemcommunity @qurator.
---