Of all the Dapps listed busy.org is my review today. I was just over the moon when I logged on to the StateOfTheDApps website check out the Dapp development on offer from the various chains on the block. There they were, I had them all before me, like a kid in a candy store, spoiled for choice. And a good choice it is thanks to a stylish website layout.
State of the DApps — A list of 2,551 blockchain apps for Ethereum
I love lists and order and categories full of stats so the website really appealed to my mindset. Six platforms were on view, Eos perhaps taking the top spot, followed by Steemit and upon the Steemit list I want to focus on one that made top 10 that rivals Steemit for user-friendly functionality, and in fact looks and feels very similar to Steemit. And that's why I like it so much. That's the good first impression I get from busy.org
https://www.stateofthedapps.com/dapps/busy
All you need is your active key which you will find in your wallet. If you click on "Permissions" in your wallet on Steemit a list of your keys comes up. You want the second one, so click on the green box where it says "login to show" input your posting key and your active key will reveal itself. Pop it in the SteemConnect request slot and it will open a busy.org account connected to your Steemit one, like twins almost.
Review
I really liked the way the wall of posts is displayed on my profile page. You immediately notice the bigger pictures and so the visual effect is captivating – and almost like Facebook in that regard. Even vertical images appear much fuller as an added perk to Steemit's landscape only format.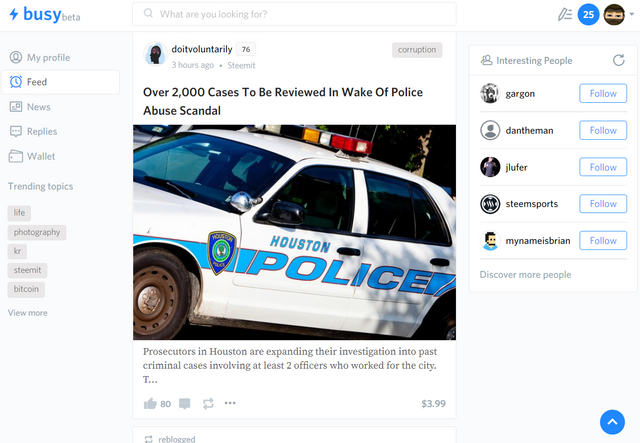 The page is user-friendly and has an option to save posts when you read them directly, which is novel. You can also upvote, flag and comment, just like Steemit. And once you've posted here it automatically gets posted to your Steemit page. You can even edit it at either site, that's how synched they are. What really makes it for me in busy though is its markdown and editing facilities for each of my posts.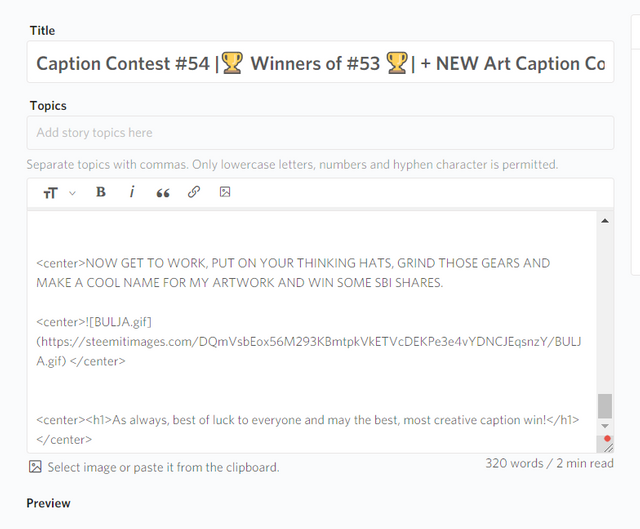 I can increase text size, add quote blocks of text and even links and, of course, pictures. But those "personalizing" font- refining tools are great. The like button even has a voting slider to determine the value of your upvotes and the night mode is the best invention since dark glasses.
If that's not enough, you even get an upvote from busy if you use their tag.
It's a win-win option basically.
To find specific posts on particular topics, just type your search word into the search bar near the top center of the page and you will be directed to a page with a ice introductory list of topics on the left. Click more to open it up still further and all your favorite topics will be listed for you to choose from. Trending, Hot or New lists can be called up in the "sort by" link near the top and slightly right of center. Make some good posts and you too will find your creative pieces up there in that Trending or Hot list.
Get working on those followers via user engagement and just watch as the community grows.
Although curation serves as great motivation for users to post their articles using busy.org, I've noticed that the upvotes are automatic and based on the number of followers a user has, instead of the actual perceived "quality" of the post.
This results in some low-effort posts by users with a lot of followers getting decent upvotes, while on the other hand, some really good, extensive posts, get a low-end upvote because they were posted by users who only have a couple hundred followers.
Hiring a curation team to go through the posts and manually curate them would be a big improvement I'm looking forward to being added to busy in the future.
Conclusion
That being said I would definitely recommend busy.org to my friends and especially to you Steemit lovers who like to post on a daily basis. This Dapp is for us. It simply makes blogging more refined and has all the old features I've come to appreciate from Steemit.