World Of Ether (Game Review) - Raise, Breed And Battle Against Monsters
I'm here again with another super awesome Ethereum based game called World of Ether. As I said on my previous game review on Axie Infinity, blockchain games genre are kind of limited and are towards strategic genres. World of Ether isn't different from most crypto games as is similar to other crypto games like Axie Infinity, CryptoKitties and Pokemon, although World of Ether has some very cool features that makes it different from the games listed above. I know some of you guys wanna know. I guess you better continue reading to know those cool features(smiles). As usual, I would be sharing my honest review on this super awesome Ethereum based game, which is currently (as at the time of writing this article) ranked at number 46 on the State of the DApps rankings. I would compare this game to Axie Infinity and CryptoKitties, this promises to be one hell of an awesome review, so I would kindly advice that you find somewhere quiet and sit back and read through super awesome game review, that I made just for you.(smiles & winks).
---
---
What is World of Ether?
World of Ether is an Ethereum based online game, that collects and breeds monsters called Etherians, and these monsters are used for battle. Yea, it's just almost like Axie Infinity, right? Yea, it's true, it's almost like Axie Infinity, with the collecting, breeding and using of Etherians for battle. But unlike Axie Infinity, World of Ether doesn't go through the amazing process of raising it's Etherians i.e there is no developmental process which takes days for your eggs to develop to an adult Etherian. On World of Ether, after buying your eggs, it takes about 4 - 5 hours for your eggs to hatch to an adult Etherian. So in summary, the game is basically about buying eggs, getting your monsters(Etherians), breeding with them and using them for battles, so as to increase their value in the marketplace and selling them in the marketplace for ETH in order to make some cool cash(smooth, right? smiles).
---
Etherians
Just like on Axie Infinity, there are various types of Etherians in the game and everyone of them have their own unique features and appearances. But unlike Axie Infinity and CryptoKitties, the creatures here are monsters. Yea, you heard right, they are actual monsters, ugly and strange looking but that's the cool feature I actually like about this game. CryptoKitties and Axie Infinity have adorable creatures(I honestly don't know which between the two games have the more adorable creatures, I would love if you can tell me yours on the comment section, thanks) which to some people are cool and to others are too cute for them. Can you imagine those people who love those bad looking dogs, playing either CryptoKitties or Axie Infinity, I think no but would they like to play World of Ether, hell yes!! because monsters/beasts are super cool to them. For me, I personally would prefer World of Ether, although I'm not a fan of those bad looking dogs or creatures but CryptoKitties and Axie Infinity creatures are just too cute for me(smiles). Although, there are some Etherians that are super ugly. Take a look at this Etherian, it's a smoking hot female(smiles)
---
---
Unlike CryptoKitties that have gen 0 kitty(which was sold for over a whopping $100k, that's -----, I'm speechless), the World of Ether doesn't have gen 0 Etherian, all Etherians were once eggs before. For me that's cool, that's a true definition of a decentralized game. As I said earlier on, Etherian eggs don't go through the developmental process like Axie Infinity. Let me let you guys in on this, Etherian eggs get more expensive as they are sold. The very first Etherian egg was sold for 0 ETH, yea, you saw right, it was sold for absolutely nothing. When an egg is sold, the price of the other eggs in the marketplace increases by about 0.00035 ETH. Currently, an egg is sold for about 0.78 ETH(which is quite expensive)
---
Types of Etherian
Unlike Axie Infinity that have 6 types of Axies, World of Ether have 5 types of Etherians. For now, nobody knows how these types of Etherians would have effect on battle because the World of Ether's developers are yet to activate battle mode in the game. So here are the five different types of Etherians;
Sun: These types of Etherians represent light, warmth, flying and fire.

Life: These types of Etherians represent fertility and vegetation.

Death: These types of Etherians represent demise, undoing and finality.

Ocean: These types of Etherians represent water, depth and mystery.

Astral: These types of Etheriabs represent intelligence, psychic ability and the metaphysical.
---
[WOE is not a type of Etherian, it's an abbreviation for World Of Ether]
---
Breeding
The way and manner breeding occurs in this game is quite different and unique from other crypto games. In this game, there is gender i.e there is Male and Female. Before breeding can occur it must be between a male and a female Etherian. But that's not all, it goes further, the male and female must be of the same type of Etherian i.e it must be a Sun male and female, before breeding can occur, breeding won't occur if you bring a Sun male and an Ocean female together for breeding. This way of breeding is different and nice. Just take a look at the image below and imagine what kind of monster, those monsters are going to breed(smiles).
---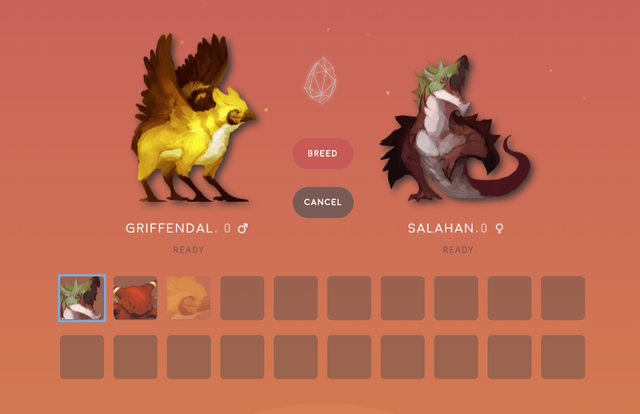 ---
Battle
This is the part of the article a lot of you guys have been waiting for. World of Ether battle is a 2v2 mode unlike the Axie Infinity which is 3v3. I prefer World of Ether when it comes to the 2v2 battle mode, because you require less money to get your two Etherians and begin your battle unlike Axie Infinity which requires you to have 3 Axies. In World of Ether, we earn BP(Battle Points) from battle and these BP are used for leveling up your Etherians and for breeding and also an Etherian with higher BP has higher chances of winning a battle, all of which is quite similar to Axie Infinity's EXP. The right selection would go a long way to determine your victory in battle, so choose wisely. But the sad part about this, is that, World of Ether is still undergoing development, so for now, there is no option for battle. It is really sad, I must say, with all these amazing features, we(users) can not make use of our ugly Etherians for battle. It is quite discouraging for crypto gamers, where there are other games like Axie Infinity, Hyperdragons and others that already have battle mode activated in their games. But in all, I'm still anticipating when they would activate the battle mode, it's sure gonna be super fun.
---
---
How Can I get Started?
The steps to get started are quite simple and similar to Axie Infinity. First you have to install Metamask, If you don't have any ETH in your wallet then purchase because World of Ether runs on ETH, I recommend you use Coinbase exchange platform because of their reputation. After purchasing the ETH, then transfer it to your Metamask wallet address and from your Metamask wallet you would able to purchase either an Etherian egg or Etherian or perform any transaction in the game and your journey into the World of Ether begins. If you don't still understand me, you can click this link
Conclusion
It's a nice game, that has lots pros and few cons. Let me start with pros first. World of Ether has a very attractive design i.e their page/site and also a very nice game soundtrack. Having their creatures to be monsters and not adorable creatures is a plus from me. The 2v2 battle mode, is a plus from me, as it requires less money to get you battle ready. The way and manner of their breeding is super cool and very unique unlike other crypto games and that's a super plus from me. It has a multiple language features although they used google translate, but it's still something nice and very uncommon among crypto games, so that's another plus from me. Lastly, the founders of the game are big names in the crypto world which makes the future of the game very bright. The founders are two brothers, Alain Goldman who is the Co-Organizer of "Beginner Programmers" meetup which is one of the biggest Ethereum meetup group in the world according to Meetup.com and Stanley Goldman who is a Senior Developer at GitHub.
Now let's move to the cons. It's not cool for a game that has been launched since April 2018 not to be fully launched, battle mode isn't yet implemented, some other features are yet to be implemented. Battle mode is the main part of games that attracts users and for the developers of the game not to have implemented it, sends a poor image of the game's management team. There are just too many advantages for the early adopters i.e those users that bought Etherian eggs during the presale period, as their monsters don't have cool down period, although only their first breeds(subsequent monsters would cool down period). Also the presale eggs are more likely to hatch rarer and stronger Etherians which is not fair to future users as they would stand no chance, except they spend quite a large sum of money, then it's no longer a game but an investment which would then kill the fun of the game. Finally, the continuous increment in the price of Etherian eggs might not attract future users. I personally can not imagine spending over $300 on buying just one Etherian egg, it's quite expensive I must say, but on second thought, I just might buy it, that's if I'm to put on my future thinking cap, because I might make double of what I spend now. So I recommend you to buy your eggs now before the full launch as you might just make a huge profit from it later.
I see huge potentials in this game, for a game that hasn't been fully launched(has no battle mode) to be ranked among the top 50 DApps games on the State of the DApps rankings, says a lot about the future of the game.