OPENSEA: A MARKETPLACE FOR SCARCE GOODS(DAPPREVIEW)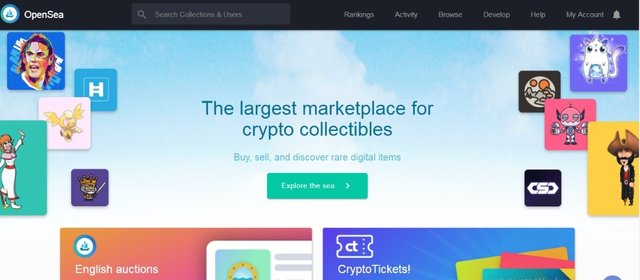 INTRODUCTION
With the way the world is evolving daily where physical stores are been replaced with online store.Everyone is pushing for comfort and convenience.Why go to the store to fight for a parking space when you can order at the comfort of your home! Why start an underground search for places where you can collect treasures that might turn out to be illegal.All this and more is what blockchain is looking to solve and reasons why Opensea was established to help conquer.
Ranking 49 on stateofthedapp list, opensea was founded and built by Alex Atallah and Devin Finzer as a peer to peer marketplace on the Ethereum blockchain in the month if November, 2017.It is the largest marketplace for crypto collectibles where valued items relating to crypto can be found by collectors.Like ebay is to shoppers so is opensea to crypto collectors.It is a marketplace for gaming items,virtual goods and crypto collectibles backed by the blockchain.With the increase and continous expansion of digital asset on the blockchain, opensea has reasons to provide a means where people can make money with convenience and also lay their hands on their favourite things of interest.
With the invention of open protocols like Ethereum and integration of ERC721 interface laced with accounting, transfer, and inspection of non-fungible digital assets for dapps.Opensea is here with "their true digital ownership platform" by building tools that will enable developers and programmers to build rich marketplace for their assets.Opensea made it their core value to enable that users have the 100% right to their items digitally.
They have over 120 categories and items listed over 3million with the best prices.Their goal was made successful with the help of the blockchain community filled with passionate users and developers.They also partnered with game developers to create a personalised electronic storefronts for users to sell their crypto collections.
GETTING STARTED WITH OPENSEA
You will need to integrate any of there wallet metamask extension, dapper or portis on your computer to be able start using opensea.Without any of these, you wont be able to login into your page.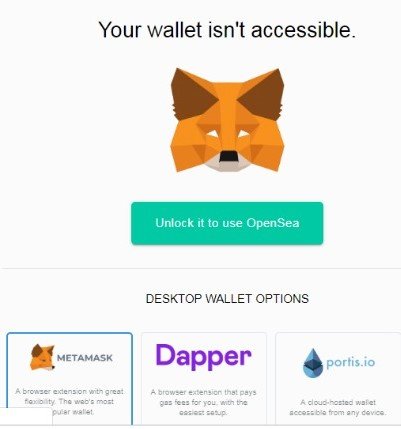 After login with my metamask my page is displayed proper below.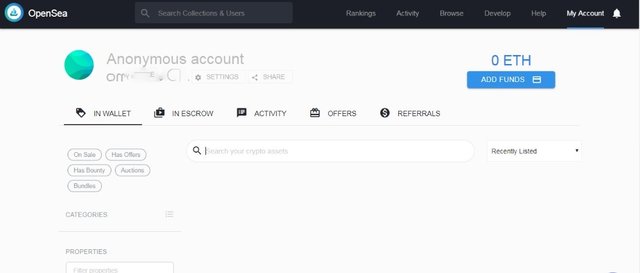 [SOURCE: MY Page]
The picture above shows my page after my login through metamask.Here I can start selling my items after having enough gas to login.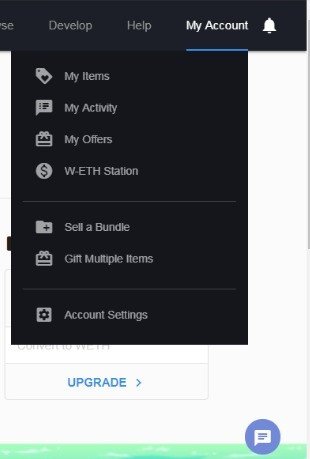 My Items:
This are the items you want to sell on the platform.
My Activity:
This is like your feed, it displays the things you do on the platform.
My Offers:
This section deals with the bids you make for the items you are interested in acquiring on the platform.
W-ETH Station:
This stands for Wrapped Ether and it is the only supported crypto currency used on the platform to make bids and offers.You can convert this to ETH or vice versa depending on what you want you intend to do on the platform.
Sell a bundle:
This is the section where you set your items with price and yur sell method.
Gift Multiple Items:
Here you can gift items to people.
They are helping crypto item sellers cut off the use of middlemen like in a proper ecommerce platform.

They are providing space to people to make money in a store without having to pay a dime for rental.

They are creating awareness for more people to know about the blockchain by sharing there visions and goals with them.

They are trading assets across diverse ecosystem of decentralized platforms.
WHY I DONT LIKE OPENSEA
It is mainly based on crypto items.

It is not easy for a crypto novice to understand the layout of their platform and terms without prior knowledge and teachings.
CONCLUSION
Opensea is a good platform on the blockchain and the first of its kind that encourages investors and business owners to bring their business to the blockchain.
I am rating them 4.5/5
All Image are from Opensea website