Top media dapps of 2019  - Publish0x
Welcome to another post in the stateofthedapps media review category. I recently discovered that all my previous reviews were about steem based dapps. I decided to try an Ethereum based dapp. This review will focus on an Ethereum based blogging platform called Publish0x.



source
What is Publish0x
I may define Publish0x as a cryptocurrency powered platform that enables its users to create and read contents. Just like steemit, the users of this platform earn cryptocurrencies as their reward for their activities on the platform. This means that a user who uses the publish0x platform earns cryptocurrency by reading a blog post from other users, by making his/her own personal blog post and also by sharing other user's blog post. I will explain this process down the post.
Meanwhile, don't bother killing yourself trying to pronounce the platform's name the way it appears. According to the developers, the 0x at the end is silent. So you can just pronounce it as publish.
How to get started
It is easy to start using the platform. Simple register if you don't have an account or login if you are an existing user. The steps below are for new users with no previous account.
Input your details and click register at the button.

Proceed to verify your email address.

Set up your profile after successful verification.


It will redirect you to the homepage after successfully setting up your profile.
How to apply to become an author.
Unlike steemit that anyone can blog, publish0x only accepts verified content creators.
To become an author on publish0x, follow the steps below:
Click on your profile.

Click on become an author.


Fill in the form below and hit the submit button when done.


You will be contacted when your application has been reviewed.
Features and components of the publish0x platform
There are various features of this platform that are worth mentioning. They include:
The wallet feature
Unlike all my previous post, this platform uses the Ethereum blockchain and an Ethereum wallet is needed. That means the user needs an Ethereum wallet before being able to withdraw his/her earnings. The publish0x has been kind enough to include steps and guide to enable any user to get a new Ethereum address using mycrypto.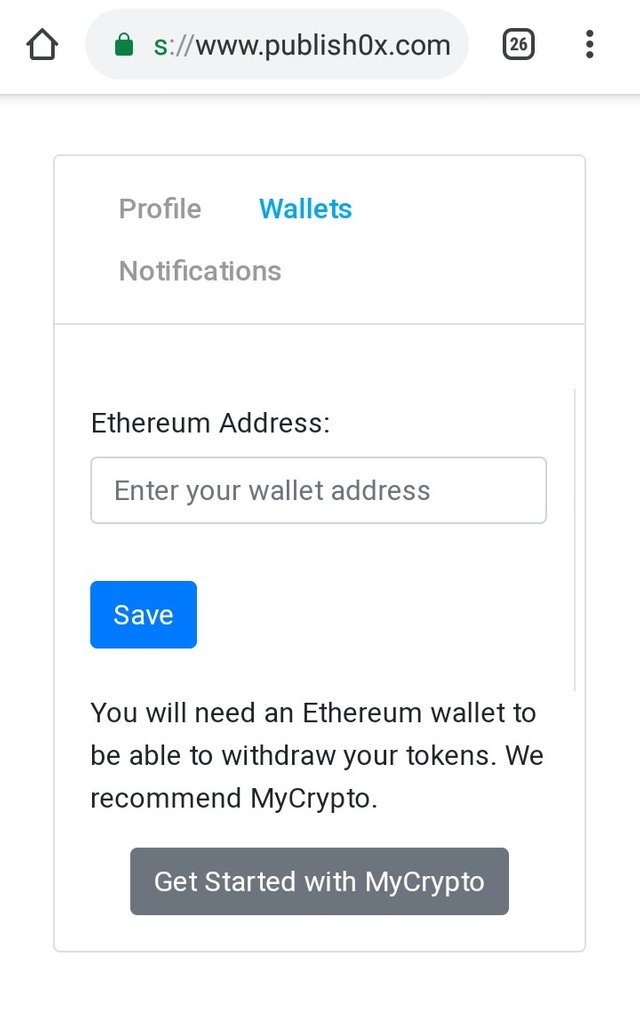 The payment page
This page is where withdrawal requests are made. There is a minimum withdrawal of 151.15 BNTY. BNTY(bounty0x) is the current currency of the platform as at the time of this post.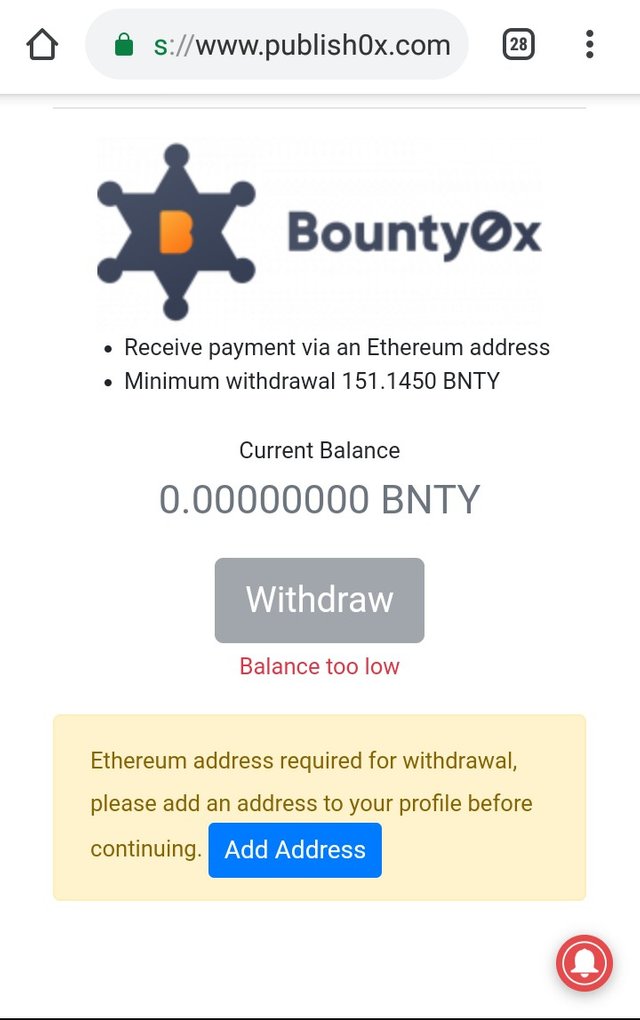 User interface
The user interface is simple, straight forward and easy to navigate.
The affiliate Stats page
Publish0x rewards users for inviting people into the platform. This page allows the user to check the number of people he/she has recruited and also check the amount of BNTY earned.
The platform gives 5% of the rewards new members earns to the person that brought them.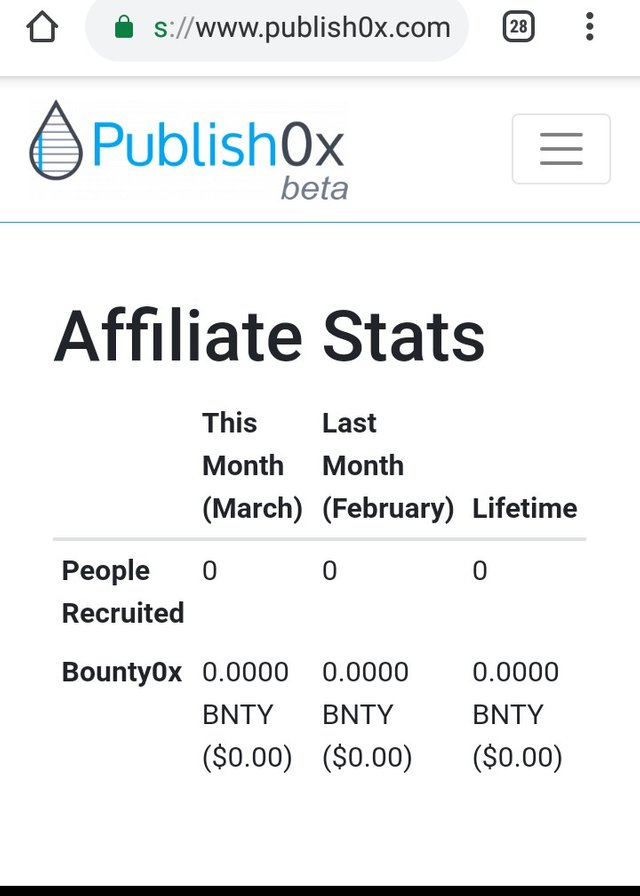 Customization
Users are able to customize certain features on the platform. They can disable email notifications to comments and also disable email notifications for comment replies.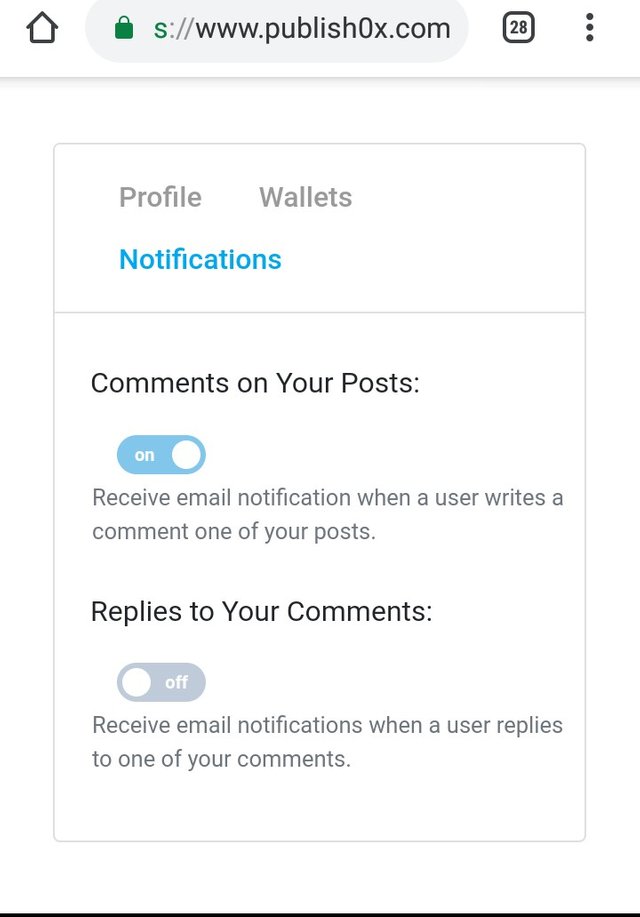 The users can also edit their personal and wallet information at any time from the settings page.
Earning
This is one of the most important features of the platform. Users are able to earn when they partake in activities on the platform. The authors get tipped by the readers according to their personal conviction and value of the post.
Advantages
The main advantage of this platform is the ability to write, read, share, invite and earn cryptocurrencies.
Disadvantage
The main disadvantage of the platform is allowing readers to decide how much tip should come to them. That system can be exploited by some greedy users.
Comparison
This platform can be compared to steemit.com. They have the same goals of rewarding their users. Although they are in some ways different in the way they operate. In publish0x, a user earns 5% rewards when he shares a post and gets traffic from the link. This is not the same on steemit.
Suggestion
In as much as quality is maintained by allowing only a selected number of content creators, I believe opening the door to everyone will bring in more engagement to the community.
Conclusion and Rating
This is a nice platform that may one day Rival steemit.com. It is worth checking out by any content creator or anyone interested in it.
It's a lovely platform and I'll give it a 4.3-star rating.
Disclaimer: The views expressed in this article are entirely my view and do not reflect the mind or view of anyone else.
Resources
I wrote this post and all its contents based on my experience, research, knowledge, and personal use of the publish0x platform.
Most images are from my usage screenshots, and I provided links to all external images where applicable.
Links
Visit State of the dapps "publish0x" link: https://www.stateofthedapps.com/dapps/publish0x for more information.
You can also visit https://www.stateofthedapps.com/ to learn and have detailed information on lots of dapps on the blockchain.