Compound Protocol (dApp Review)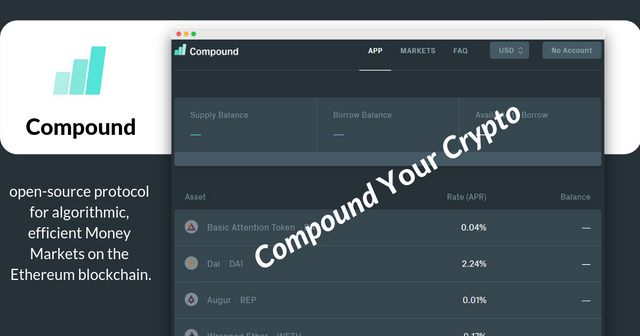 Source
Compound is an open-source protocol for algorithmic, efficient Money Markets on the Ethereum blockchain. It was built as a means for users to earn interest on Ether and other various tokens as well as borrow these tokens to invest or use it as a financial aid. Compound users are classified as Suppliers (lenders) and Borrowers. These Suppliers and borrowers of assets do communicate directly with the protocol, earning (and paying) a floating interest rate, without having to negotiate terms such as maturity, interest rate, or collateral with a peer or third party.
Compound was founded by Robert Leshner, who also doubles as the CEO of the platform.
Compound Official Website: https://compound.finance/
Github repository: https://github.com/compound-finance/
Compound Whitepaper: https://compound.finance/documents/Compound.Whitepaper.v04-83de48b6622ddd665234b41076d04c8b.pdf?vsn=d
Compound developers and codes: https://compound.finance/developers
Compound is currently ranked at the 46th position among all dApps and 5th in the finance category, based on rankings at the thestateofdapps.com which is a platform that ranks all dApps across Ethereum, POA, EOS, Gochain and Steem Blockchains.
Check out Compound's profile at the said website: https://www.stateofthedapps.com/dapps/compound
How to Get Started with Compound
To get started with Compound, you need to signup on the platform. Signup here

Secondly, you need to install metamask plugin extension this plugin

In other to continue using the compound platform, there is a need to enable the asset listed so as to navigate the asset page as seen below.This will enable you to borrow or supply any of this asset but the duo cannot be done at once.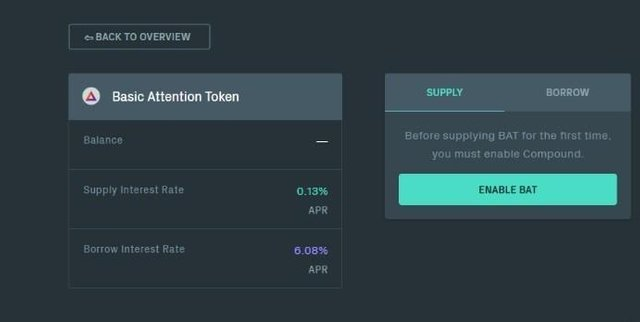 From this stage you can supply and start earning immediately after submitting the transaction. All interest will be seen on your supply balance as time goes on.

From this stage you can supply and start earning immediately after submitting the transaction. All interest will be seen on your supply balance as time goes on.
With Compound, users are given the opportunity to supply assets to a shared liquidity pool. These assets can be withdrawn whenever they so desire.

Compound eliminates the third parties as transactions are between suppliers and borrowers.

Compound permits users to borrow tokens (to invest, sell, or re-lend) by using their balances in the protocol as collateral.

Moreover, there is always an interest rate on the supply and demand of the underlying asset on each money market.

Usrs do not have to worry about renewing or rolling over their finances because Compound allows users to borrow indefinitely, as long as they maintain sufficient collateral.
Techniclalities with Using Compound
Compound employs a 2.5% fee or 2.5 basis points for opening a borrowing position. This fee was implemented a way to combat spam or misuse of the protocol.

Also, user tokens are not matched and lent to another user but are aggregated to users; when a user supplies a token, it becomes a fungible resource, which offers a complete liquidity. Users the other hand are able to withdraw their tokens at any time, without waiting for a specific loan to mature.

On compound, balances in a money market accrue interest based on the supply interest rate unique to that asset. Users can also view their balances in real-time. When users make transactions either by supplying, transferring, or withdrawing a token, the balances are updated and the interests accrued are converted into principal and paid to them.

Futhermore, user accounts are capable of monitoring the values of their Supply and Borrow positions. Thus, if the value of their Supply Balance declines, or the value of their Borrow Balance increases, such that there is no longer a 1.5 times (1.5x) collateral, their accounts will be partially liquidated such that it balances to a 1.5x ratio.
Setback with Using Compound
Despite operating on the Ethereum platform, Compound does not directly supports Ethereum. Uses have to wrap it in to WRETH and the unwrap it in to Ether at the point of withdrawal.
Comparing Compound with other Platforms
Many of us are holding Cryptos in wallets (like Blockchain and coinomi wallets) and in exchanges (like Binance and Bittrex) but do not get any interests at the end of the day. With Compound though, these holdings are capable of yielding interests.

Moreover, Centralized Cryptocurrency exchanges (such as Bittrex, Bitfinex) allow customers to trade blockchain assets on margin, with "borrowing markets" built into the exchange. But compound have decentralized system for the seamless and smooth borrowing of Ethereum tokens without the flaws of existing approaches, enabling proper money markets to function, and creating a safe positive-yield approach to storing assets.
Conclusion
Compound proves to be a great protocol as it ensures transparency in lending and borrowing. It equally does so seamlessly. Above all, it is beneficial to both the Suppliers and Borrowers.
Rating
In all, I give Compound a 3.8/5 rating
All images are screenshots from the Compound official website
@akomoajong 19/04/2019
Posted using Partiko Android