Nexo - The world's first instant crypto credit line [review]
INTRODUCTION
---
---
No doubt the word has gotten to the most advanced stage of life that everyone currently knows and probably owns bitcoin or any cryptocurrency, but it's quite a sad scenario that cryptocurrencies are yet to be accepted by governments of most states as a legal tender which gives crypto traders and enthusiast a little pain in the ass while trying to get to there funds in a hurry, firstly they have to battle with there mind if to sell or not, then it's over to the exchange which they'll battle a case of looking for the right price to sell and lastly they also have to pay for withdrawal, escrow and so on fees.
Well, that's a whole lot I would say, for someone leaving in the decentralized world things are meant to be fast and fast enough that they can get asses to there funds with few clicks not minding what the government says or not, well here is a dapp that I think has the solution to most problems cryptocurrency holders face while trying to withdraw there money in a hurry, it is called the NEXO
---
---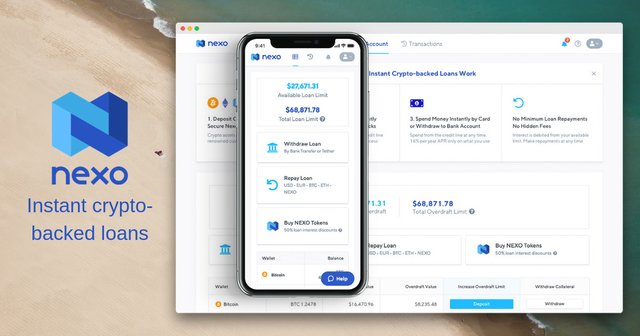 ---
What is NEXO
NEXO is an instant crypto backed loan system powered by credissimo (a leading fin tech group rendering services to millions across Europe for the past decade), the NEXO system enable crypto holders to maintain 100% ownership of there crypto asset and equally getting instant asses to it when it comes to withdrawal without exchange/escrow fees or looking for buyer, the whole process can be done using simple clicks.
With over 200+ jurisdictions and 45+ accepted cryptocurrencies, users can get their loan within some minutes without government bonds, ownership of the staked digital asset is been assured by contracts on the blockchain.
---
Getting started with NEXO
first of all, user have to visit https://platform.nexo.io/new to create a new account
The account gets activated almost immediately and the user is been allowed to log in

In order to get started the user has to pass the KYC verification which can be found once the user clicks the profile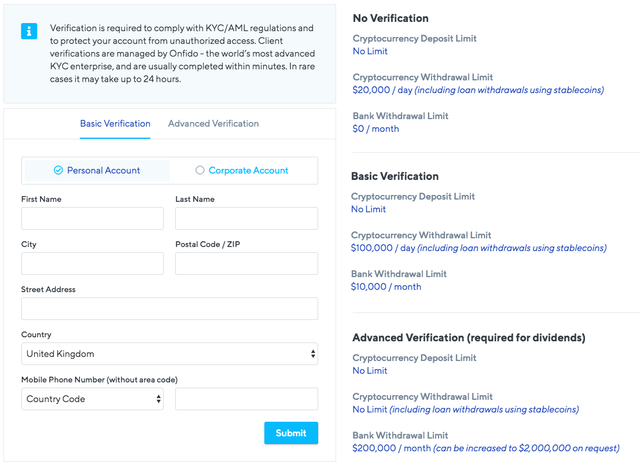 The KYC comes in two form which are the basic KYC and advanced KYC, basic gives you the asses of $10,000 while advanced gives asses of $1,000,000.
NB: in order to request for a more higher amount of loan you'll need to send an email to [email protected]
Once the KYC processes have been concluded, the user proceeds to deposit any crypto asset of his/her choice, which currently has a limited choice of 5+ cryptocurrencies I think, including the nexo token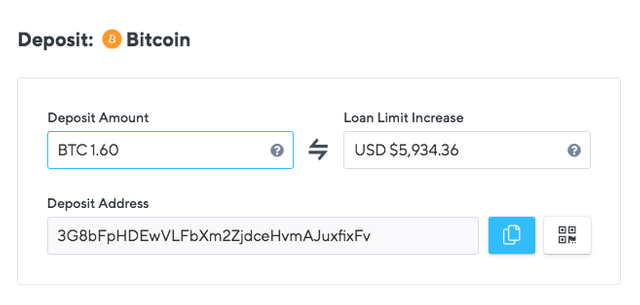 The amount of cryptocurrencies a user deposit determines the amount of load he/she is limited to, once deposit has been confirmed user gets asses to loan withdrawal immediately.
In addition to the deposit and load withdrawal system, there is a 50% discount for users who deposit and equally take a loan with the nexo token.
---
---
NEXO the best choice or Nah..!
Most of us are quite afraid of the word loan cause of how the system operates with the deadline and many other facts but reading through the NEXO platform repayments of the loan can be done anytime by the user and there is no minimum amount required to start payment, apart from that accompanied by its decentralized nature, there is no hidden or tax fee while repaying.
I think NEXO is the best choice for hodlers especially cause they are always skeptical about whether to spend their money or not.
Reading down the NEXO web I found out that the NEXO team is working on a NEXO deposit card which will keep users at a more advantageous scenario when it comes to getting asses to there funds
---
---
In conclusion, I would love to say that the NEXO instant crypto credit system offers a proposal almost all crypto hodlers will be very much interested in, in terms of rating, its a 4/5 for me.
---
want to get in touch with NEXO?
here are some useful links
---
Disclaimer: The article does not serve as a financial advised by a review, i'll advise you do your own personal research before using the plarform
---
holder is a crypto term for coin holders
images from here