Introduction
---
Ever since the social networks were introduced to the community it has been seen by most as a waste of time for teens and a place for dull adults.
Well, based on the aforementioned logic by the majority and the fact that the top social networks on the earth operate on a centralized system, certainly proves that social networks are actually places to waste time and a place for dullards, which still stands as a quite plausible conclusion.
Given the fact that some individuals actually came up with the idea of monetizing their social network account in the sense of being influencers but turns out that being an influencer actually means being an early adopter or lucky enough to gain recognition in a platform.
Recently, most upcoming social networks started monetizing the system which certainly has been working well for some and quite bad or others, both on the centralized and decentralized network, now a battle of who has the best marketing system, great UI/UX and fast tech, which in the terms of competition spirit brings us to the review of today, a competitive dapp when it comes to social network platforms, Cent
---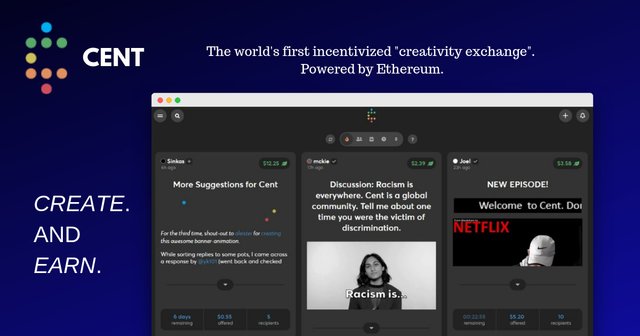 source
---
Cent a dapp built on the etheruem blockchain, a social network for content creators to utilize and earn rewards in the form of an exchange for creativity.
---
Getting started with cent
---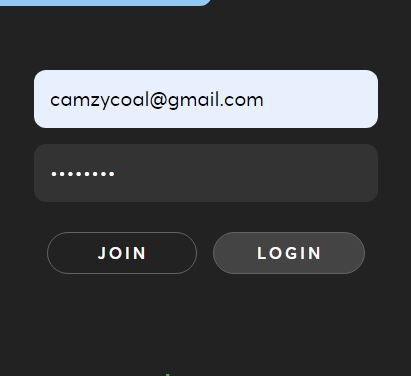 Getting started with cent is quite one of the easiest procedure I've seen in terms of signing up for dapp, all you have to do is to input
https://beta.cent.co
on your browser and click enter.
Just as i said the UI it's self-explanatory, the join button is just at the front of the site, all it's required of the user is to input a valid email and a password (i recommend a double check), then click the join button below.
---
Once that it's done the page simply refreshes and the user is now logged in with a new account irrespective of undergoing email verification, although it will be sent to users mail.
Next in line will be posting on cent, Cent allows posting of all kinds of works relating to all kinds of content creation
NB: only original contents are allowed, plagiarism is highly prohibited here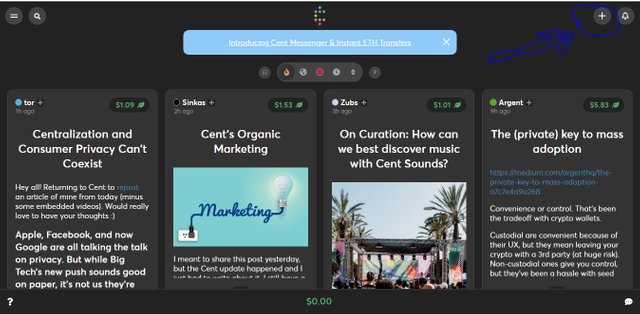 in order to post user just needs to click the "+" icon at the top right corner of the site and the editor comes up
---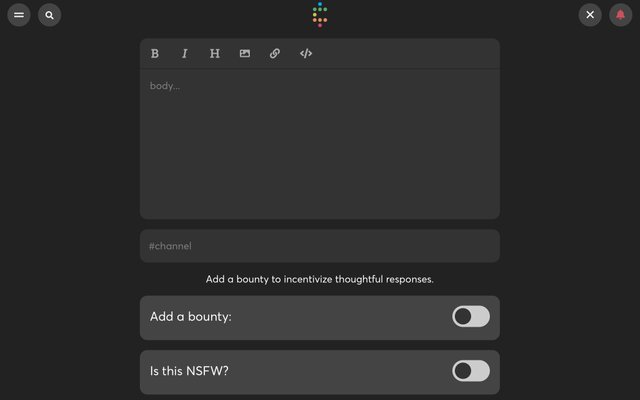 Below the cent editor there is a button for adding a bounty to any work the user publishes on the network in order to improve his/her engagement and probably make things competitive for the readers and in addition gives the reader an extension of over 24hrs to edit his/her post
The Cent dapp comes with an inbuilt editor for creating posts, ranging from text editors like bold and italic to image up-loader and so on in addition, comes with added features like mentioning a fellow cent user by adding "@" before the user name and equally accepts HTML codes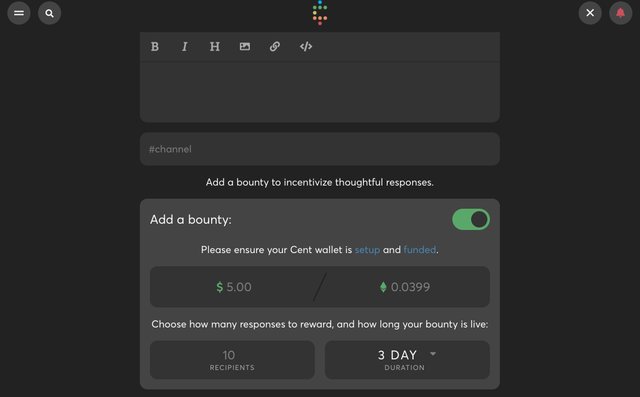 ---
The Next in line for anyone new to cent will be setting up the cent wallet which can be done using any eth based add on extension for browser (I'll recommend you make use of metamask)
Click on the drop-down menu at the top left corner of the site and then click account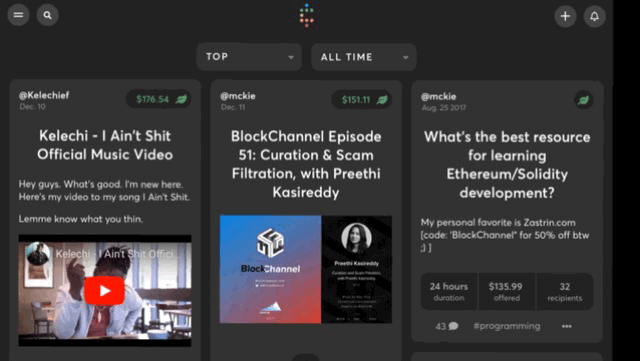 move to the wallet and click set up
if you're using the metamask i recommend you'll immediately get a pop up waiting for you to authorize the transaction and once it is done, it'll sync automatically, the wallet status changes to connected
---
Overview
---
The rewarding system on cent is quite outstanding and different from most of the ones we normally get from other dapps, remember at some point on this review i actually said "creativity exchange", the reward system is designed in way that content creators actually get paid from readers pocket for there works, although i know many from the crypto space won't buy this idea it's kinda cool compared to abused ones we see these days.
Firstly for a social network to come in black is kinda a turn off for most of us, will be seen as a place for extreme professionalism by some, well it just took me a minute to discover it was actually in night mode, turns out the day mode looks more attractive but i think it deserves more.
Firstly i'll have to commend the team for a good FAQ page that literally has the answer to almost every possible question you might think of while using cent, but for the fact that there is no whitepaper or even medium post by the owners explaining more about the project got me stranded at a point, come on team!, you know your project more than anybody...!, sure took me some time to understand some stuffs i wrote about
3hrs on cent and I've made $0.04, for a community that actually gives out a reward from their pocket I think it's indeed a friendly one, will definitely stick around for some time
---
In conclusion, it was quite great reading about cent, kudos for the team for coming up with such initiative, hope to see some more improvements with time
its a 4/5 for me.