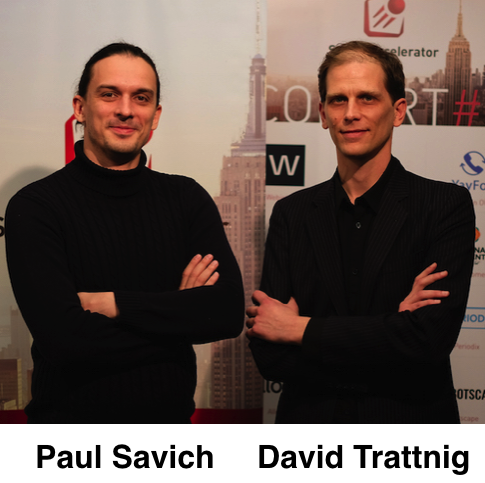 I first met Paul Savich and David Trattnig, the Webjets founders, at a demo day for Starta Accelerator. Starta nurtures promising companies, sourced in Eastern Europe, looking to expand to the larger U.S. market. Their product caught my attention. Let's learn about them.
MD - Describe what Webjets does and how it differs from its competitors.
Paul Savich – Webjets is a creative desktop for all things that matter. It's a productivity application where you can work creatively like on a whiteboard, or organize things in a more structured manner at the same time. To do so you can use lists, tables, mind-maps and more. And you can mix anything with anything.
David Trattnig – There are plenty of productivity apps out there. We always have been avid fans of those tools, like for example Trello and Evernote. Existing apps are often not flexible enough, which means you either have to adapt your workflow or use a bunch of different apps to get your work done. This way you lose focus and your pieces of work are spread across data silos.
As Paul mentioned, In Webjets you can nest any content element within any other content element. But there is an even more powerful aspect – You can also mix existing apps with content and vice versa. For example you can put some Google Document or YouTube video into Webjets, add some notes, and benefit from having the bigger picture. All you need to work - combined in one simple interface.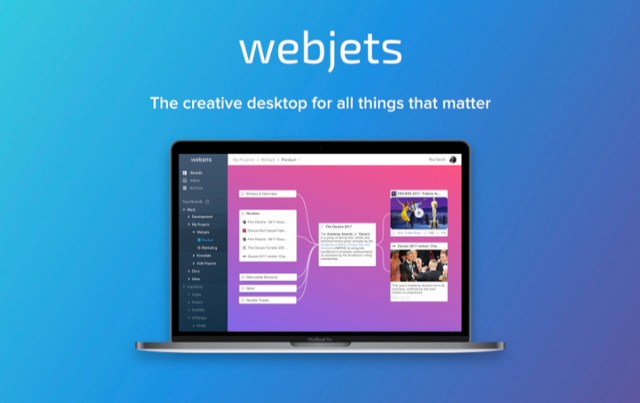 Visit Webjets
MD - Can you each talk a little about your backgrounds, how you met and how you decided to create a company?
Paul Savich - Since my childhood I was passionate about programming and had a dream to create a new operating system. In the last 15 years I've been working in dating, food industry, and music startups, as lead developer and co-founder. At the same time I was very interested in self-development and productivity topics, so the idea to work on productivity software came very naturally, as a combination of my main interests. I wanted to create a toolset that could help people working and creating.
David Trattnig – My background is working as a Software Engineer and Consultant for multinational US companies for many years. My main focus is on web, telecommunications and content management systems.
It's kinda funny how Paul and I met and started the project. It was in India. I was doing some social volunteering work there. One day I was sitting in an internet café, in rural South India. I started having some small talk with the person sitting next to me. It turned out to be Paul. Over the next weeks we did spend some time together, shared our profession, interests and goals for the future. After that we rather lost contact. Only five years later, all of a sudden, Paul sends me a Skype message like - "Hey David, wanna join me with some startup idea?"
That's how the whole thing got started. (smiles)
MD - What kind of traction do you have now?
David Trattnig – Well, it's pretty good. At the moment we are impressed by the our traction. For example in the last month our user-base grew more than 49%, with a 14% visitor to signup conversion.
Paul Savich - We keep getting excellent feedback from our users. Their professions range from Creative Directors to Entrepreneurs. And on the potential partnership side academics and industry leaders in research technology are starting to get in touch with us.
David Trattnig – Just yesterday night, a Chinese teacher of teachers contacted me, asking when we will provide a Chinese version. He told me, that last year he was instructing more than 110,000 teachers on how to teach. At the moment we are very excited about all the possible markets we could expand to.
MD - You recently began working with Starta Accelerator. What made you decide to move to the U.S.?
David Trattnig – The United States is known as the country where dreams are made. And so it was for me as a child, influenced by my neighbor who lived in the states for some decades. From the professional perspective I think it's very similar. I think it's the best breeding ground for Startups you can get.
Paul Savich – Yes, and so far our experience confirmed that.
MD - So how has the experience been so far?
Paul Savich – Starter Accelerator provides a very special environment. We are working closely with many exciting startups and mentors, sharing knowledge and learning from each other.
David Trattnig – It feels a bit like a big family, but a very intense one. Starta Accelerator and its mentors enable us to grow on so many levels. We are very thankful for the experience we are having here.
MD - What do you expect to come of working with Starta? More customers, partnerships, further investments?
David Trattnig – You name it - all three of them. While the first two started getting some good movement already, we start focusing on investments now. Since we have a very broad vision, we are looking not only for investments, but also sustainable, strategic partnerships.
MD - After you leave the Starta nest what's the next step for Webjets?
Paul Savich – We want to keep expanding on American and international markets, strengthen industry partnerships. And we are considering building our headquarter in New York City. What we are building has some international impact. So we think New York could be a good place to operate from.
MD - Thanks! It's been great learning about Webjets, both of you, and I hope to hear great things about you in the future.
Paul Savich – Thank you too. And please ask your readers to signup at http://webjets.io
David Trattnig – Thanks a lot, we hope to see you soon at one of the industry events again.