Since it is a SPUD day today, I decided I would power up some in celebration of what has so far been a confident start for #newsteem. The amount I powered up is:
1079.72 STEEM
 
Which is a bit of a strange amount, but represents a 2% increase in my stake and therefore, a 2% increase in my ownership of the Steem ecosystem. Ownership of experience is valuable because it comes with responsibility and duty of care for what is owned and in the case of Steem, that means developing the environment to be conducive for distribution of ownership. This happens across the ecosystem laterally and vertically through the layers of applications and tokens built on top of the foundation made from the Steem blockchain.
This is and always will be an opt-in and opt-out ecosystem, and those who choose to participate without taking the responsibility will of course be at the mercy of those who choose to own and take responsibility because, this is a stake-based system.
If you didn't know that Steem was a Delegated Proof of Stake (dPOS) platform and want to opt-out because of it, you just have to never log in again.
It is pretty easy to not log into Steem - just in case, clear your cache and remove any bookmarks. Better yet, delete your user keys so that if temptation does call, you won't be able to do anything about it.
Well, you could create another account and opt-in again.
While most of the physical world is already owned, the digital world is a far greater reservoir of possibility and on Steem can expand near exponentially forever. Digital real estate does not suffer the same fate of the physical environment with borders and walls as anyone can build a new house, city or country without having to take the property of anyone else. Of course, resources are still needed to build with as electricity and development are not free
If a user needs to interact on Steem, they need some level of resources and with the coming Resource Credit (RCs) delegation pools, that is much more practical to handle. Rather than delegating Steem power that has draw on the inflationary reward pool, the non-voting RCs can be delegated in a multitude of ways to empower users.
For example, if someone needs 40 STEEM powered up to have enough comment and post capabilities now, the 1079 Steem I just powered up could have its RCs distributed to 26 new users so they can interact. As RC's are non-voting, they can be staked and unstaked to an account instantly, and if the solution for distribution is to only provide RCs when needed, instead of empowering 26 users, they could stretch much, much further as users pick up and drop them on-the-fly.
This is part of the ownership of responsibility, as is the elimination of abuse of what is owned by others. What is abuse of what is owned?
That is up to the stake that owns it.
My stake can only reach as far as the code allows. If I upvote or downvote a post, I can only do so with the Steem Power I control, nothing else. If someone else disagrees with my actions, they can redirect Steem to or away from my own targets with the Steem they control. It really is very simple.
This is the Steemit.com landing page for a new user.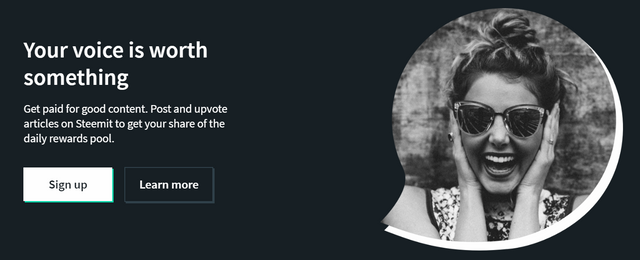 People seem to have some confusion though about what the "your voice is worth something" means. Most think this talks about earning value for what one posts, but that is not the case. The key component people conveniently omit when reading those lines is:
"your share of the daily rewards pool."
 
This is ownership and your stake is yours. And, stake has value as it is the direct draw on the rewards pool. Stake is your voice in a dPOS economy. Again, while you might not agree with this, this is an opt-in platform and all necessary details are available. Not one person on the Steem blockchain was ever forced to participate in this economy and from day one, the information about just what this place is has been transparently available.
ZERO people forced to participate.
While you complain about taxes and government decisions, as you complain about the rate of inflation and the purchasing power of the notes in your pocket, as you complain about the spending on military, foreign invaders, reduced employment opportunity, conglomerates, banking fees and a million other things that you have no control over - Steem is building something different and, something that anyone at anytime can participate in and for those who have the skills and brains, there is plenty of opportunity.
Outcomes will never be even because there is variation in individual.
If you are the best in your field of expertise, should you perform your tasks to the level of the lowest-level performer in order to have the same outcomes? Should you be paid for what you offer at the same rate as that lowest-level performer? Should who you are as a person, what you do in other factors of your life, how you treat people and how you help or not help others have zero bearing on your personal outcomes?
Taking ownership of your experience means taking ownership of the consequences of action in this life.
Steem is quite brilliant in this as it stores our history and in so doing can indicate what our future might become. My Steem experience is unique, as is yours, but it doesn't mean that the outcomes of our experiences are going to be the same as there are factors that are different but influential. While we can direct some of them, many are outside of our own control.
On Steem, we have control over what we post. We have control over what we comment. We have control over how we treat people. We have control over how we use the resources we have available to us.
If you don't have control over these things, Steem isn't the problem, your lack of personal control is.
#newsteem has breathed #newlife into Steem, but those who who always complained, will continue to complain no matter what the conditions are. Those who keep doing what they have always done will benefit if that activity improves the ecosystem, or lose if it doesn't. The biggest driver of outcome on Steem is skill level and ability to connect with others in a meaningful way, which usually means being able to improve their own experience.
This is how friendship works and most people aren't going to spend their time hanging around people that continually criticize them, condemn them and complain without offering anything of utility. You want to improve the Steem ecosystem, add value to others and if you can't do that, stake up and add value to those who can. Again, it is pretty simple.
You might think yourself a good person, but your thoughts are only your truth and even when you look in the mirror, you see through biased eyes.
This is why dPOS is so powerful because thoughts become words and words actions through invested support where the outcomes are eventually known. Some results will be positive, some negative and with the feedback, the cycle can start again. We have the learning we have on Steem to this point immutably saved and, we are now moving in a different direction based on the feedback.
The evolution continues.
Taraz
[ a Steem original ]