24 Hrs Left Before Agent SPUD DOUBLE 0 FIVE Begins His Mission - [steem] [steempower] [funny]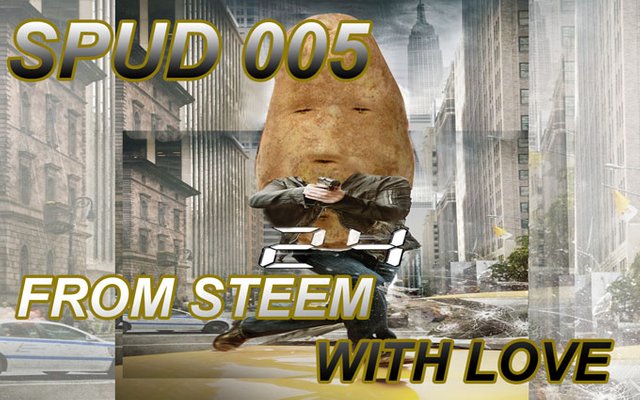 From Steem With Love
Agent Jack "SPUD DOUBLE 0 FIVE" Bond begins his mission with your help. We must help SPUD Double 0 FIVE collect as much Steem from the Evil Exchanges in order to help save the Steem World. Once we collect all the Steem possible, we must then help agent SPUD Double 0 Five convert that Steem into Steem Power.
Are you with us on this mission to help Agent Jack "SPUD Double 0 Five" Bond collect all the Steem possible in order to convert it into the elixir known as Steem Power?
For those of you that decide to embark on this mission, your Special Agent status may qualify you for some very empowering prizes if you meet the qualifications, and convert sufficient Steem into Steem Power.
Are you ready? The mission starts in Less than TWENTY FOUR hours!
Ready all about the mission and the qualifications needed to win the Free Prizes:
Another SPUDprize - SPUD5 Has Many Prizes from Many Sponsors!! - Will You Join US?
Have a Great Day Everyone!!
+++ @streetstyle