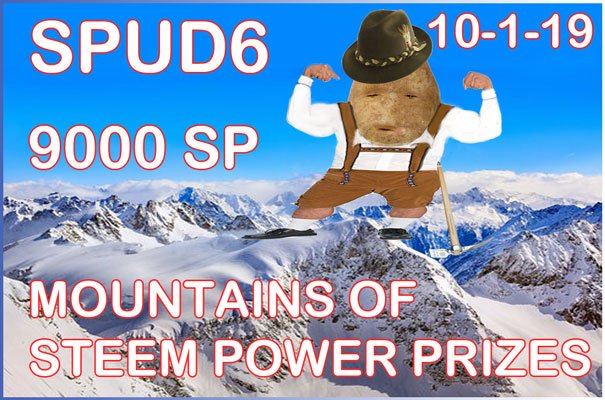 source
Hi Friend how are you? Hopefully stay healthy and creative.
SPUD Moviement this time revolves around an SPUD agent who is given a mission to climb to the top of the Alps. The instructions are to immediately go to the coordinate to retrieve the file that will be used to continue the 005 agent mission which was carried out on September 1. For the new mission he transform into new identity, Agent 006.
Considering that this assignment was quite heavy to climb the Alps, Agent 006 immediately prepared himself by practicing physical and practical knowledge on the trip. First of all he tried to collect as much Steem as his travel provisions. He wanted to make sure all the Steem he could get would make it to the top.
He also sent a message to all his friends to continue to collect Steem from Steem world. He informed with renewal that all friends have a great opportunity to develop the economy. He hopes when the time comes all can change it to Steem Power. With Steem power the greater the greater the power you have. This will be useful to help anyone, especially for friends who want to follow to the top of high mountains like the Alps.
The struggle for the Alps is not easy. Many challenges, distractions and even bad people and even evil will get in the way. That is why he advised everyone to be careful in working and traveling in Steem world too.
Nothing is easy, but nothing is impossible
We know that as long as you are at Steem world you cannot move more freely because Steem values are still at the base. This is not a small and easy matter. However, if we unite it is not impossible that we will be able to change things. As in the illustration of this post taken from
@streetstyle
, it describes the situation in the Alps which is extremely extreme and not as easy as it seems. At Steem we really need a hard struggle and need a solid union to be able to get dreams. And we should be grateful that there is a SPUD that continues to grow from the initial period to the last.
By the sponsor and support SPUD become more interesting. Many sponsors have involved in SPUD6 such
@streetstyle
,
@xpilar
,
@sultan-aceh
,
@rflektor
,
@hingsten
and
@bippe
.
I am so sure that sponsor at SPUD5 will support again such
@jlsplatts
,
@traciyork
,
@flipstar
,
@davedickeyyall
,
@braaiboy
,
@improv
,
@steemit-nz
,
@cryptocurator
and
@taliakerch
.
SPUD6 will not just great movement but also bring great prize for the winner
So lets support SPUD6
Power Up
No Power Down
No Sell and transfer Steem on October 1
Warm regard from Indonesia
@rokhani