Splinterlands - Don't miss the cashback from Monstermarket.io
In my personal opinion, every splinterlands player should be using monstermarket.io to get a cashback for all their purchases. Recently I made a mistake by purchasing credits directly from the Steemmonsters website. I felt bad about it because if I had purchased it from the MonsterMarket.io website, I would have received a 2% cashback for my purchase. I have done the same mistake multiple times in the past. I don't know but in spite of knowing that we have a good opportunity, we keep missing that because of mistakes.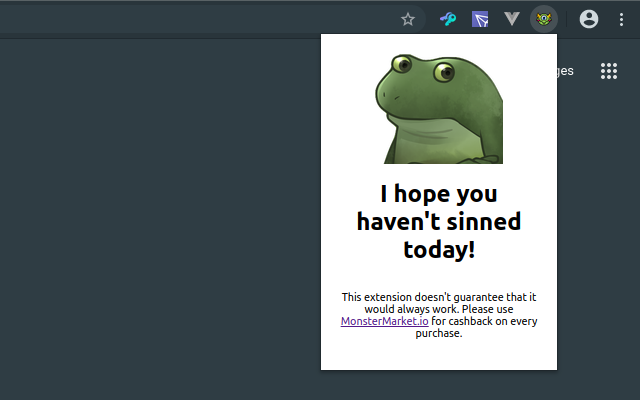 Later when I was discussing this with @reazuliqbal in MonsterMarket discord server he linked me to a browser extension he developed, which can be used to grab the cashback even if we make a sin by making purchases in sites other than MonsterMarket.io. You can check out the extension and read the description to know what the extension does exactly. This is definitely a great tool for people like me who miss this quite often. I have installed the extension on my browser and no more regrets for me. Here is the handy link to the browser extension.
Chrome/Brave - https://chrome.google.com/webstore/detail/sin-prevention/kmgfbjelblcilafaklefngpccnljomhm
Firefox - https://addons.mozilla.org/en-US/firefox/addon/sin-prevention/
Humans keep making mistakes. After all, that is the true nature of humans. Yesterday, I again made a mistake by making purchases directly on the Steemmonsters.com website. I felt bad about it and it was a facepalm moment but when I checked my discord I noticed that the 2 % cashback was already there. This time the extension saved me and made me get 2% cashback irrespective of the mistake I did. I'm really glad we have a tool like this.

Going forward I'm going to remember making all the purchases from MonsterMarket.io because we cannot guarantee that we will be saved by the extension all the time. If you are a regular splinterlands trader and you never knew about the MonsterMarket.io website, I would recommend taking a look at the website and making all your future purchases from there.