Splinterlands - Diamond II league for the very first time in the history
I'm very glad that after all the continuous efforts this season, I was able to reach the Diamond II league this season which will give me 50 Loot Chests. I'm very happy about this because it gives me a feeling that I have been progressing well in this game. For the past few months, I have been investing a lot of Steem and SBD in this game to purchase some cards to make my deck stronger. I feel very glad and happy that my efforts have not gone waste.
When I joined the game I did have lots of expectation but today I'm very happy that things are happening right in front of my eyes. There is still a long way to go in this game. I sometimes feel a lot that I wish I had more time for this game so that I can get some better wins but not bad at all to see this progress.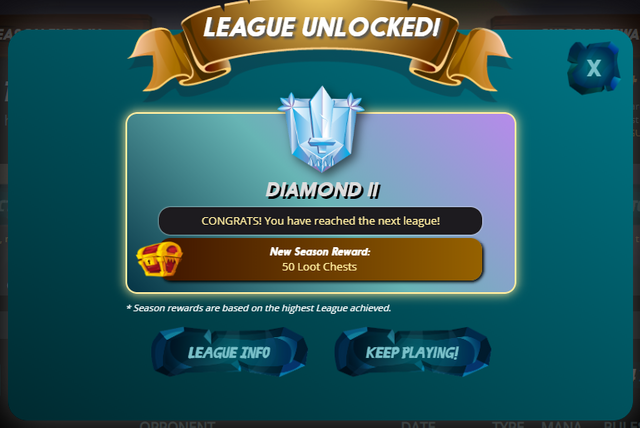 It is going to get difficult during the start of next season I believe. I have been struggling already to reach this level itself and with this league in this season, I would be starting the next season in a higher league. I'm not sure if I would be able to play in that league. I currently have 3 decks that are strong enough with high-level summoners and some high-level monsters. Even if I get other splinters in the daily quest, I try to refresh the quest and play around only with those 3 summoners. I hope it shouldn't get difficult in the coming seasons.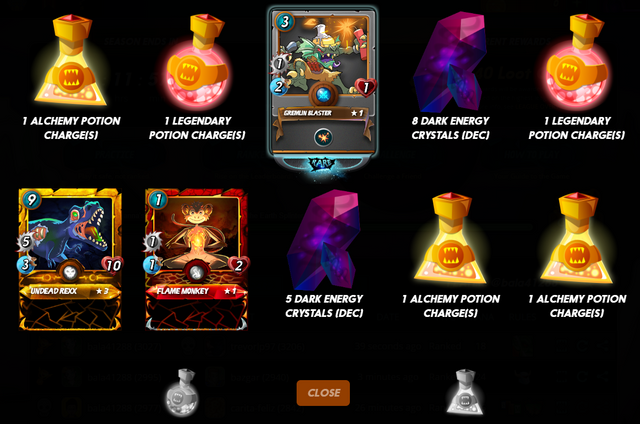 I will keep looking for the opportunity to upgrade my deck even further. I always dream about delegating my extra cards to the TS account and generate some passive income from that. But it has been a little difficult for now.
I got the above rewards by completing the daily quest. I'm quite glad that I was able to grab 10 cards for the past few days for being in the Diamond III league. I was looking forward to drawing even more cards in the Diamond II league but I don't think it will happen this season because the season is already going to end soon and my quest refresh time is longer.