Exclusive Bid Pot Event: Sprtshubcoin Bid Pot offering on the Steem Blockchain, 20th April 2019. 5000000 SHC up for grabs, 500K bonus.
SprtshubCoin Bid Pot event is here.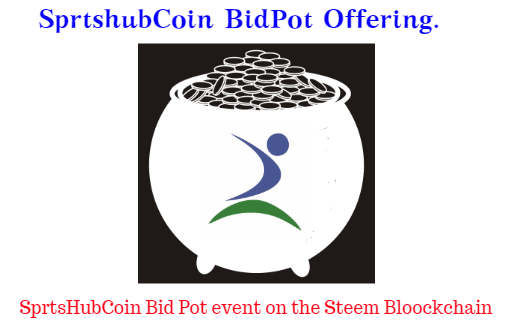 As earlier mentioned
here
,
Sprtshub.io
will be commencing her Token Sale in May 2019 and in preparedness for that, we decided to do an in-house Bid for the
Steem community
in a week long event starting from the 20th April 2019.
It will interest you to know that, Sprtshub has already secured 3 exchange listings and presently in talks with more to enable the community have options of exchanges to use.
SprtshubCoin presently has wallet support from TokenPocket, Bloks.io and Eosx.io and we will be getting integrated into more wallets as we proceed.
---
Bid Guidelines.
The process for bidding is simple and tokens will be released into bidders account 6 hours after the end of the bidding round.
Daily, we shall release an amount of token into the bid pot.
Users shall commence bidding at the start of the Bid event which will be announced through a post daily.
Bid currency shall be EOS and Steem.
Bidding shall last for 24 hours.
Minimum bid amount will be 3 Eos and 50 Steem.
Total number of bidders will share the number of tokens up for Bid based on contribution.
Any amount sent below the minimum bid amount of 3 Eos and 50 Steem, shall be considered as a kind donation.
How to Bid.
Bidders with Eos are to send their bid to "sprtshubcoin" on the Eos blockchain with bid number as memo. (eg SHC bid 01)
Bidders with Steem are to send their bid to "@sprtshub" on the Steem blockchain with Eos account name and bid number as memo. (eg, "myeosaccount" SHC bid 01).
After the bid time (24 hours), bids shall be collated and tokens distributed to bidders Eos accounts.
---
About Sprtshub.
Sprtshub.io is a sports ecosystem that is designed to provide Blogging, Gaming, Betting and Shopping services all on a multi blockchain functional platform. The Sprtshub foundation will be managed by the community through a DAC to enable investment in young talents in Sports, Science and Technology.
---
Why you should hold SprtshubCoin.
Sprtshub has been in operation since March 2018 and has been a platform for Sports lovers and enthusiasts to shares contents on the Steem Blockchain. Growth has been organic with over 3000 average monthly active users utilizing the platform to interact with the Steem blockchain without any marketing budget.
Apart from having a total token supply of 300million which will help bring value to the token coupled with our unique offerings, the below are some more reasons why you should a part of this unique sport ecosystem.
Already Functional Platform. Sprtshub.io is a functional platform and that means as users, you can be able to track real time progress as we continue development to complete the platform which is more than 65% complete.
In-platform Reward/Curation System. The Sprtshub platform is designed to have an in platform reward/curation system that will allow users get rewarded with SprtshubCoin through the SprtsHubPower system that will power earnings and rewards. To be released in new update.
Multi Blockchain functionality. The platform is designed to allow cross posting to multiple blockchains and presently, Steem has been functional for over a year now while we await the release of MEOS which is already set on the platform. Users can earn SHC for their articles while still being able to cross post to other platforms to earn their tokens as well.
SHC Mining. Users can mine SHC through gaming and betting and that means the tokens will play a major role in the operation of the platform that is set to impact the sports world.
Exchange listings Secured. We have already secured 3 exchange listings and presently still in talks with more to ensure users can have the means to exchange their tokens.
Listed on Dapp Radar. Sprtshub is listed on Dappradar.com amd also on the TokenPocket Dapp Store. With these listings, users can be sure of becoming a part of an already functional platform on the blockchain.
Post boosting. Users can be able to use their tokens to post their articles on the Steem Blockchain (coming soon).
---
Token being offered.
The total supply for SprtsHubCoin is 300million and we will be offering a total of 5,000,000 SprtsHubCoin for this bid event.
Minimum bid is 3 Eos and 50 Steem.
---
How to purchase SHC.
If you do not want to participate in the bid and will want to participate in our token offering, you can do that on our Sprtshubcoin initial Whaleshares offering.
---
What we plan to do with Steem raised.
With this offering, we look forward to raise 50000 Steem which we will be utilizing as seen below.
25% will be used to power up the @sprtshub account to enable us continually reward users who create contents on the platform.
60% will be used to continue development to enable the completion of the Live Streaming and platform curation system before the main token sale event.
10% will be used for marketing towards the upcoming token sale.
5% will be reserved to cover incidental costs and other expenses that will be needed to ensure smooth operation of the platform.
---
Bonus Offering.
500k SHC (worth 15k Steem) will be given as bonus during this bid.
The first 50 bidders daily will be rewarded with 1000SHC.
---
Sprtshub.io will discontinue this offering when target is met or token allocated is exhausted.
---
Please help share this post to spread the news.
---
To know more and stay informed.