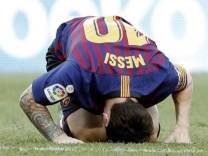 Picture Source
Barcelona ace Lionel Messi has continued his phenomenon form into this season has scored eight goals so far this season. He has scored five goals in the league and three in Champions League after racking his first hat trick of the Season.
Since after the first group match of the Champions League, Messi hasn't scored since then in three consecutive matches but has shoot seven off the wood-work in as much as nine games.
This past Saturday Messi was once again denied by the wood-work as Barcelona were held to a draw as Munir scored the equalizer for Barcelona.