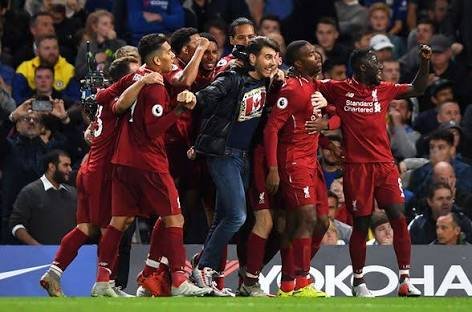 Image credit: google
Klopp side who lost to Chelsea during the week in the EFL competition draw against this same Chelsea side in their week 7 premier league match which still made them unbeaten in the premier league.
It was a 4-3-3 formation used by both team with some changes made by the Liverpool manager in the team that played against Chelsea in the EFL competition, Chelsea manager SARRI start hazard and some other player that was benched in the EFL CUP.
The match started and Chelsea was first to get a goal in the 25 minute of play which the goal was scored by Eden hazard the same man that gave Chelsea their win against Liverpool in their EFL clash and assist was made by Kovacic.
The first ended with 1-0 in favor of the home team and soon has the second half begin and play was on, klopp did some changes to his team brought in Shaqiri, Sturridge and Naby Keita but still no change in score line has Liverpool continue to lose chances and finally at the 89 minutes Daniel Sturridge who saw a clear one on one and lost it gave his side a brilliant equalizer to level the score line 1-1 which was the final score of the match.
Liverpool played a total 12 shot with just 6 on target and 6 off target while Chelsea played a total shot of 8 with 4 on target, klopp side lead in the ball possession but failed to get a win in front of 40625 at Stamford Bridge.