Real Madrid Will Immediately Redeem Eden Hazard Worth IDR 3.8 Trillion
Eden Hazards transfer to Real Madrid is believed to be imminent in the near future, not even the end of the 2018/19 season. Moreover, Real Madrid claimed to have agreed on the price of the players transfer.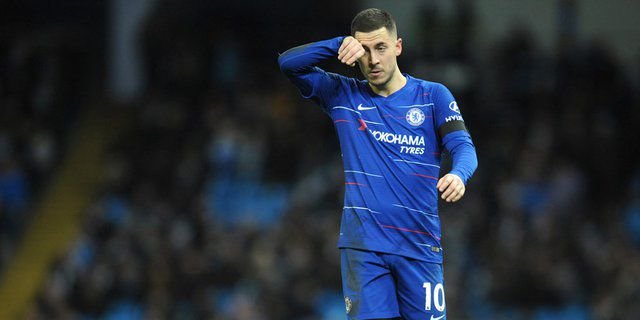 Rumors of Eden Hazards transfer to Real Madrid are indeed not new anymore. The Belgian from the beginning of the season is rumored to be moving to Real Madrid. However, he insisted several times that he would stay at Chelsea at least until this season was over.

Ahead of the end of the 2018/19 season, news will be on his move Eden Hazard has strengthened again. Moreover, Real Madrid are currently building a new project under the control of Zinedine Zidane who is again appointed as coach.

What price does Real Madrid offer for the transfer of Eden Hazard? Check out more below.


Prepare a Bid Worth IDR 3.8 T

After the poor results achieved in the 2018/19 season, Real Madrid made sure they would spend a lot of time on the team. Eder Militao became Real Madrids first purchase. The 21-year-old player was bought from Porto at a price of 50 million euros.

The second name called Real Madrids new player is Eden Hazard. Quoted from The Sun, Los Blancos has submitted a bid some time ago. The value is 100 million pounds. However, immediately rejected by Chelsea.

Chelsea apparently did not want to compromise about the transfer price of the Belgian player. The Blues have set a price of 210 million pounds from the start for every club who wants to buy it. And, this price also applies to Madrid.

The Sun calls Madrid ready to make up for that price. Madrid will pour funds worth 210 million pounds or Rp 3.9 trillion. Chelsea will soon give up the star to move to the Spanish capital.


Contracted Six Seasons

Eden Hazard himself claimed to be ready to move to Real Madrid from the start. Despite claiming that he will not move until the 2018/19 season ends, Eden Hazard has never denied Real Madrid is his dream club since childhood.

Still from sources from The Sun, Real Madrid and Eden Hazard have negotiated a cooperation contract. The results were positive. Real Madrid and Eden Hazard have reached verbal agreement.

Real Madrid will provide a six-year contract for the former Lille player. Eden Hazard will get 110 million pounds from the contract.