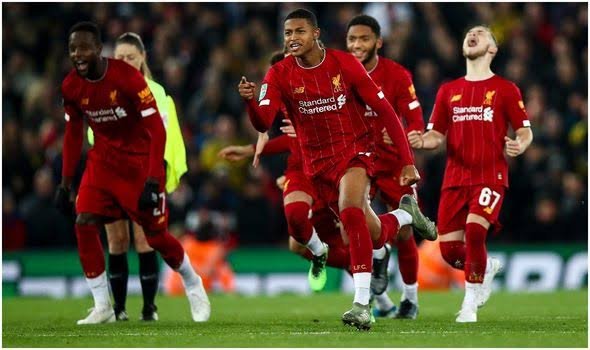 It was another football night at Anfield and Arsenal were once again beaten by Liverpool's second team.
While Emery fielded most of his Premier League starters, Liverpool opted for a rather unknown faces with Milner, Lallana and Origi being the major players on the pitch.
The trio showed their class and ensured their young team drew with Arsenal after 90 minutes.
Origi got brace as Milner scored from the penalty spot.
Liverpool got an early goal from Mustafi's own goal which saw us trailing by 1 goal in the first 6 minutes.
Torreira equalises for Arsenal and the game came back to life again as Martinelli scored brace to put Arsenal ahead.
The brace are Martinelli's 6th and 7th goals for Arsenal in just 4 start. The Brazilian is truly a wonder kid.
Arsenal conceded a penalty which Milner stepped up to take and scored. It was becoming another night where Arsenal could not defend their own half.
While we were scared of the 3rd goal from them, Maitland-Niles puts another in to the net to make it 4-2.
This relieved Arsenal of some pressure but Liverpool pushed harder and were rewarded with Chamberlain and Origi's goal to make it 4-4.
Arsenal stepped up their game again with a screamer from Joe Willock who struck nicely from the outside box to give Arsenal a 5-4 lead.
We thought the match has ended but again our defence was exploited and Origi found an equaliser to take the match into penalties.
Arsenal lose the penalties by 5-4 after Ceballos spot kick was saved by the Liverpool keeper.
It was a tough match but considering the squad Liverpool put forward before Arsenal, we should have defended well and qualified.