Now that the AB saga in Oakland is over, we turn our eyes to the guy who has got to be about the most excited fella there is about how things all turned out. His team now has two elite WR1's - and I mean top-5 talent type players - who can run routes with the best of them. He has his old buddy, a converted quarterback that his team drafted as an afterthought in the 7th round 10 years ago. He even has the gargantuan favorite target of a now-retired Hall of Fame quarterback on his roster. With 4 WR's like that, it's no wonder the dude is so happy. I mean just take a look at this pic:
The happy man, of course, is New England Patriots quarterback Tom Brady. The wide receivers mentioned above, in order, are Antonio "Frozen Feet" Brown, Josh "Puff" Gordon, Julian "Wicked Ripped" Edelman, and Demaryius "I'm Not Megatron But I Went to the Same College" Thomas.
At age 42, Tom Brady is truly an ageless wonder. Is it his lifestyle? Do I need to marry a supermodel to perform like this into my 40's? Is it that good clean Boston livin'? Or what? Entering his 20th season as a professional, he shows no signs of slowing down. He has won 10 regular season games in every year that he has been the starter, save for two - first in 2002 when he just won 9 while leading the NFL with 28 passing TD's and then again in 2008 when he broke his leg in the first quarter of the first game. Every other year he's been a starter, he's pretty much a guaranteed 12-4.
That's good enough for football GOAT.
Go ahead and throw him up there with MJ. No one is ever getting close to his pedigree. (Yeah, y'all can just shut up, LeBron fans. Go watch the YouTubes. 6-0.) 😜
With Brady, it's not even close. He surpassed my childhood hero Joe Montana long ago. He has now won 6 Super Bowls and earned himself 3 MVP's, ironically none of which occurred in a season in which he won the Super Bowl. You can still pretty much pencil in that 12-4 to go along with 4300 passing yards and 30 TD's on 66% completion percentage.
Now he has a stable of elite wide receivers, by far the best group he's ever had.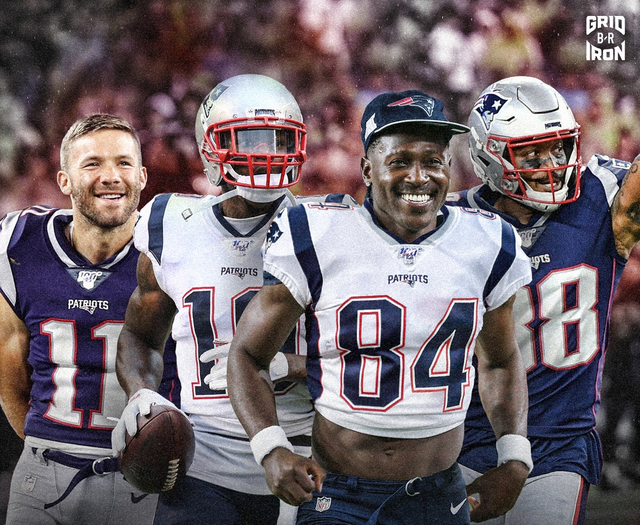 So, who do y'all think is going to lose to the Patriots in the Super Bowl this year?
Happy NFL Opening Day to everybody!
PEACE ✌