Mario Balotelli to walk off field in protest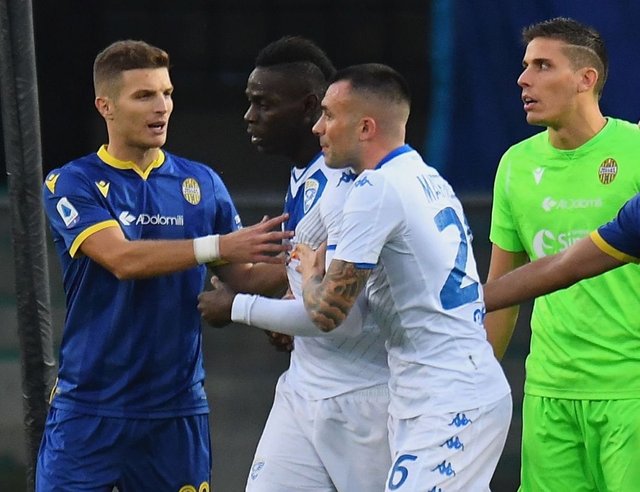 Source
Mario Balotelli was racially abused by Verona fans he kicked the ball to the stands and walked off the pitch his teammates begged him to play and he scored in the 85th minute. FIFA needs to do something to these Italian teams because league board won't.
Mario Balotelli is making a stand in Italy. Following racist abuse from Hellas Verona fans, Balotelli left the pitch and had the game temporarily suspended. A statement was read to supporters before play continued.
21 minutes after Racist Abuse from opposing Verona fans caused Mario Balotelli to walk off field in protest, he returns and scores this exclamation point of a goal.
It's an absolute disgrace that so called human beings can shout abuse to someone who has dedicated his life to a sport of his dreams if caught they should be banned from matches for the rest of there lives.
Point deduction is the only way they can stop this, but it won't happen since that the people running Serie A management are probably as racist as the fans.
Racism exists everywhere. Trust me, as a church worker, it happens evening the church, I experience microaggressions on a daily basis and have had people be out right racist to my face.
To say that it was somehow 'invented' in Italy is not only ignorant, but a total lack of awareness as well. It's so sad this still happens. Disgusting. And I don't understand why it seems to happen in Italy more often than other European countries.
Racism is a big problem in sports, a menace... but the future holds a glimmer of hope that things can take a turn for the better.
I remember Balotelli getting abused *by his own team's fans at one of the European championships, scoring, then taking off his shirt and flexing at them. He's been fighting this his whole life, and it would be nice if other players fought this with him.
If only all the players would do the same, aren't the black players part of a team? Why aren't the other players stand up against racism on the field and leave like the black players?
Both his teammates and the opponents were not doing enough to stop the racism. They should've walk out of the Fitch along with balo not stopping him.
Respect to balotelli.. I would rather walk out with my teammate lose the game or forfeit the game rather than me continuing playing the game. Stand for your team and support your Family.
What boggles my mind is that he has skills and he is not the first black person they have ever seen. What is their problem?