2,000 Manchester Premiere League GOALS to be displayed today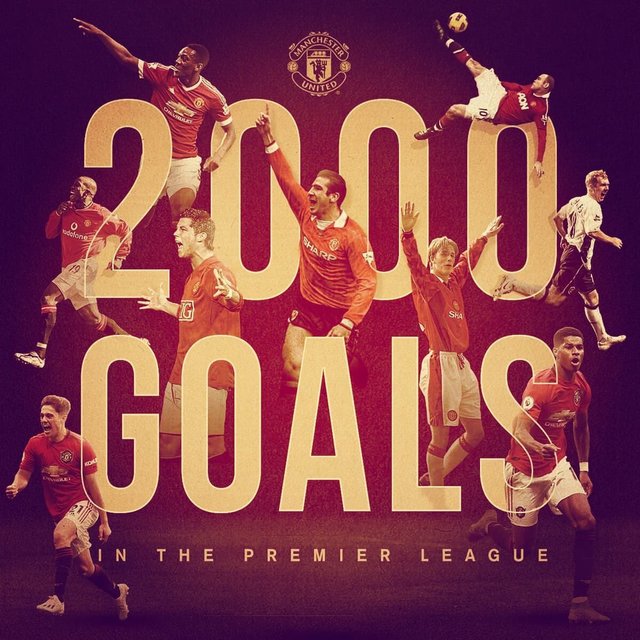 Source
Congratulations to Manchester United for being the first team to score 2000 goals in the premier league and here's to many many many more. Premier league started in 1992.
Since Manchester united are the 1st team to score 2000 Premire League goals Milestone scorers:
1 Mark Hughes, Aug 1992
500 Andy Cole, Feb 1999
1000 Cristiano Ronaldo, Oct 2005
1500 Dimitar Berbatov, Dec 2011
2000 Scott McTominay, Oct 2019
Each of the 2,000 of Manchester United's Premier League goals will be watched live over our different mediums on Tuesday, in festivity of us turning into the principal club to arrive at the milestone.
Apparently this just passed, had no idea!
I've been waiting to achieve this goal for a while now! Here's to 2000 uploads for you folks!
Youth product Mark Hughes scored the maiden goal way back in August 1992 with a sweeping finish against Sheffield United. The 2,000th strike was fittingly netted by another Academy graduate, Scott McTominay, who executed an impressive long-range finish in Sunday's victory over Norwich City.



Source
Fans can watch every single Premier League goals from 07:30 GMT on Tuesday by means of MUTV and our Official App, in addition to the club's records on YouTube and Facebook.
A second airing of all 2,000 Premier League goals will begin on MUTV from 22:00 GMT, following the live coverage of our Under-21s' Leasing.com Trophy fixture against Doncaster Rovers.
The sweet thing about this is that McTominay is not a striker. He has the heart like the rest. He takes his chances like the rest, he loves to succeed and wat he was all about in Mourihno first season, wen he was getting hate for benching Pogba.