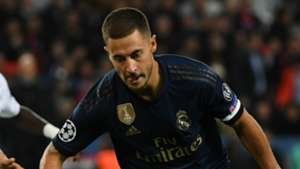 credit
Rio Ferdinand, the former Manchester United star has said he is concerned that Eden Hazard may have joined Real Madrid side which is on the decline.
Hazard joined Real Madrid this summer in a €100 million (£88m/$112m) transfer move from Chelsea, though his pre-season preparations were cut short by an injury to the thigh.
In a game gone awry, the Belgium international's first feature for his new team on Wednesday was easily dispatched in a 3-0 defeat of Blancos by PSG
Rio Ferdinand says he is worried about the fate of Hazard having joined a Real Madrid which is already deteriorating.
Angel di Maria scored a pair of goals which gave PSG an early lead in Group A of the Champions League.
I'm fearful for him that he's gone there at the wrong time.
This is a team that's ageing, they're not on their way up, they've not got much spark about them at the moment. That is going to affect him and reflect badly on him in the long term."